Lemon squares are a totally normal thing.
Until I get ahold of them.
Vegas and I absconded from our citrus-picking adventure last weekend with a few samples.  Lemons, oranges, and sweet lemons.  Yes, sweet lemons are a thing.  No, it's not just a Meyer lemon.  They're so sweet you can sit down and eat a whole one!  Strange and incredibly good.  The bright citrus flavor is perfect for spring.
I immediately wanted to bake a treat using the sweet lemons.  If you don't have sweet lemons, simply add more sugar (think lemonade).  Also of note is the coconut flour.  It makes these incredibly moist (that's right – I said it); reminiscent of lemon bars.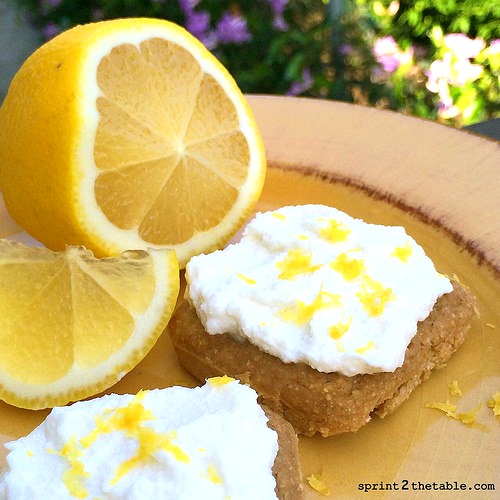 If you know me, you know I'm always hunting for more protein.  I eat a ton of meat.  In effort to balance that, I try to incorporate plant-based choices wherever possible.  One way I did that here was using Silk® Soy Milk.
I actually prefer the taste to cow's milk, and it has 6 grams of heart-healthy protein per serving.  Since it's plant-based, soy milk is naturally cholesterol free and low in saturated fat.  Those are great stats whether you're down with meat or not!  Check out their website for a coupon.
The frosting is optional, but not really.  I have been using this cheesecake flavoring
 for years.  It's worth an order!  Actually, all of their flavors I've tried have been good.  If you don't have it, you could use vanilla extract.  Don't skip the coconut flour though!  It makes it more cheesecake-y (try it and you'll see what I mean).
These are especially good with coffee for breakfast in the spring sunshine.  We'll be doing this again for Easter brunch on Sunday!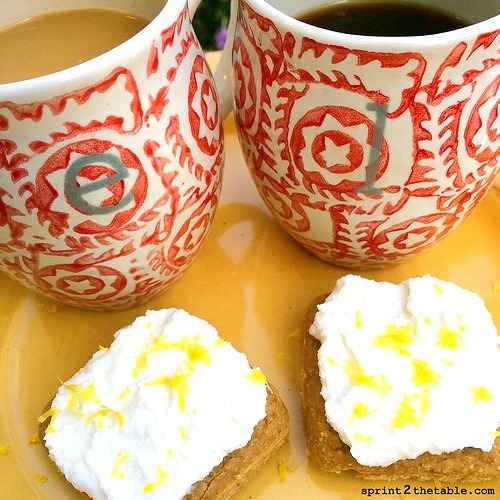 This conversation is sponsored by Silk. The opinions and text are all mine.
---
Protein Lemon Squares
1/2 C soy milk
1/2 C lemon juice
1/4 cup 0% Greek yogurt
1 egg
1 tsp vanilla
Zest one lemon
1/2 cup spelt flour (70g)
1/4 C coconut flour (30g)
1/4 C vanilla protein powder (62g) (I use Growing Naturals Rice Protein)
1/4 C Xylitol or sweetener of choice (48g)
1 tsp baking soda
1 tsp cinnamon
Lemon Cheesecake Frosting
Preheat oven to 350 F.  Grease tins. 
In a bowl, whisk the first 5 ingredients. In a separate bowl, stir together zest and dry ingredients. Pour wet into dry, and stir just until mixed.
Pour batter into tins, and bake 12 minutes or until a toothpick inserted into the center of bar comes out clean.  Let cool before removing from tins. 
Meanwhile, mix together frosting ingredients.  Be careful not to add too much cheesecake flavoring – it's very concentrated!  If you don't have it on hand, you could use 1/2 tsp vanilla or replace the Greek yogurt with cream cheese.
Wait for bars to cool before adding frosting.
Makes 10 squares.*
*I used this Calphalon Bar Pan
.  You could also use a mini muffin tin.
---
How have you enjoyed making co-workers, friends, or family stare with strange but good creations this week? The link up rules can be found here or by clicking on "Strange But Good" in the menu bar above. In short, I want to see what concoctions have earned you weird looks from co-workers, family and friends! Post your Strange But Good creations, grab the logo below for your blog, and link up here.
Remember to use #strangebutgood in any Tweets and Instagrams of your creations. 🙂



***
I can't believe it's already April.  We've been in San Diego nearly a month!  Time flies when you're having fun!
Do you make Easter brunch?
What is your favorite type of milk?