Is everyone else getting all of this rain?!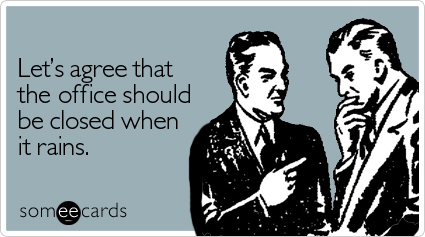 I got all dressed to run this morning and realized it was POURING. #fail
It did eventually let up and I headed out… only to realize that my Achilles is not totally healed.  Oops. So I'm writing this with my trusty bag of frozen peas. 🙂
Stats:
Distance – 4.5 miles
Time – 38:01 mins
Pace – 8:45 mins
_____________________________________________________________________________________
Post-run I enjoyed a savory Protein Lassi that was an appropriate pre-cursor to dinner.
A lassi is simply a yogurt-based Indian drink.  They can be savory, salted, or sweet.
Lassi's are the perfect compliment or end to an Indian meal since the yogurt (and fruit if using) calm your palate after all the spicy, strong flavors.
It seems that everyone has been making them lately!  My Protein Lassi isn't as sweet as the commonly-seen mango, but I loved the savory flavors and the lightness of it (recipe at the end).
Why was my lassi a good pre-cursor to dinner?  I went to see Avenue Q (HILARIOUS!) last night, but prior to the play we hit up a local Indian restaurant called Planet Bombay (451 Moreland Avenue NE, Atlanta, GA 30307; 404-688-0005).
If you haven't seen this play (and aren't easily offended), I highly recommend it!  Do not take your grandparents.
Back to the Planet Bombay…
My friend got the meat combo plate: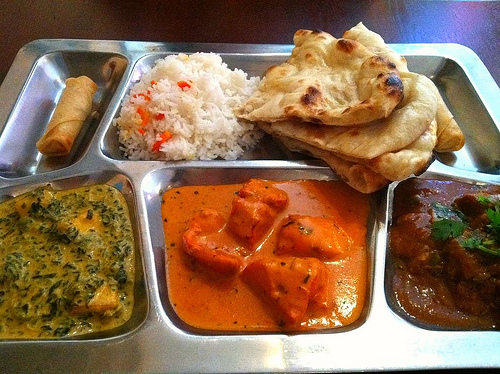 It cane with spring rolls, rice, naan, Chicken Saag, Chicken Tikka Massala, and some sort of beef dish (maybe Bhuna?).
The spring rolls and rice were boring, but the Saag and Tikka were really good!  The naan was on with right track with a bit of char, but it didn't quite get to the point of awesome with the texture.
I chose a Tofu Tandoori:
The tofu itself was delicious.  It was done in a marinade of yogurt, lemon juice, and "special" tandoori sauce and was served on a sizzling hot plate with onions (side note: I love burnt onions… these made me happy).  The texture of the tofu was amazingly fluffy and the spice-level was just right for me.
It came with a side of rice, cucumber-yogurt dip, and roasted eggplant and zucchini in a tomato sauce.  They were just ok.
What was really, really good was the side of spinach rice (the green and white mound behind the tofu pictured above).  It was a Basmati rice cooked with a lot of spinach, onions, and butter. Delish.
At the end of the meal they brought out a bowl of fennel seeds that appeared to have Nerds sprinkled in it:
We couldn't figure out what to do with it!  Does anyone know?!
_____________________________________________________________________________________
Savory Protein Lassi
1/4 C Greek-style yogurt
1 C ice water
1 scoop vanilla protein powder
1 C spinach
1/2 tsp coriander
1/4 tsp ginger
1/4 tsp rosemary
Put it all in the blender and mix until smooth!
Note: I would have added cardamon too if I'd had it on-hand.
***
Avenue Q is my new favorite play.  Those Bad Idea Bears had me rolling with laughter!
Have you seen Avenue Q?  Did you love it?
Are you a fan in Indian food? (Clearly, I cannot get enough.)