Scallops and bacon are a classic combination.
How can you go wrong with bacon anything?
The only thing that can top bacon in my book is prosciutto.  That's exactly what I used to take this Prosciutto-Wrapped Scallops recipe to the next level.  That, and truffle balsamic.

As you may have seen, Vegas and I are in Italy right now.  It's my favorite place in the world, filled with my favorite food.  Luckily we live right near the Little Italy neighborhood in San Diego, so we get a taste of heaven pretty regularly.
There is a massive weekly market in Little Italy where you can get local produce, peanut butter, live sea urchin… and fresh prosciutto.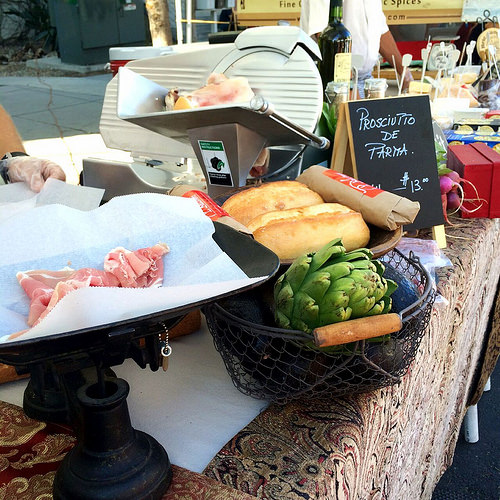 For this recipe, I used my favorite Sizzlefish scallops.  Vegas actually commented about how fresh they taste after taking a bite of this.  They're flash frozen to ensure a fresh taste, then individually portioned… perfect for spur-of-the-moment diners like us!
Yes, this was a quickie dinner.  It only looks fancy!  I had a bit of the prosciutto left over and was looking for a good use for it.  I'm not kidding when I tell you this was done in under 20 minutes.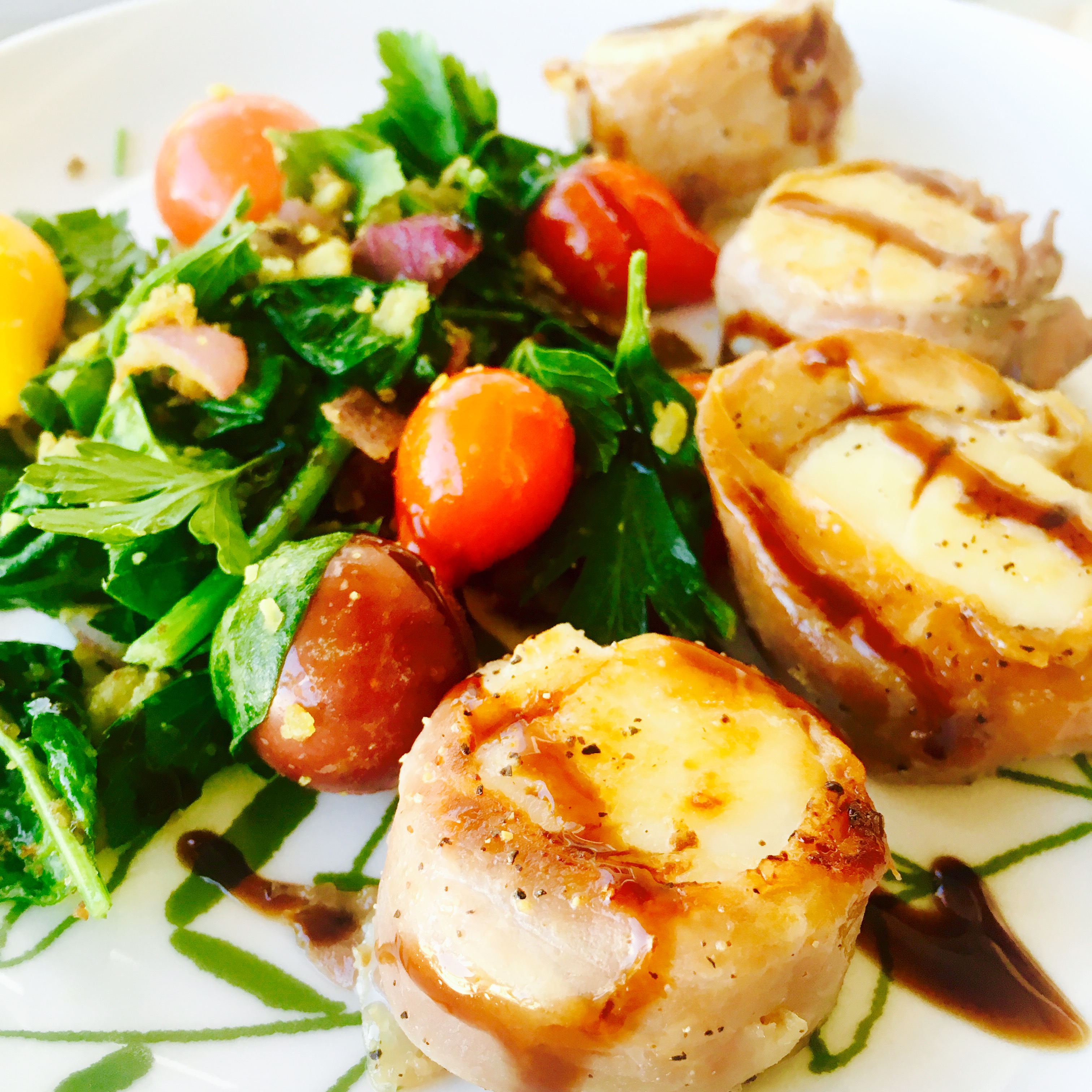 If you're someone who's leery of searing scallops at home, don't be.  They don't make a huge mess, and you can avoid over cooking them just by touch.  If the scallops bounce back slightly, they're done.  If they feel mushy, cook them longer.  They also turn from translucent to opaque; just make sure to watch them closely.
One important tip for this recipe: make sure to dry the scallops off before wrapping them.  It helps the buttery prosciutto stick to them better.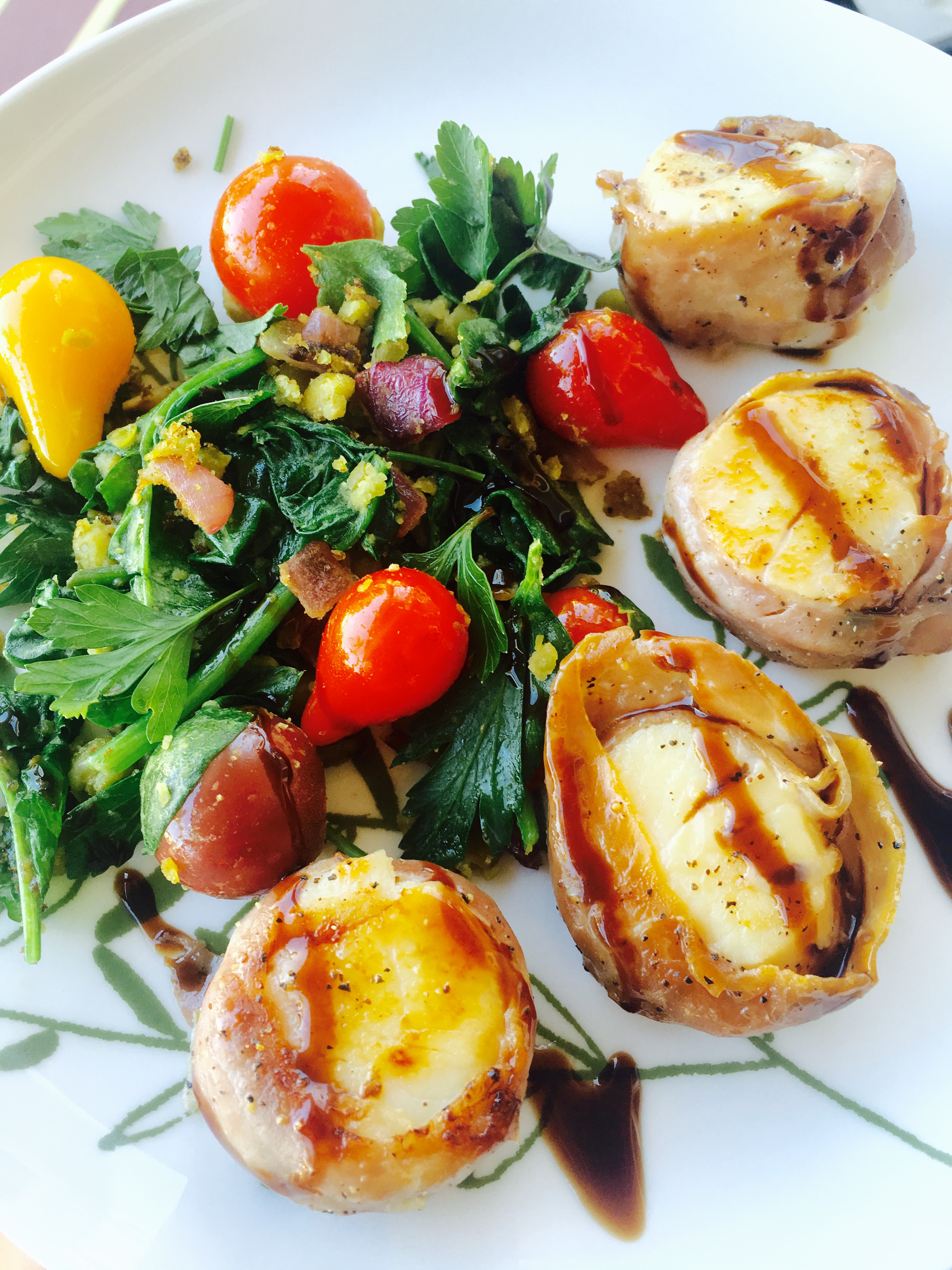 I served this with a parsley-arugula salad and cherry tomatoes.  Any sort of greens would be a great compliment to these flavorful scallops!
---

Prosciutto-Wrapped Scallops with Balsamic
8 sea scallops (I used

Sizzlefish

)
8 slices of prosciutto
1 T olive oil
1 fresh lemon, halved
Freshly ground pepper, to taste
Balsamic reduction, to finish (I used

this truffle balsamic

)
Fold prosciutto slices in half lengthwise.  Wrap one piece around the outside of each scallop, overlapping prosciutto ends and securing with a toothpick. 
Heat pan to med-high and drizzle pan with the olive oil.
Sprinkle salt and pepper over each scallop, squeeze lemon over them, and place in pan.  Cook 6-7 minutes, turning once, until just opaque.  They are done when the prosciutto is a light brown crisp and the scallops are slightly golden.
Plate and drizzle with high-quality balsamic.
Makes 2 servings.
***
I wish I could bring a whole chunk of prosciutto back fro Italy.  Guess I'll settle for a case of wine… 
Have you ever made scallops at home?
Would you rather have bacon or prosciutto?  Or vegan bacon?