Pretty food just tastes better.
Unless it's Mexican… that seems impossible to photograph well.
When Pretty Fit reached out and asked if I'd be interested in their Pretty Fit Protein Powder I was sold just from the name.  Shallow, I know.  I've been known to buy wine based on name too.  After I got past that, I realized the macros and ingredients rocked too.
Having been into seriously working out and lifting for the past… errrr… a lot of years… protein intake.  It's important to take in at least 20g of protein closely following a workout to facilitate recovery and muscle growth.  One of the easiest ways to do this is with protein powder.
There is a LOT of junk other there.  I try to use the most natural powders possible, and focus on unprocessed whole foods throughout the remainder of the day.
That said, one of the things I liked best about Pretty Fit was that it's clean.  They don't use artificial junk and it isn't filled with crazy sugar replacements.  Here are the basics:
• 25g of pure, cold processed ultra micro-filtered whey protein isolate per serving 
• Each serving is 100 calories, 0g sugar, and <1g carbs
• No artificial ingredients (no sweeteners, colorings, false flavorings) 
• Gluten-free, lactose free, hormone free, non-GMO
• Produced in a state-of-the-art cGMP facility in the USA that meets the FDA's strict manufacturing guidelines.
• Added digestive enzymes for easier digestion and absorption
AND it tastes good.  When I used it in a post-workout yogurt bowl, I was amazed at the creaminess it added to my creation.  The chocolate flavor was delicious and not sickeningly sweet.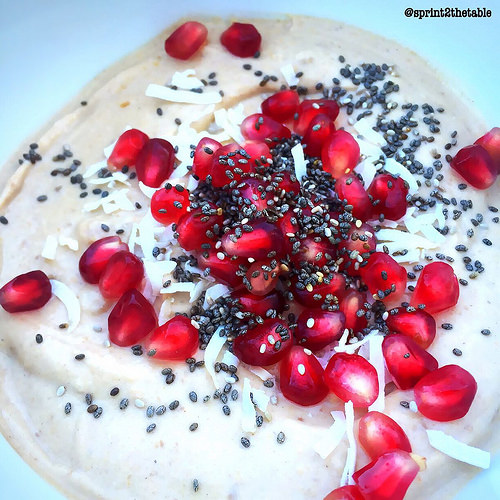 Chocolate Pumpkin Protein Bowl
1/2 C Greek yogurt
1/2 scoop chocolate protein
1/4 C pumpkin puree
1/4 tsp cinnamon
2 T almond milk
Optional toppings: chia seeds, pomegranate seeds, coconut shreds
Mix it all together, top as desired, and devour!
What to try PrettyFit for yourself?  They're offering a coupon for $10 off any purchase!  Just click here and enter "SPRINT10" at check out!
---
Read on for my eats, then check out Jenn's WIAW baby over at Meghan's this week!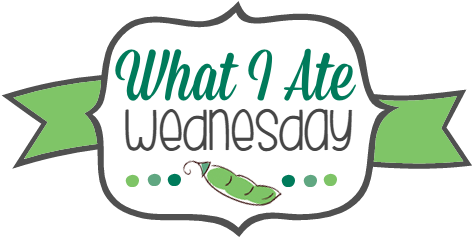 ---
Breakfast:
I had my usual morning cocktail and sludge (mixed with kombucha for a change).
I wasn't starving, so I grabbed a Quest bar and hit the gym.  I LOVE the mint chocolate chunk flavor.  And I don't typically like mint and chocolate together.
Mid-Morning Snack:
By the time I got home, I was famished!  That's when I dug into my Chocolate Pumpkin Protein Bowl.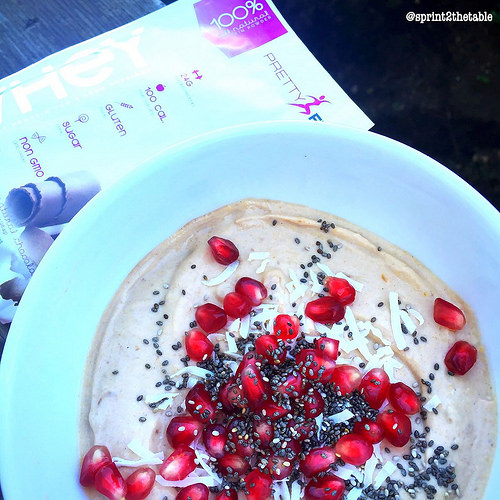 Lunch:
Remember Monday's meatloaf?  Rinse and repeat.  This time with salad.
Mid-Afternoon Snack:
After a hard hour of shopping (seriously – I hate clothes shopping), I needed a snack break! Simply Snackin venison jerky with beef and apple and a passion fruit iced tea from Starbucks.
Dinner:
I got a little creative… this #strangebutgood creation will be up on Friday!  Let's just say it involves curry and pumpkin.
And then I needed dessert.  Classic roasted kabocha with peanut sauce.
It's been a while since I've posted about this.  I just dice the kabocha and roast it for 15-ish mins on 425.  I sometimes add coconut oil if it seems like a dry-ish one.  Once it's done, I place it in a bowl and top it with the sauce and some cacao nibs.
For the peanut sauce:
1 T peanut flour
1/2 T almon milk
4-5 drops liquid stevia
Shake of cinnamon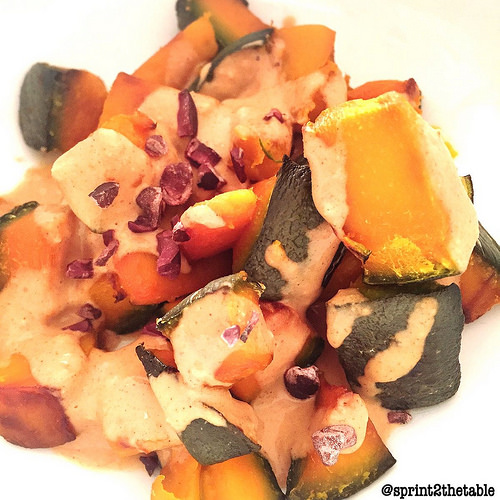 When I do this sauce, I'll sometimes add cocoa too.  That's really good.  I always use the brand of peanut flour that I linked to above (Protein Plus) because it doesn't have anything added to it – no salt, no sugar.  It's just a less processed and cleaner… plus I think some of the others taste like plastic.
***
Vegas is out of town this week.  You can tell by my classic Laura eats.  Haha!
Are you good about getting your protein post-workout?
What's your favorite winter squash?  I can't decide between pumpkin or kabocha.