Wasting food is one of the 7 deadly sins in my house. 
There are starving children in Africa!
Before leaving to go out of town I make it my personal mission to eat everything perishable in my house.  If it's not eaten before I leave, it's eaten on the road.  I've done a couple of travel food posts before; while I'm not in competition mode this trip I still would rather have my own food from home than eat nasty airport food.  I'd also rather not pay a ton of money for nasty airport food.  That money is better spent on chocolate and wine in Europe!
Often people are surprised by the food I bring through security.  You CAN bring food!  Just avoid the liquid.
Pro Tip #1: Protein powder will not be mistaken for cocaine.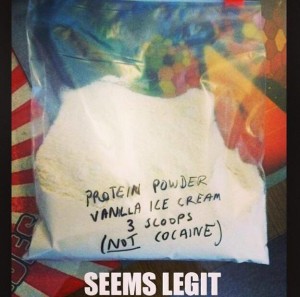 Pro Tip #2: If you freeze yogurt, it's a solid!  
---
This WIAW is a crazy mix of leftovers.  I'm not even going to try to separate it into meals!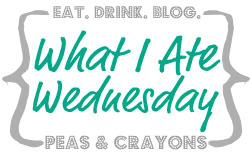 Read on for my eats, and then check out Jenn's blog for everyone else's delicious creations!
---
Pre-Trip:
My morning cocktail shall remain standard.  I even packed up my aminos to have in Switzerland!
Other eats have included (but are not limited to)…
Chocolate-Beet Protein Smoothie with Growing Naturals Chocolate Rice Protein and field greens. Apparently brown + red + green = purple.  Go figure.  Topped with pieces of parsnip pre-roasted in coconut oil and cinnamon roasted.
Chicken and mushroom eggplant chip "sliders" with honey mustard and a field green salad with shrimp and beets.
Shrimp salad with salsa, hummus, and a microwaved purple artichoke (totally works – Google it!).
The last meal before heading to the was egg whites and salsa, greens, roasted tomatoes, tofu with black salt, eggplant chips, and jicama with cinnamon.  Randomly #strangebutgood.
En Route:
Purple sweet potato with Christina's Cocoa-Maca Hemp Butter… from tin foil.
Picnic on the plane!  No-salt turkey with hummus, greens, and veggie sticks.
Totally ate this with my fingers… including the greens.  Don't worry – I had hand sanitizer before AND after.
A 3 hour layover in Cincinnati demanded another snack from home.  Tuna with hot sauce and pepper, the rest of the hummus, roasted peppers and and mushrooms, carrots, and white sweet potato (I later "borrowed" cinnamon from Starbucks).  Lots of water to stay hydrated!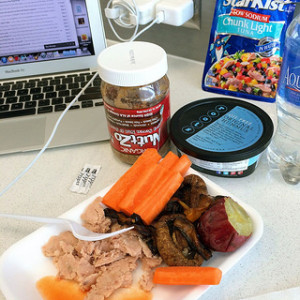 The jar of Nuttzo is actually overnight TVP in a jar.  That's for the second leg!  Also, Quest bars. 😉
***
Next time I write, I'll be in Basel, Switzerland with Lucie!!!
Are you on a mission to eat all the foods before leaving town?
Do you take your own snacks to the airport?