This morning I had a grand plan to run 2 5Ks.  Wellll… I pulled my hamstring last weekend, there was a crazy storm last night, and this week has been exhausting.
These are my excuses to keeping the 5Ks to a minimum today.
I was going to do the Georgia Tech Pi Mile and the Sweetwater 420 5K.  One doesn't start until 11a and has free beer at the end.  Choosing between the two was the easiest thing I've done all week.
Without further ado, here is my pre-race strategy for a late, beer-promising 5K:
1. Eat a tasty dinner.
Yakatori leftovers.  Mmmmm… carbs.
2. Have a chocolate protein shake.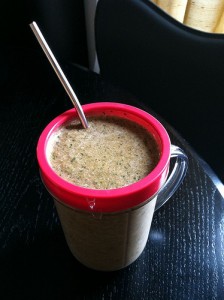 Get your protein in the night before – too much the day-of can cause cramping.
In my shake:
1/2 dark chocolate EAS
1/2 scoop cookies 'n cream protein powder
1/2 large banana
1/2 C kale (frozen)
1 tsp cinnamon
ice + water
3. Spend the evening writing a proposal for work and ordering free Bragg samples.
I love their Apple Cider Vinegar drinks too – Apple-Cinnamon is the best!
4. Wake up too early (stupid work programming me to be an early riser).
5. Drink coffee.
I know, I know… I drank 2 glasses of water too!
6. Devour Carrot Cake Overnight Oats (a la Oh She Glows).
You should make this.  Double the recipe… you will want seconds.
My additions: nutmeg and ginger, topped with greek yogurt and pecans (icing!) rather than Angela's muffins (mine must be lost in the mail…).
7. Blog about pre-race activities and catch up on some reading.
8. Race!!!
***
Good luck to everyone running this weekend!  How did you all do?!
Is anyone else going to a festival?
Atlanta has at least 3 this weekend – Dogwood, Sweetwater 420, and Alpharetta Arts Fest!