You know it's hot when your shoulders sweat.
At least I wipe off my bench at the gym! 
If I do cardio, I prefer to do it after I lift so I don't get too tired.  The problem is that it's a 10 minute jog to the gym, so I feel like I should just add on another 20 and be done with it.  Yesterday was one of those days.  By the time I arrived at the gym I was burning up and covered in sweat.
Lifting after that was hard at first, but I got into the groove.  I felt bad about being so sweaty in the weight section, but hey… it IS a gym.  And I am a good citizen of the gym world – I always use the stray to clean off my sweat puddles.  Unlike some other people.
The recovery form a workout like that needs to be ice cold.  Typically I'd guzzle a protein shake, but I'd recently received Syn Matrix 6:5, which was formulated to provide better muscle building and workout recovery nutrients.  The combination of protein and leucine is the "secret sauce."
So, while it contains only 25 calories and 6g of protein per serving, it stimulates muscle protein synthesis as much as a 25g serving of whey protein isolate thanks to the addition of 5g of the essential amino acid leucine.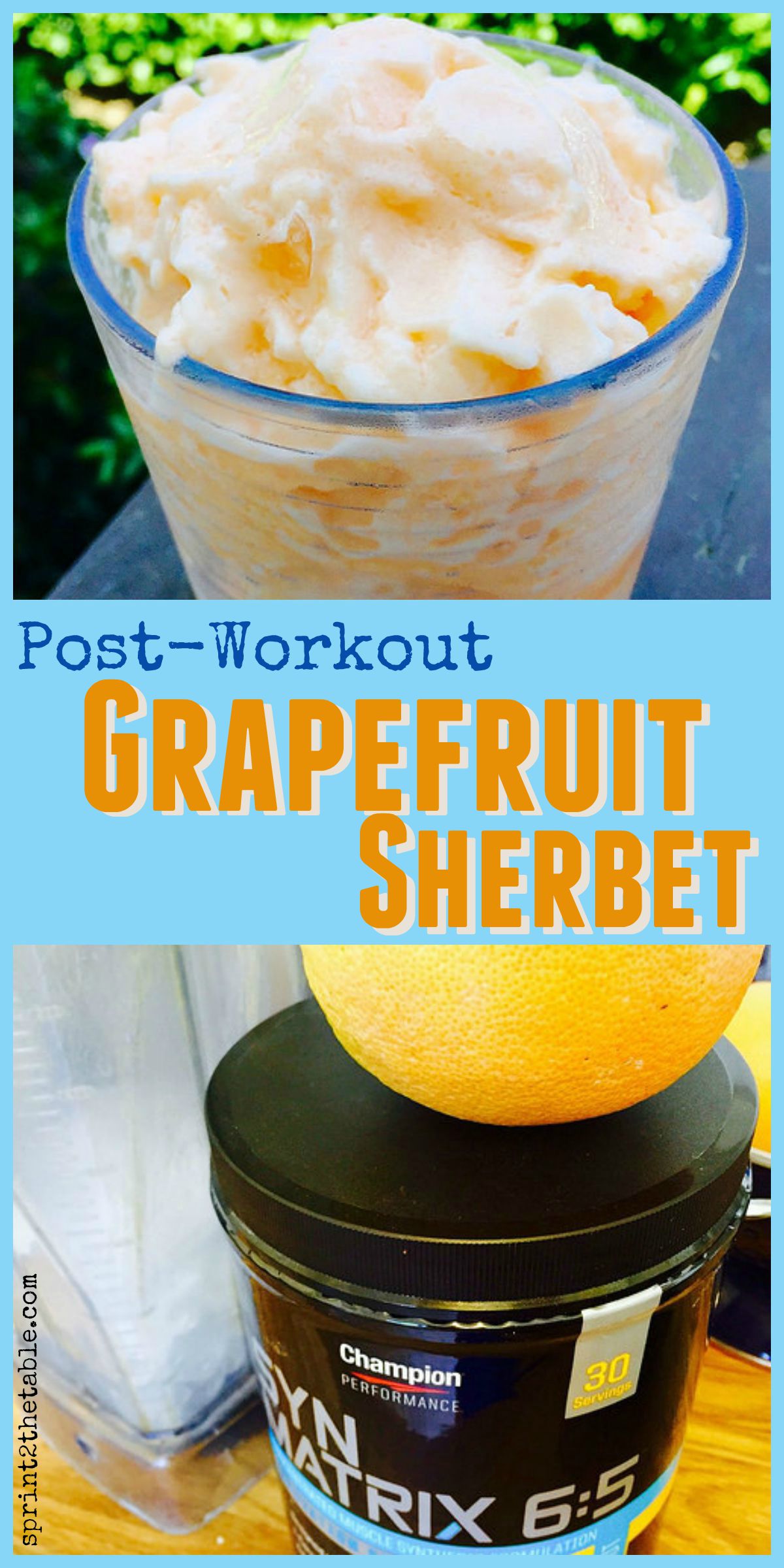 Blah, blah, blah, science.  Here's what else I love about this: it didn't leave me too full to eat a regular meal afterwards. I was able to have some sherbet and cool down, take a shower, and be ready for dinner in half an hour.
I blended it up with some ice and fresh grapefruit, which resulted in a creamy, cool sherbet.  I actually walked into the bathroom where Vegas was showering to tell her how good it was a feed her a bite.  Doesn't everyone want to be fed sherbet in the shower?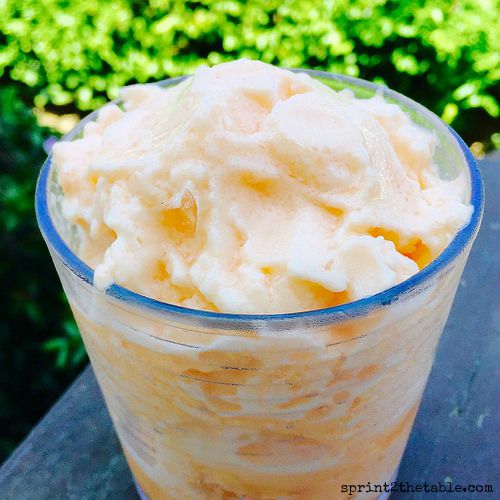 Post-Workout Grapefruit Sherbet
Place ingredients in a high speed blender and blend until smooth.
Note: You may have to add some water if your grapefruit doesn't provide enough juice. 
---
I'm hosting Jenn's WIAW this week!  Checkout my day of deliciousness, and join the party in the link up below!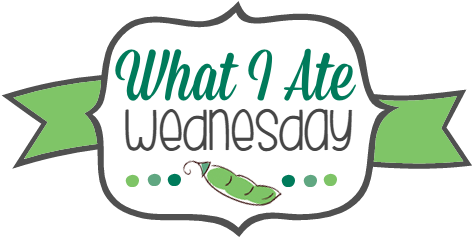 ---
Breakfast:
I had the usual morning cocktail and morning sludge.
Then it was scramble time.  Eggs and salmon with spinach, onion, and asparagus with toast and hummus. Vegas thinks I'm nuts for eating salmon at breakfast so hers got an extra egg instead.
Lunch:
It was a leftover-ish day.  Simple baguette with ham, cheese, tomatoes, spinach, and hummus.  I like to use hummus rather than mayo on sandwiches.  It's healthier and I just like the taste better.
Snack:
Grapefruit Sorbet!  (See recipe above.)
Dinner:
We had a little dinner party with a friend who we met on our trip to Greece.  I still can't believe we went all the way to Greece only to meet someone who would become a local friend.  It's a small world!
Dustin brought over a delicious spread of cheeses to share.  There was also an olive tray, fennel salami, and a red GSM wine from Sonoma's Kokomo Winery.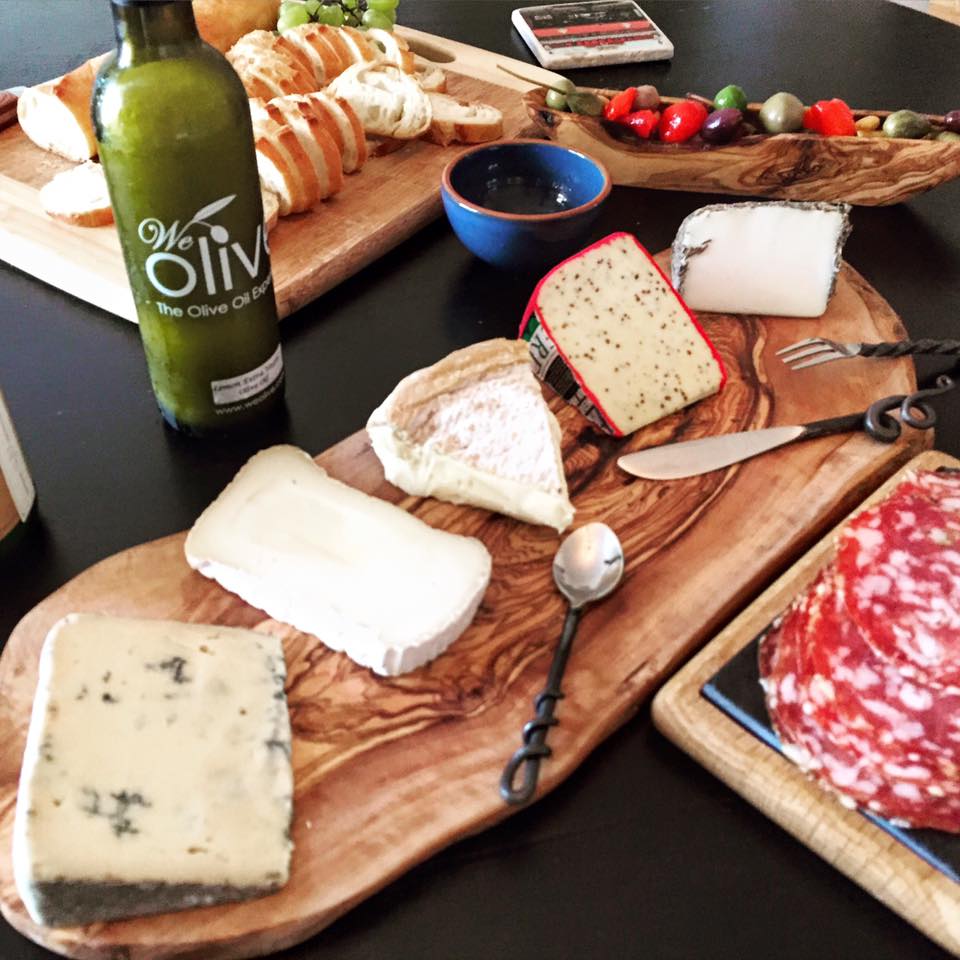 Knowing we would certainly fill up on cheese and bread, I planned a lighter dinner for us.  We had a big locally sourced salad topped with salmon from Sizzlefish.
I did the salmon with the same mix of balsamic and mustard I use for my easy dijon chicken.  I then placed the salmon on a foil-lined pan for easy clean up, then put it in a cold oven set to 400 to bake for 20 mins.  At the end of the cook time, the oven has just reached 400; I've found this cold oven method ensures you don't dry out the fish.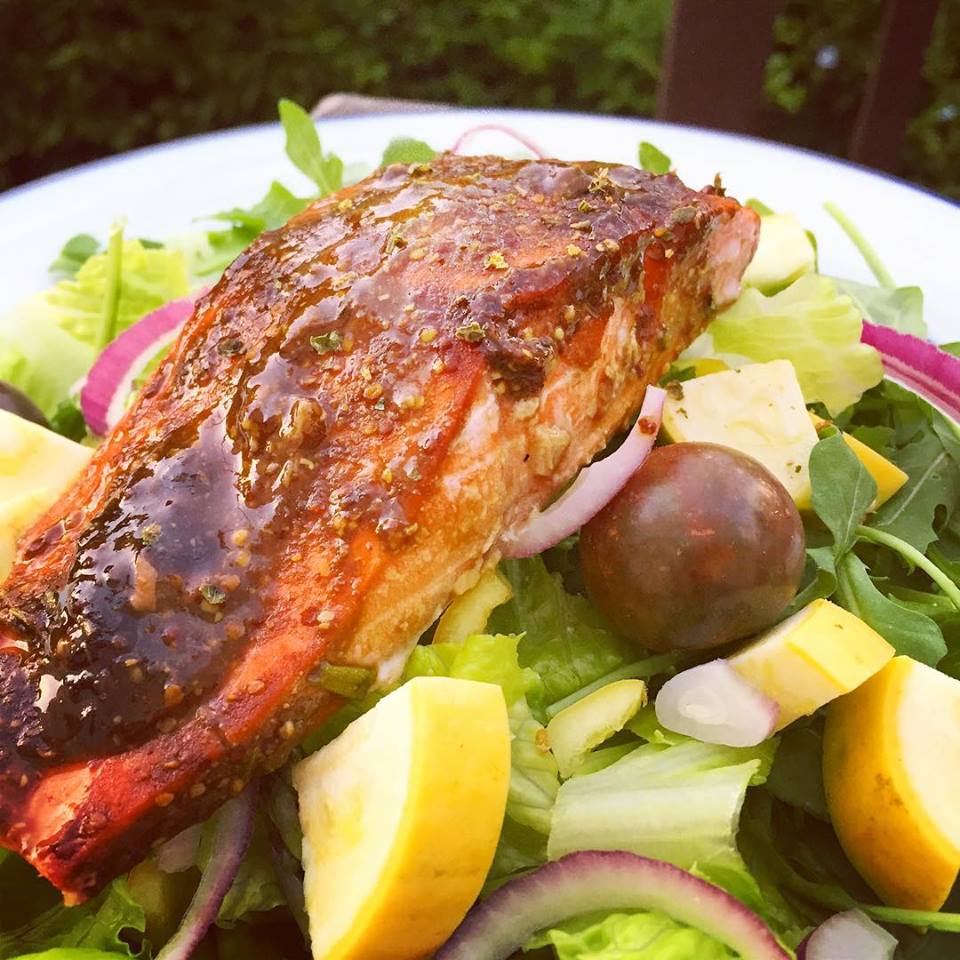 There was also some Swiss dark chocolate for dessert. 🙂
***
I finally jumped on the Periscope wagon?  Are any of you using it?  Click here for my first (rambling) broadcast!
Would you eat breakfast salmon?
How do you cool down after a workout?
This post is sponsored by FitFluential on behalf of Champion Nutrition.