I'm baaaack!
You missed me, right?!
Just over a week after surgery, I'm feeling more "normal" (in my own, #strangebutgood way) and the swelling is starting to go down.  They say some people freak out at first, but – thanks to many of you and some good friends – I had a good idea of what to expect post-surgery.
That's not to say there weren't some surprises…
5 Post-Surgery Surprises
1. All modesty will go out the window.  You will not care that you are naked in the shower at your mom's house and she is (gently) scrubbing the surgeon's pen marks off of your chest.
Proof that mamma doesn't mind – she gifted me with a little boobie prize. 🙂
2. Using a knife is impossible.  I can cut most* things now, but at first I couldn't apply enough pressure to cut a pear.
*I still cannot cut the kabocha squash taunting me on the counter
3. Surgery and/or anesthesia does a number on your digestive system.  My muscles were so tight it took an effort to pee.  And let's not even talk about the issues with going #2.
4. Not being able to stretch your arms is torture, particularly after being propped up on a couch for days.
5.  The boobs will not be a normal shape.  I knew this and didn't really freak out (thanks in part to the pain meds).  They have to settle.  No matter who warns you of this, it's still bizarre the first time you see them.
---
This snack-themed WIAW is dedicated to post-surgery eats.  Another observation to add would be my appetite.  I have NEVER experienced a loss of interest in food.  When I'm happy, I eat.  When I'm depressed, I eat.  When I'm bored, I eat.  When I have surgery… I don't care to eat.  Instead, I snacked.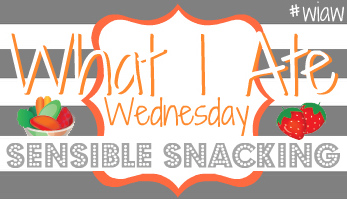 Read on for my post-surgery eats, and then check out Jenn's link up for everyone else's snack-y ideas.
---
Morning Snacks:
This was eaten just because I had to take my medicine.  Bribe me with pain pills the day after surgery and I'll find something to eat!  I mixed almond milk with half a scoop of vanilla protein powder and cinnamon, added multi-grain Cheerios, and topped with sliced peach.
Greek yogurt did taste good to me.  I finished off a container of Fage mixed with cinnamon and vanilla liquid stevia.  Topped with delicious spring blueberries and cereal crumbles.
When you are stir crazy and just can't get excited for breakfast, a good alternative is to walk to your local coffee shop (relax Mom, it was only 2 blocks) for an Americano and some light-hearted Wall Street Journal reading.
Later in the Day Snacks:
Greens are good for you.  I tried to get my fill of the fresh stuff, and add protein where I could!
This salad was baby kale topped with no-salt deli turkey and nutritional yeast.  Side of heirloom tomato and basil, shredded butternut squash salad (thank you, Whole Paycheck), and blackberries.
More salad with kale, turkey, butternut, and tomato.  This time I added avocado and pineapple (good for inflammation!).
I also sprinkled lemon juice, pepper, red pepper flakes, and cumin on top for flavor.
That thing about not wanting food?  I take that back.  I always want #yolkporn.
On my first day home I grabbed a Tempeh Mole Muffin from the freezer and topped it with a delicious local egg.  Eaten with a side if cucumber slices.
The nice people The Good Bean at sent me some roasted chickpeas to try out.  I sampled them all… most were a bit salty  (I prefer to make my own roasted chickpeas), but I really liked the cinnamon flavor!  They also sent a few of their fruit and no-nut bars, of which I loved the chocolate (surprise, surprise).
Actual Meals:
I was really proud of myself on Sunday night – I cooked dinner for Mom and me all by myself!  I started rattling off my meal idea to Mom and her reaction was "Have you ever made that before?"  I said no… but doesn't it sound GOOD?  #strangebutgood
What resulted was a sort of fried rice.  Except I used spaghetti squash instead of the rice, and topped the whole thing with sea bass (that wasn't exactly cooked by me… it was leftovers).  I started by sautéing some pre-cut veggies – red pepper, leeks, asparagus, and zucchini.  Then I added the spaghetti squash, and then the eggs.  Mix it together, plate, and top with sea bass!  Easy. 🙂
The other "real" meal I ate was on my first night home.  Kat (who blogs here every other Thursday), came over and made me a delicious meal!  She made perfect shrimp and served it over a fresh salad of mache lettuce, avocado, raw corn, and cherry tomatoes.
It was all great, but The real star was her baked goat cheese balls (balls!).  She simply formed a ball of soft goat cheese, rolled it in a mix of hazelnut flour and curry spice, and baked it.  I don't know if she'll post her exact recipe next week (Kat???), but I'm going to have her write it out for me at least!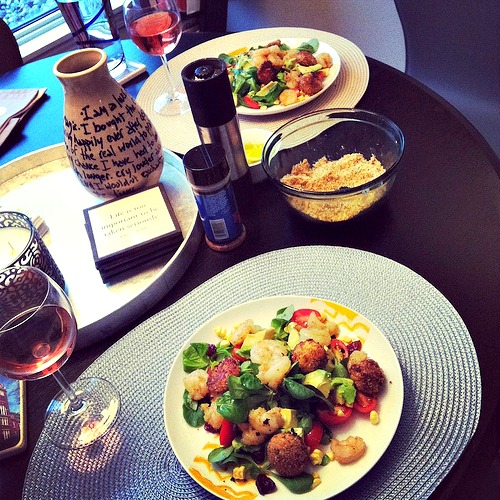 We also enjoyed it with a shared bottle of rosè.  My first wine in over a week.  Sweet nectar of the gods.
A Treat:
Mom surprised me with fro-yo!  Chocolate and strawberry topped with coconut shreds… we added the blueberries and cacao nibs at home.  Holla at being cheap saving money!
***
I seriously considered posting a pic that shows how swollen and high the twins were… everything was covered… but that mayyyy be too far even for me.  More appropriate pics will come when things calm down.  😉
Have you ever lost interest in food?
Do you ever bring your fro-yo home to add toppings yourself?  I thought this was a brilliant move by my mom!