Portland, it's a good think you're tasty.
And sunny.  Yes, I said sunny.
A belly full of warm food and a sunny, blue sky is the only way I survived this arctic weekend.  My little sister, Alli, moved to Portland a few years ago and I hadn't had the occasion to visit.  Apparently they hit record lows the couple of days I finally decided to pop in.  It was so cold my teeth hurt.
This was my view coming in:
The snow did melt, and the sun came out to stay!  The first order of business was to eat.  Alli collected me from the airport and we went right to Tasty 'n Sons where we ordered everything #yolkporn we could find.
Potatoes Bravas with over easy egg and aioli, Burmese Red Pork Stew with short grain rice and eggs two ways (pickled and over easy), and Polenta and Sausage Ragu with mozzarella and over easy egg.
We had to carb-load so we could get a Christmas tree for Alli!  I can't believe how cheap they are in Portland – $35 for a big one! (that's what she said).
The best part came when we got the tree back to her house. The trunk was too big for the base.  No worries – we busted out a hatchet and hacked it down to size.  It's a miracle we retained all of our fingers and toes.
Once we did get the tree up, we were responsible and did some work.  She took me by the jewelry store she manages.  It had so much unique, local jewelry!  I made an impulse buy… a pair of earrings.  They are surgical steel, which turns out to be the only metal I can wear besides platinum that doesn't hurt my ears.
Then it was time to make dinner plans.  There is a great Italian place called Luce she had been wanting to try, so we invited her best friend to join us.  She was nice enough to take the obligatory picture in front of the tree for mom:
Luce was delicious.  It was too dark for pictures, but my highlights included a crab linguine, the grilled octopus salad, and the stuffed trout.  I love that most dishes were small plates or could be ordered in half portions.  We must have had half the menu! And half the wine.
The coolest part of the night was when Alli and her friend took me to a "typical" Portland party.  It was a potluck and jam session.  On the weekends everyone just gets together to share dishes and play music into the night.  There were a lot of guitars, but also a full-sized bass, a trumpet, and an accordion!   Alli plays the guitar and sings (check out her band here), but I never get to see her play anymore since she's lives so far.  She was fabulous!
That was one of the latest nights I've had in a long time… there was some sleeping in the next morning!  I'm getting old.
We rallied in time for brunch at Tin Shed.  After a day of eating nothing green, I wanted a salad… and more #yolkporn.  They were really nice and let me modify the menu a tad.  I ordered the McCobb Salad.  It comes with free-range grilled chicken, blue cheese, candied bacon, avocado, tomato, hard-boiled egg, wasabi-blue cheese dressing, and a crostini.  I swapped the hard eggs for 2 eggs over-easy and the crostini for a big, fluffy biscuit.  Best decision of the trip.  The waitress told me I won breakfast. 😉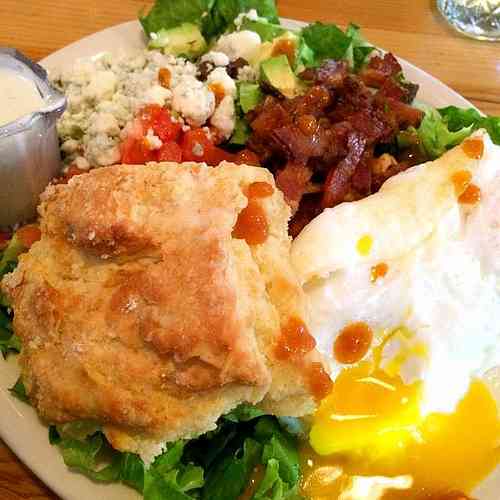 Alli had to go in to work for a bit, so I met up with Anna, who I met at a food blogger conference a few years ago. She writes a blog called Banana Wonder (she's responsible for this truffle hummus).  Her friend Devin came as well.
Never a dull moment, we discovered that it was Santacon in Portland.  Basically, it's an excuse for people to dress up in Santa costumes and drink.  Santa took this pic:
I was offered Santa pants.  I didn't want to be impolite, so on they went.  We hopped into a bar advertising hot buttered rum.  It sounded good in the 20 degree air… in reality it was a sketchy dive full of really drunk Santas.  We opted to move to a place with a "no Santas allowed" sign on the door.
The pants were ditched in a planer.
Sunday I had to leave, but we made sure to get in one last meal.  Prasad is one of Alli's favorite places.  It's a vegan restaurant in a yoga studio.  It was delicious!  They feature organic food, much of which is gluten-free and local.  They also have a lot of raw food, which I love.
We split a Dr. Kombucha (the Spiced Apple Kava is insanely good) and a bowl of the garlic chili.  I ordered the Ace Salad with spinach & shredded kale, caramelized roasted carrots, black beans, rice, slow roasted tomatoes, toasted pepitas and avocado with carrot habanero sauce.  It was the perfect meal – warming and fresh.
We couldn't leave without trying one of the raw vegan cashew-based cheesecakes supplied by Rawdacious. The Mexican Chocolate was supposed to have a little heat to it, but the chili wasn't detectable.
That didn't matter too much to us – there wasn't a bite left behind!
***
I had a super time eating our way through Portlandia, but I'll come back in the summer!  It's one marvelous food city!
Have you ever heard of Santacon?  Someone said it started in NYC.
What is your favorite food city?  Mine is still Alba, Italy.