My inner high schooler is showing.
I used to LOVE taking quizzes.  The ones people would pass around in school or MySpace or email… I took them all.  To the point where it probably annoyed people.  
When I was tagged for this quiz on Claire's blog, I got unnaturally excited.  Thanks Claire!
The rules:
You must post these rules
Each person must post 11 things about themselves on their blog
Answer the questions the tagger set for you in their post and create 11 new questions for the people you tag to answer
___________________________________________________________________________________
11 Things About Me
1. I sit on a Swiss ball at work.  The desk chair hurts my hips!
2. My co-workers think I'm weird – for the Swiss ball and for the random foods I bring for lunch.  Sorry, no Big Macs for me.
3. I haven't had more than a few bites of meat in 2012.  I'm not a vegetarian because I love to try new things and don't want to feel restricted… but I do have a plant-based diet.
4. 2 years ago I ate about 3-4 burgers and 1 steak a week.  Since the end of 2010 I haven't had more than half of a burger or a bite of steak (with the exception of my 2 weeks in Italy… when in Rome Florence!).
5. I have the a terrible memory when it come to names or events, but I can rattle off recipes and statistics like nobody's business.
6. In high school I went through a phase where I only work men's XL shirts and Birkenstocks.  Those pictures have been burned.
7. I've been going to the same hair stylist since I was 15… despite the fact that I now have to drive an hour to see her.  Karen and Lava Hair Studio are the best!
8. If I could have any job, I would develop recipes/new concepts for restaurants.
9. Yes, I really do 100 push-ups nearly every day.  No, I don't do them at once – sets of 3!
10. Red wine is my weakness kryptonite.   Specifically, Italian reds.  I would even choose it over cookies.
Which leads me to #11…
11. Just like Claire, if I had no other ties or commitments and unlimited funds I would move to Italy and never look back.  I might do it anyway.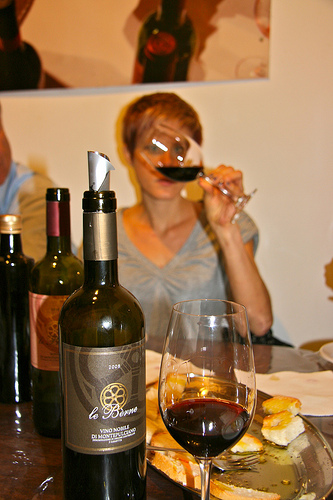 ___________________________________________________________________________________
Claire's 11 questions were in list form: "Tell me about your 11 favorite foods (restaurant, grocery store, or homemade)."
This is actually really hard for me – it's like choosing a favorite child!  In no particular order, here's what comes to mind…
Sweet potatoes protein shakes like this one
The hummus from Top Flr.  It's the best I've ever had.
My mom's Carrot Cake (made from my grandmother's recipe)
Flourless chocolate cake with sea salt and olive oil from La Tavola (with a glass of Amarone)
Sriracha (a.k.a. Rooster Sauce)
Guacamole – extra jalapenos
Indian food – I don't care what it is, just pass it this way with extra spice on the side
Gnocchi with shaved black truffles from one of Italy's first Slow Food restaurants – Osteria dell' Arco in Alba
Pizza – specifically authentic Italian pizza from places like Antico Pizza
Now I get to tag!  It doesn't say how many people, so I'll choose 5 because I like prime numbers.
For my 11 questions, I would love to know:
What are your 5 favorite foods?
What are the 3 best things you cook/bake/concoct in the kitchen?
What 3 things you would do first if you were President of the United States?
***
This weekend I'm going to the Atlanta Underground Market again.  The theme is Bruch… which I think should always be the theme. 🙂
What are you getting into this weekend?
What are some of your favorite foods?  Do we share any of the same?