Cars are getting bigger.
MTV, can you Plump My Ride?
Seriously though… people are getting too FAT for their cars.  It's not just the car seats.  Buttons – like the one to roll down your window – have to be made bigger to accommodate "bigger" fingers.  This article reports that video back-up screens were added because "necks are too thick for drivers to turn around and look."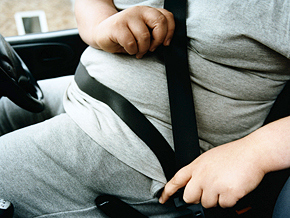 It's a safety issue too – most car safety features like airbag and seatbelts are designed to protect a person of average size (163 lbs).  AND a recent study says that 800,000 car accidents a year in the US are caused by drivers with obesity-related sleep apnea.
I never, ever considered this issue before.  Mind = blown.  Time to put down the keys and walk a little more?
________________________________________________________________________________________
This WIAW I managed to stay away from Waffle House.  My trainer changed up my diet and I'm enjoying more healthy fats while keeping a good amount of carbs.  I'm still ramping up, but so far I feel fantastic.  2 months until competition time – ahhh!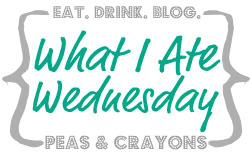 Check out my 7 meals below, and then click here to head over to Jenn @ Peas and Crayons to get to see how others dined this week!
________________________________________________________________________________________
Meal 1:
As usual, I enjoyed my morning cocktail (mix of Apple Cider Vinegar, Glutamine, and Fitmixer Aminos).  30 mins later I ate a pancake topped with a mix of peanut flour, sugar-free syrup, and cinnamon along with fresh blackberries.
No recipe for the pancake…  I testing and it wasn't my fav.  The topping rocked though!
Meal 2:
As I took this pic, my co-worker was literally standing over my shoulder quizzing me about my food.  You mean it's NOT normal to bring salmon sashimi for snack at work?
This was fantastic.  I love the rich salmon with the sweet mangoes and the crunchy roasted seaweed.  I made a wasabi dip by mixing wasabi paste into a paleo hummus gifted to me by a friend.
Meal 3:
Lunch was a mix of leftovers and new.  Last week I made extras of the dal I had for dinner, so the last serving made an appearance.  I ate it with swordfish (it's been wayyyy too long since I've had this!) and fresh broccoli.
Random fact: I only like broccoli raw.
Meal 4:
A little before Meal 4 I had a Good Belly – I've never used these consistently before, so I'm experimenting with these to see what effect probiotics have one me (if any).  I also have been rocking the water today – 120 ounces down!
Observations so far: I like that they offer a no-sugar added "Straight Shot" that tastes good, love that it smiles at me… and I went #2 twice today.  That never happens.  TMI, I know…
Back to the food.  I had a new discovery – no salt deli meat!  Whole Foods has no salt added turkey.  It made my day.  And my turkey salad.
Greek Turkey Salad
No-salt added deli turkey, torn into small bits
Celery
Greek yogurt
Nutritional yeast
Lemon juice
Rosemary
Red pepper flakes
I didn't measure… just poured and mixed until the consistency was like chicken salad..
Meal 5:
I need to ban myself from making pizza on WIAW nights… but yeah, I made my (cheese-less) cauliflower pizza crust again.  It's just so easy and good!
My toppings:
Balsamic chicken
Korean watercress
Onion
Basil
Cloth-aged cheddar
Balsamic nutritional yeast sauce (Nooch + balsamic + red pepper flakes)
Meal 6:
Post-gym good carbs and whey: a mix of mashed butternut squash, whey protein powder, and cinnamon.  I realize this looks like poo… it tastes better than it appears.
Meal 7:
Remember last week's Blueberry Cheesecake Fluff?  I am obsessed.  So I made another version, this one with bananas and peanut flour.  I'm still smiling.  I could live on this peanut butter-y goodness.  Topped with cocoa syrup, FTW.
________________________________________________________________________________________
Banana Peanut Butter Cheesecake Fluff
1/2 C cottage cheese
1/4 C mashed banana
2 T peanut flour
1/4 tsp butter extract
1/4 tsp butterscotch extract
1/2 tsp cinnamon
1/4 tsp ginger
Pinch of cardamom
6-7 drops liquid stevia
Water or milk
1/2 C brown rice crispies
Place everything except the cereal in a blender with enough liquid to blend.  Blend until mostly smooth.
Pour over a cereal.  Top as desired – I made a chocolate sauce with cocoa powder, almond milk, and stevia.
Devour.
Note: if you don't have butter and butterscotch extracts, simply sub vanilla and/or almond extract.
***
The protein count for the day: 179.3g.
What do you think about this obese driver issue?  Had you heard about it before?
Do people at your office stare at your food?  Yes?  You should join the Strange But Good link up this Friday! 😉