I'm doing what I was doing exactly a year ago.
Minus the whole being married and having the flu part. 
Vegas and I are playing in the softball world series with our old Atlanta team.  We've won both games so far!  Last year it was in Vegas, and that's when I claimed MY Vegas. 😉
Prior to this we were visiting my best friend and her husband and two kids.  I'd never met the one year-old, Sophie, before and the 4 year-old, Jackson, I hadn't seen in 2 years.
They were super cute.  We played with light sabers, cooked dinner, and went to the pumpkin patch.
It was lovely.  Until the plague hit.  First the baby vomited.  She went to the doctor and she had strep.  We chalked it up to that and carried on.  Kids went to bed, we ate pizza and drank too much wine while playing board games.
We sobered up reallllll fast when Jackson came down stairs announcing he "throwed up" in his bed.  Then the hubby went down.  And then, at about 4am, my best friend came down with it.  I asked what I could do for her and she said "take care of the baby when she wakes up."  She must have felt like death to do that.
Vegas and I rocked kid duty.  Really.  Until mid-afternoon when I got sick.
I recovered-ish, but was still feeling not quite right yesterday, the first day of the softball tournament.
All this to say, this day of eats is sparse, and why I'm not the that first beer picture.  And this is why I'm typing this post rather that being out celebrating our wins.  And why Vegas is next to me curled up in the fetal position… I feel SO bad for her.
---
Read on for my eats, then check out Jenn's WIAW baby over at Arman's this week!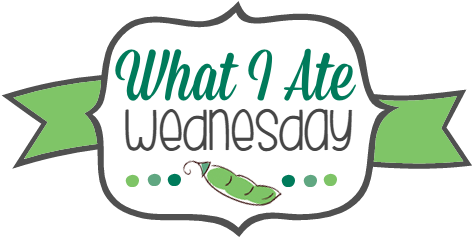 ---
Breakfast:
I had half of my usual morning cocktail.  I know I'm sick when that doesn't even sound good anymore.
We got to the field and I ate like 4 pieces of fruit and some lemon water.
Lunch:
Still not feeling the food, but I ate a White Chocolate Raspberry Quest bar.  And a few of Vegas' fries… shhhh…
Snack:
Apple slices and D's Vanilla Maple Fluffbutter
.  This butter is so incredibly good.  I should just give in and buy a truckload of it.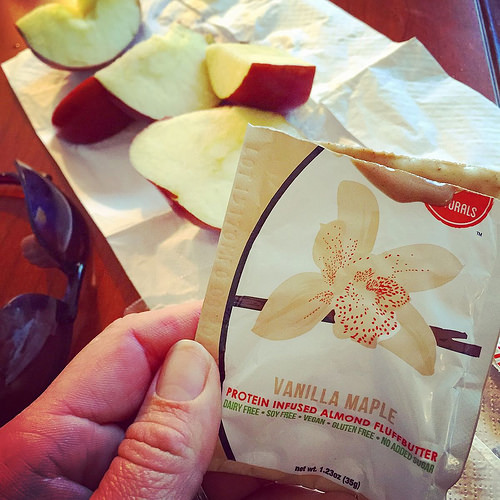 You could also click here to enter the $100 Vitamin Shoppe giveaway to buy your own crack-butter.
Dinner:
Vegas and I met up with the team for a dinner.  I ordered a Cobb Salad with shrimp and chicken… and then ate half some of Vegas' chicken fingers and sweet potato fries.
I finally felt like eating again, so I was excited.  In retrospect, we should have stayed at the hotel.  By the time we got home Vegas was SICK.
***
Everyone please send healthy thoughts Vegas' way so she can play today!
Have you had the flu yet this season?  I hear it's going around early.
Did you play ball growing up?  I could play forever!