Blog trends are fun.
And often strange to the rest of the world.
When I say the Purely Twins' Plantain Bread I couldn't wait to whip up a protein-laced version of my own.
It may not quite count as strange at this point, as it's caught on like a wild-fire.  BUT I'm going to say it qualifies for Strange But Good because my co-workers would definitely think it's weird look on with curiosity.
Since I an unable to make anything that isn't protein-laced (I'm beginning to think it's an addiction), I tool the liberty of pumping up the plantain bread concept.  It was easy enough to do with a little protein powder.
The part when I took a little more creative license was the flavor.  These cooler mornings have made me crave a fall treat – gingerbread!  Why not combine two of my favorite breads?  Banana Plantain Gingerbread!
The icing on this breakfast treat was a mixture of quark with a little stevia, cinnamon, and vanilla.  It tasted like cinnamon roll frosting.  Seriously.
Round 1 was eaten with blueberries (not bloobs… that is the worst blogger trend).  Round two was topped with smashed raspberries… and eaten in the car.  Yes, this bread is hearty enough to pick up and eat while driving inching along in traffic at a complete standstill in a jam.
---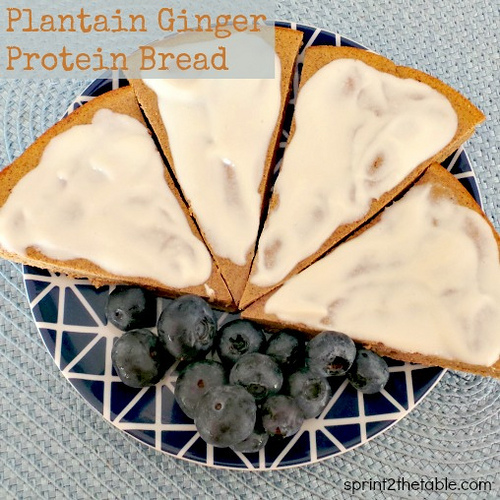 Plantain Ginger Protein Bread
1 medium plantain, fully ripe*
1/2 cup liquid egg whites
1 tsp cinnamon
1 tsp ginger
1 tsp

Golden Lakanto

(or brown sugar/other sweetener)
1/4 tsp allspice
1/4 tsp no sodium baking powder
1/8 tsp cardamom
Pinch of cloves
1 scoop vanilla protein powder (I used

Growing Naturals Rice Protein

)
Preheat oven to 350.
In a small blender (I used a Magic Bullet) blend all ingredients except the protein powder.
Add protein powder and blend again until just combined.
Pour into a prepared pan (I used 8-in round) and bake for 15 mins.
Makes 2 servings.
*A plantain is fully ripe when the skin has turned almost black; it will be aromatic and sweet.
Approximate nutritionals (for 1 serving): 198 calories, 0.3 g fat, 123.6 mg sodium, 32.5 g carbohydrates, 2.6 g fiber, 13.9 g sugar, 19.8 g protein
---
How have you enjoyed making co-workers, friends, or family stare with strange but good creations this week? The link up rules can be found here or by clicking on "Strange But Good" in the menu bar above. In short, I want to see what concoctions have earned you weird looks from co-workers, family and friends! Post your Strange But Good creations, grab the logo below for your blog, and link up here.
Remember to use #strangebutgood in any Tweets and Instagrams of your creations. 🙂

***
I LOVE my new job… but lawd I am so happy its Friday. 
Have you tried any of the plantain recipes floating around?
Do you eat breakfast on the way to work?  I wish Atlanta had better public transportation!