Eating healthy on the go takes planning.
I'm sure this isn't news to any of you.  It's become particularly evident to make lately as I've changed my habits to incorporate more protein and begun eating 7 small meals a day.  Serious training goals take serious planning.
For starters, I keep track of my meals in a spreadsheet.  This way I'm never stuck searching for ideas and/or desperate and hangry for food.  By keeping it on Google Docs, I can easily edit and make additions as I get ideas throughout the day.
It also makes for easy grocery shopping – I can make my list in record time now!  (P.S. check out yesterday's post for a chart to navigate grocery store.) 

Last week I mentioned that I was struggling to find a wider variety of vegetarian protein sources.  The resulting increase in dairy resulted in my skin is breaking out.  Since then I've reduced my dairy to 1-2 servings a day, and my skin has magically cleared up!
One way I've kept up my protein intake without the dairy is to incorporate fish into my diet.  If you've been reading for a bit, you know that I've dabbled with being vegetarian and even vegan.  For me, it was about how much better I felt without meat in my diet.
While I do intend to keep my diet as plant-based as possible, I am enjoying experimenting with seafood (something I only started to like a few months ago), and haven't noticed it dragging me down like I did with meats.
July is becoming my favorite months for a few reasons:
It's my birthday month  (4 more days!)
The fruits and veggies we've been getting at local markets have been particularly delicious
Jenn's What I Ate Wednesday theme for July is of "Food, Fun, and Fitness."  You guys know that's perfect for me these days!
Check out my latest adventures in protein-loading below; then click here to the WIAW round-up on Jenn @ Peas and Crayons to see everyone else's fitness foods!
 _______________________________________________________________________________________
Pre-Game:
I woke up early, but my weights workout isn't until late tonight since I have a date with my trainer.  I've grown accustomed to  moving in the morning, so I decided to jump on the treadmill for a power walk while watching a little GMA.  Not wanting breakfast yet, but needing energy I drank down a glass of my Fitmixer Aminos. mixed with ~2T of apple cider vinegar (great way to start the day for energy and errr… digestion…).
Meal 1:
Anytime I have an appointment with my trainer, I try to eat a little heartier throughout the day.  Not stuffing myself, but I want to be sure I have adequate energy because he pushes me to the limit and then some.
I don't repeat many meals, but last week's Blueberry Protein Tart was so delicious that I couldn't wait to eat it again.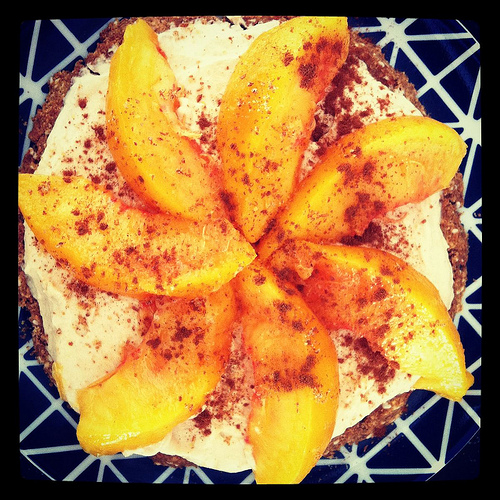 Same tart base and peanut butter icing, but I this time used peaches rather than blueberries and sprinkled the top with ground flax and cinnamon.
Meal 2:
Did you know eggs can be cooked in the microwave?  It sounded weird to me at first, but it worked out perfectly.
I microwaved 3/4 C egg whites mixed with black pepper and ~1T water (to make them fluffier) for 2 mins.  Then I stirred it up with some tomato and basil before popping it back in for 15 secs.
Topped with pumpkin seeds and red pepper flakes.  I'm positive the work microwaves have never been used for such a creation. 🙂
Meal 3:
Lunch was last night's leftovers.  Here's where the fish comes in.  I baked a halibut in parchment with rainbow chard, shiitake mushrooms, Chinese 5-Spice, and a little coconut oil.  It was pretty tasty.  Even though my boss said it smelled… that is a problem with seafood.
Enjoyed with some sesame Wasa crackers. 
Meal 4:
Here's my serving of dairy – a mixture of no salt added cottage cheese, peanut flour (a.k.a.: my crack), and a bit of liquid Stevia.  Side of cucumber sticks.  This is literally the tastiest cucumber I've ever had.  Unbelievable amount of flavor. 
Meal 5:
Remember yesterday's vegan Protein-Packed Ancho Bean Burgers?  I took one to work for dinner!  Yup – I ate dinner at work.  My trainer appointment was at 9p and I had a Genius Bar appointment at 7p… no point in going home.
All wrapped up in a giant piece of chard with artichoke spread and radishes.
Meal 6:
This was a post-workout shake to cure my leg shakes.
I received a couple of protein powder samples from JBT Labs.  This was a chocolate flavor.  My first reaction was that it was ok… I decided to add chocolate extract to the mix, as well as some Stevia.  There was also 1/2 a zucchini, spinach, and ice in the mix.
At first I was worried because the blender made it frothy. Some people like that… I prefer creamy.
I stored it in the freezer most of the day, but it thawed a good bit between my errand and the workout.  Lo and behold, after it had sat all day the mix and de-frothed and was DELICIOUS.  It seems obvious now, but when faced with frothier powders I will let the mixture have time to rest and settle post-blend.
Meal 7:
Last meal = dessert.  I almost didn't eat this one because I was so tired from the gym.  But… I knew my muscles would thank me.  Especially when I have an early morning workout planned.
Mashed up strawberries, vanilla protein powder, cinnamon, and almond milk.  Let chill in fridge for 30 mins or so.  Devour.  Go to bed.
***
This day of eats contained 6 different protein sources, and I managed 157g of protein.
Do you bring seafood for lunch?  How do you deal with the fishy smell?
How do you keep track of your weekly meals?