Literally.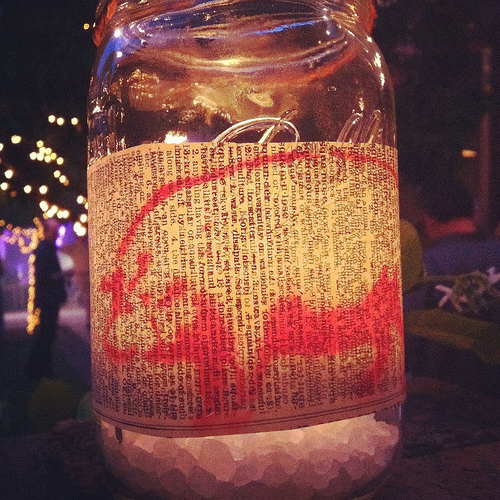 The first day of the Atlanta Food & Wine Festival ended with a party called "Pig Out" at local restaurant, JCT Kitchen.
We were greeted by a lovely lady from Delta who was handing out Mason jars for the special cocktails crafted for the event: the Island Mule and the Heritage Punch.  Both were delish, but I settled on the slightly-less-sweet punch.
The outdoor space was decorated beautifully – lights were strung up every where and there were candles in Mason jars in every available nook.  The hour-long line to get food was made more bearable by the gorgeous surroundings… and the guy walking around with a tray of tomato sandwiches.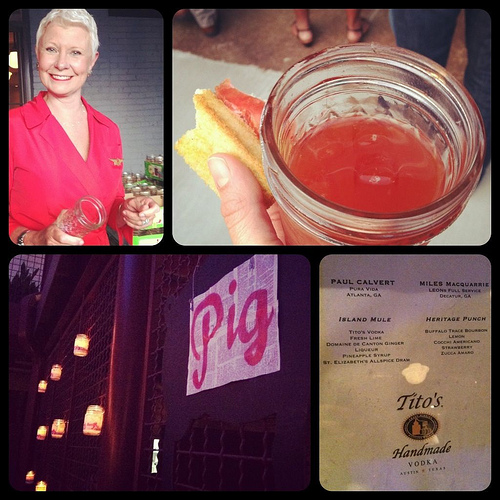 Once we reached the buffet line, we were blown away.  Everyone received 2 plates piled high with food!
I wish I'd written down everything… The top plate on the left in the pic below contained cole slaw, perfectly-crisp fried chicken, and a tamale covered with the best mole I've had in a long time.  The boat of BBQ (top right) had brisket, ribs with a delicious sauce, and pulled pork.  It was all very good, but I only had a bite of each meat.  I was nervous about my stomach not being used to it and I was still full from the tasting tents!
Besides, I had to make room for the mini-desert pies!  The chocolate with peanut butter icing was my favorite, followed closely by the key lime… and the crust from the coconut.
We pigged out under the stars while listening to music from a live band playing one well-timed cover after another.  *Bliss*
Normally I am not a fan of buffets…  or of any food prepared in mass quantity.
My hat goes off to everyone involved with this meal.  There wasn't one thing I wouldn't have recommended to a friend!  And I am picky.
---
Alas, gluttony has taken its toll on my body (not that I'm complaining… I made my bed!).  The past couple of days there has been a lot quality time in the gym (bring it, Tony Horton!) and some awesomely-funky colored liquids going on:
***
One… maybe two… more posts and then I'll put this festival to rest.  Until next year. 🙂
What are your thoughts on buffets/food prepared for the masses?
What are your go-to recovery foods/drinks when you need to reset?