I'm convinced you can put peanut butter on anything.
It's even good on bacon.
There's not bacon in this peanut sauce, but now that I think of it… there night be next time!  This was strange enough for round 1 though, particularly when you add kelp noodles.
Don't be scared of kelp noodles – they don't really taste like anything and, for those that are concerned, they are gluten-free and nearly calorie-free.  The weirdest part about these noodles is the texture; they're almost crunchy!  You could use this sauce with any noodle though.  And you could top it with anything.  I chose the tasty Sizzlefish Thai Salmon.
Fenugreek might also be strange to some of you.  It's often found in curry dishes and have a sweet-ish nutty flavor.  I think it compliments peanut nicely.
Speaking of peanut, I ordered my Protein Plus, Roasted All Natural Peanut Flour from Amazon.  If you haven't tried it, I highly recommend it.  It doesn't have all the added stuff in other peanut powders – it's just straight up peanut flour.  If you don't have it on hand, just sub in your favorite nut butter and reduce the liquid a bit.
I also ordered my 
kelp noodles
from Amazon.
---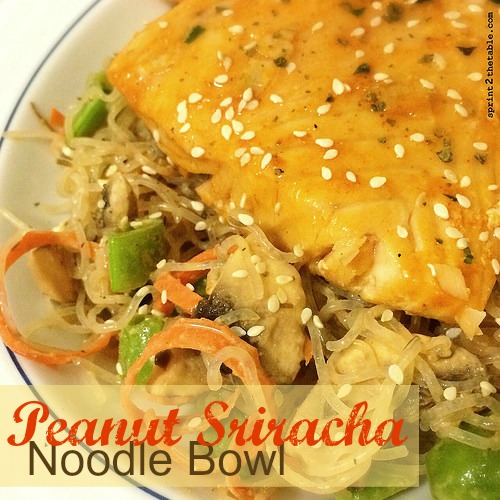 Peanut Sriracha Noodle Bowl
1 package Kelp Noodles
1/4 C Peanut Flour (or peanut butter)
1 T Sriracha (adjust to taste – I like it hot)
Juice of 2 limes
1/2 tsp ground cumin
1/4 tsp garlic powder
1/4 tsp fenugreek
Pepper, to taste
1/8 C milk (I used cashew)
Spiralized carrot
Snow peas, sliced
Baby bella mushrooms, sliced
Protein of your choosing
Rinse kelp noodles.  Transfer to a large bowl and cut to desired length.
In a medium bowl, stir together peanut flour, lime juice, spices, and milk.  You may have to adjust the amount of milk depending on the size of your limes.
Toss noodles with sauce and veggies.  Allow to marinate and soften in the fridge for at least an hour before serving.
Top with protein of your choosing (I used salmon).
---
How have you enjoyed making co-workers, friends, or family stare with strange but good creations this week? The link up rules can be found here or by clicking on "Strange But Good" in the menu bar above. In short, I want to see what concoctions have earned you weird looks from co-workers, family and friends! Post your Strange But Good creations, grab the logo below for your blog, and link up here.
Remember to use #strangebutgood in any Tweets and Instagrams of your creations. 🙂
***
This weekend Vegas and I are picking citrus for a crop swapping thing, then going to play beach volleyball.  I feel like this makes me an official Californian.
Have you ever tried kelp noodles?
What are you doing this weekend?