These Peanut Butter Pumpkin Oreo Blondies are dangerous.  Laced with everything that's good and delicious about fall, you'll never be able to eat just one.
The fall pumpkin addiction is in full swing.  Pumpkin spiced everything.  Pumpkin flavored everything.  Curiosity got the best of me.  First it was Pumpkin Pie Spice Jif Whips Peanut Butter.  That was the gateway drug.
I was wandering through Kroger and saw the Pumpkin Oreos.  I passed them once, twice… and then caved.  Of course, I tried one plain.  It was fantastic.  However, this got me thinking about how I could get this crack out of my house… I mean… how else I could creatively use these.  Baking, of course!
I wanted to name this recipe "crack."  Really.  I made 2 pans in as many days.  There was just something magically delicious about these.
These Peanut Butter Pumpkin Oreo Blondies aren't even a little bit healthy.  But they are really, really good.  Make a batch, treat 'yo self, then selflessly share with your friends.  Maybe for a Halloween gathering?
How could you possibly keep these doughy, rich bites of pumpkin spiced perfection to yourself?!  (Don't answer that.)
P.S. If you're looking for healthy pumpkin, try these pancakes.
---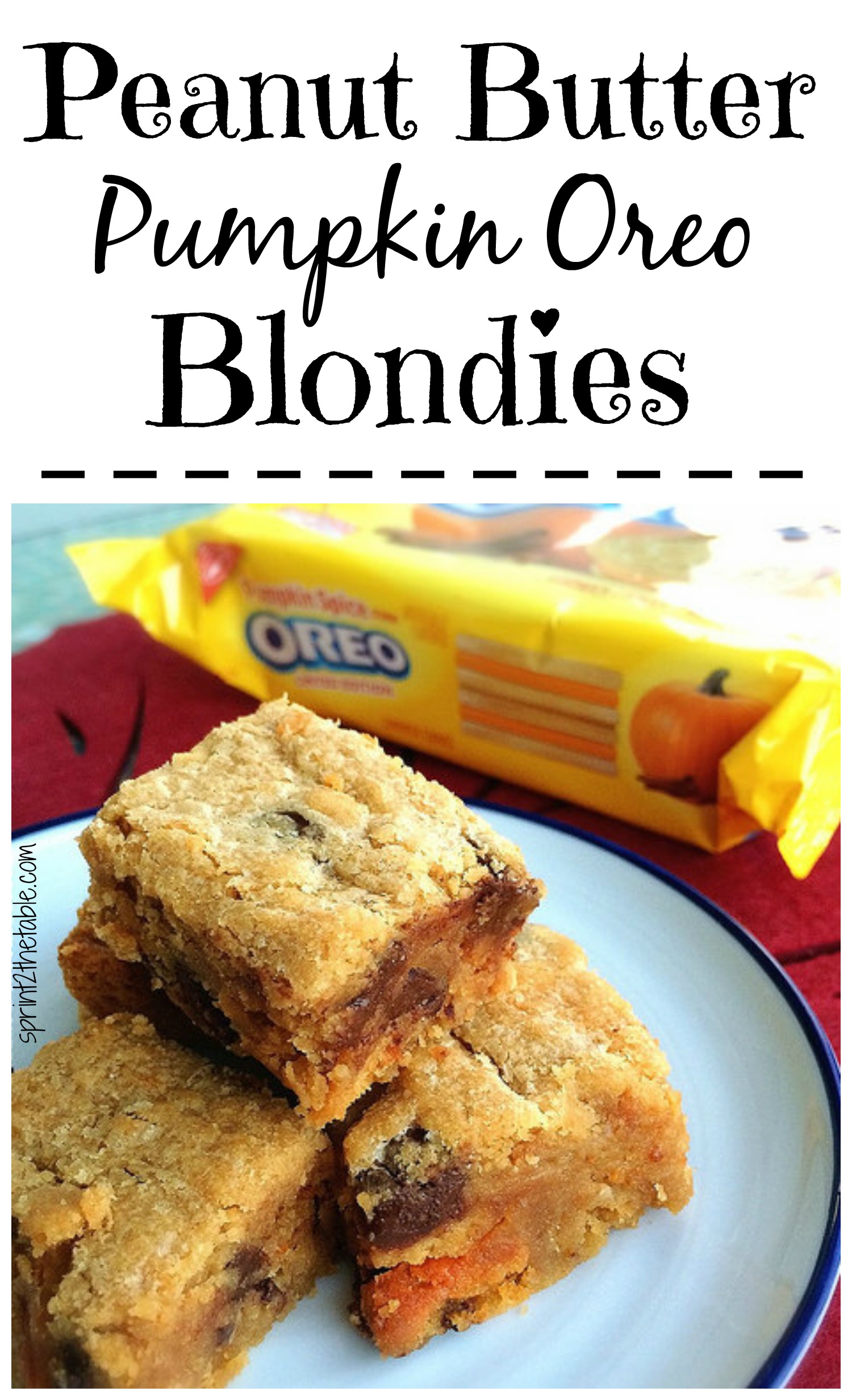 Peanut Butter Pumpkin Oreo Blondies
4 T salted butter, at room temperature
1/2 C pumpkin puree
1/2 C light brown sugar
1/2 C granulated sugar (or sugar substitute)
1 tsp vanilla extract
1/2 C Pumpkin Pie Spice Jif Whips Peanut Butter (or other nut butter)
1 egg
1 C all purpose flour
1/2 tsp cinnamon
1/2 tsp baking powder
1 C Pumpkin Oreos, roughly chopped
1/2 C dark chocolate chips
Preheat oven to 350 and line a 9×9 pan with foil, leaving excess on either side to act as handles.
With a mixer, cream together butter, pumpkin, and sugars until fluffy (1-2 mins). Add vanilla and peanut butter and mix again until smooth.  Add egg, mixing once again.
Gradually add flour, cinnamon, and baking powder, mixing as you go at a low speed.  Fold in crushed Oreos and chocolate chips.
Pour batter into the foil-lined pan, spreading to evenly distribute.
Bake for 20-25 mins, until the top is golden brown.  Let cool 10-15 mins, then use the foil handles to remove the blondies and cut into squares.
***
I'm still a bigger fan of the Birthday Cake Oreos… but when are Oreos not marvelous?
What's the most decadent baked good you've ever made (or eaten)? 
Have you tried the pumpkin Oreos?