We're rivaling a certain international pancake house this week.
Do pancakes ever really get old?
We got back in town from the softball tournament late Sunday and two days later I STILL hadn't been to the grocery store.  No eggs, no milk, no bacon (just a well… apparently that causes cancer now) in the house.
Thanks to Fit Body Bakery and Fit Approach, Vegas and I had plenty of Power Up Pancake Mix to sustain us.  You're supposed to simply add eggs and water… but seeing as how we had no eggs, I made a flax egg.  It worked like a charm!
As a peanut butter addict, I had to add some white chocolate protein peanut butter for extra flavor.  I also used cinnamon and almond extract because those two ingredients make everything taste like cookies.
These were the most insanely fluffy pancakes from a box I've ever had (Vegas says she agrees).  I topped my peanut butter 'cakes with sugar free maple syrup, cocoa-coconut fluff and chocolate granola courtesy of this week's WIAW host.
Peanut Butter Flax Protein Pancakes
2 servings (74g) Power Up Pancake Mix
1 flax egg (1T ground flax + 3T water)
1 T peanut butter
1/3 C water
1/2 tsp cinnamon
1/2 tsp almond extract
Mix all ingredients together in a medium bowl.  Cook over medium heat for ~4 mins, flipping half way through.
Top as desired.  For my chocolate "fluff," I mixed together 1T coconut flour, 1T cocoa powder, 4-5 drops vanilla stevia, and enough water to thin.
Makes 2 servings.
Here's some good news for you… the awesome people at Fit Body Bakery have offered up one baking mix to give to one of you!  Check out the giveaway at the bottom of this post.
Here's what I love about Fit Body Bakery:
They want to change the way people bake by show people how to make easy changes that have a huge impact on their health and fitness goals.
Their mixes are gluten-free
There are no preservatives or artificial ingredients
Each serving is packed with 6g+ protein to satisfy hunger
They're made with unrefined coconut sugar and stevia
They are delicious (both my sweet tooth and Vegas approved).
As a former competitor and trainer, I especially appreciate that Bake Fit's creator, Samara Donald, is a fitness competitor and coach.  Her aim was to put more nutrition into yummy baked treats, so now we can all #BakeFit!
---
Read on for my eats, then check out Jenn's WIAW baby over at Meghan's this week!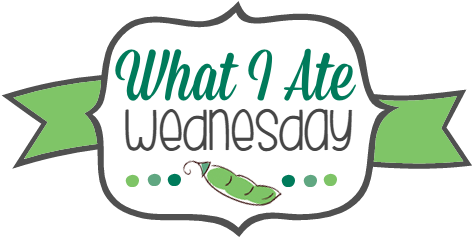 ---
Breakfast:
I had my usual morning cocktail and spooky matcha sludge.
Then we had the afore mentioned pancakes.  Please note the fluff-factor.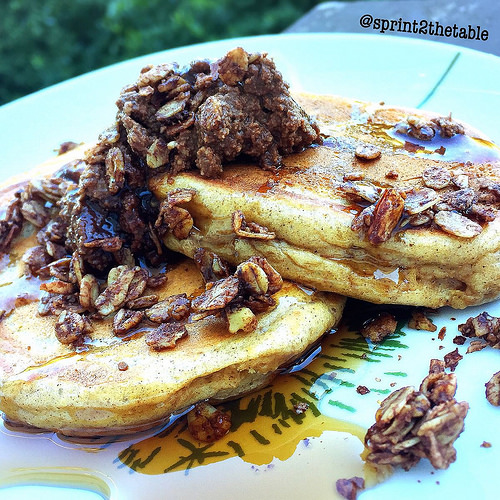 Lunch:
I finally went to the grocery store; two of them actually.  Unfortunately I waited too long and was hungry again… so I came home having spent $200, including a $9 sushi roll from Whole Paycheck for lunch.
I can't complain.  Grocery shopping is like a sport to me.  I was happily wandering aisles and appreciating all the festive decor.
Like this adorable little tangerine worm:
Dinner:
Vegas isn't crazy about seafood, so I got chicken for her dinner and swordfish for mine.  They're pretty easy to do at the same time.  We also had this Apple Sweet Potato Hash Sam posted yesterday.  It was fabulous!  I followed her recipe, except we used purple sweet potatoes.
We ate it with side salads while we jumped between the World Series and the Atlanta Hawks opener.  #stereotype
---
Win a Fit Body Bakery Mix of Your Choice!
a Rafflecopter giveaway

Open to US Residents and runs until Monday November 1st at midnight.
You can also use code "SP15" for 15% off at FitBodyBakery.com (Expires 11/30/15).
***
I'm so excited to have food in the house again!
Do you enjoy grocery shopping?
Do you have to make separate meals for your family?