There is no greater combination than peanut butter and banana.
Well, maybe chocolate.
It's more than a little strange for me to be posting such a super-simple recipe, especially one involving frozen fruit.  It's good, nonetheless.  A peanut butter banana pop in the heat of the summer couldn't sound more perfect, no?
Plus, it's really strange and hilariously good to watch Vegas eat one of these.  She forbid me from posting the pics, but they exist, trust me.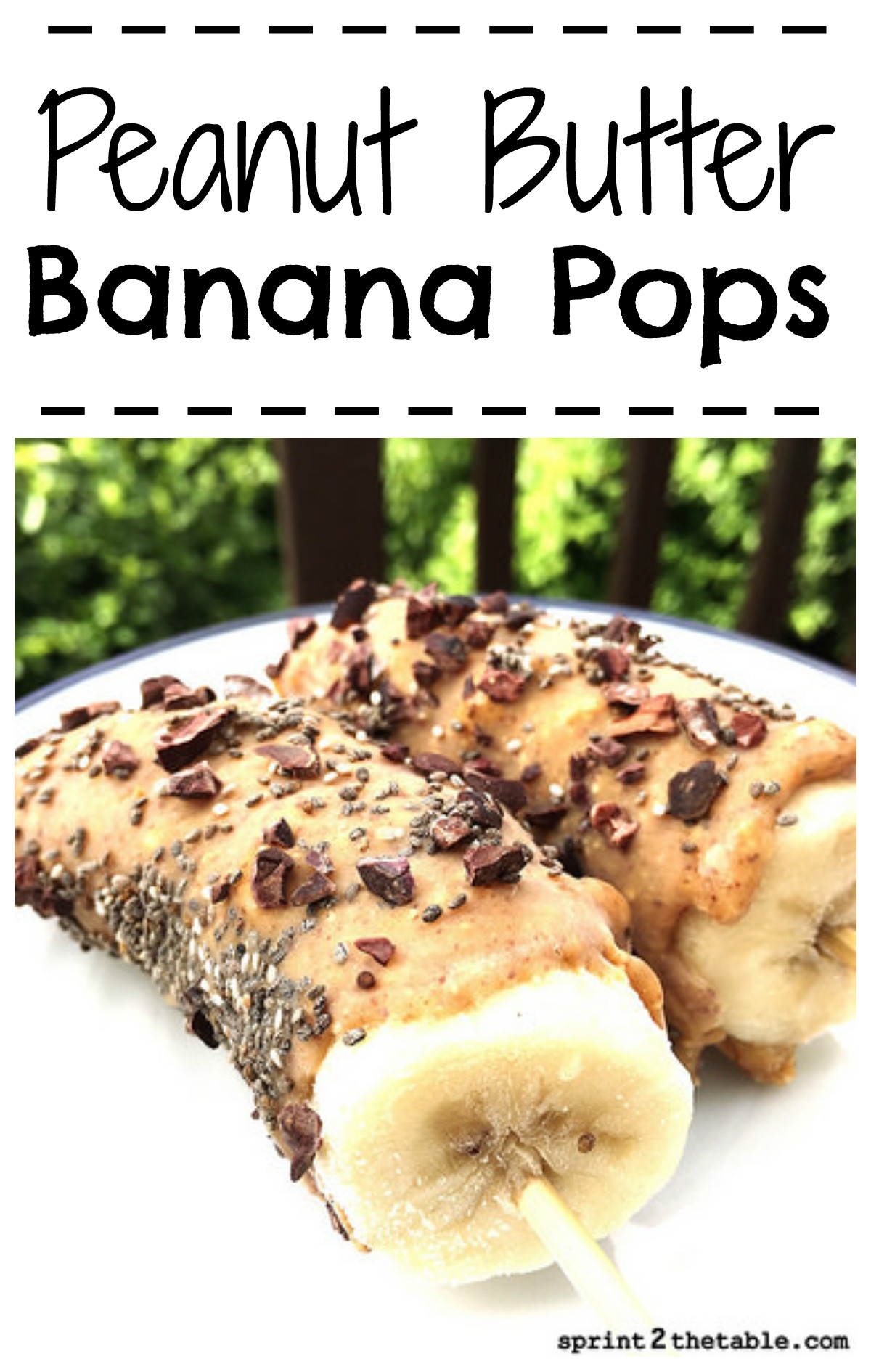 There are three basic ingredients to this recipe: bananas, nut butter, and coconut oil.  It really doesn't get any easier than this.
The most important thing for you to keep in mind is to freeze the bananas first.  It will make your life SO much easier.  Unfrozen, the 'nanners are too soft to stay on the stick.  So remember… no limp bananas.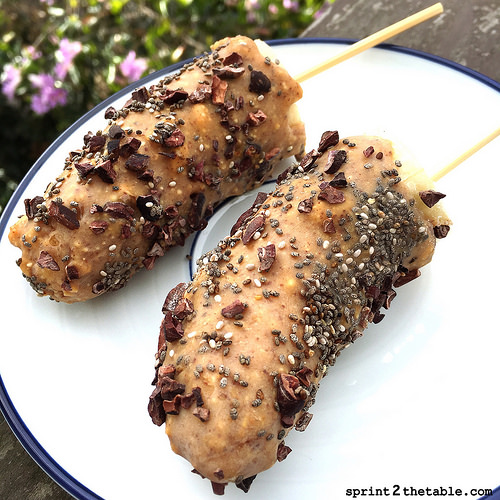 I used a local peanut butter called Pacific Beach Peanut Butter.
The Cinna-Yum flavor is a must-try.  Trust me.
The coating possibilities are endless – I used chia and cacao nibs, but you can get creative with whatever you have on hand.  Just make sure to add something with a little crunch!  The texture contrast is key.
Before you serve these, take then out of the freezer to soften just a bit.  You don't want to have to use too much teeth… because you don't want to hurt your teeth… what were you thinking?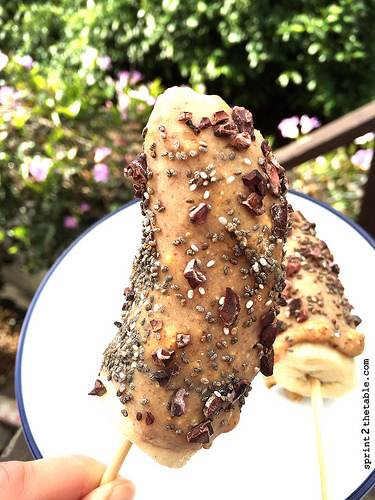 Did you really think I was going to make it through this without a few inappropriate jokes?!
---

Peanut Butter Banana Pops
About 30 mins before you're ready to prepare the nut butter mix, peel and cut bananas in half horizontally (across the middle).  Insert a popsicle stick into the cut end of each half.  Place in freezer on parchment paper to harden.
Place the nut butter and coconut oil in a microwave-safe bowl.  Microwave for ~30 seconds, or until oil is melted and the nut butter is softened.  Stir to combine.
Spoon the melty nut butter mixture over each banana to coat.  Then sprinkle with chia and cacao nibs, pressing lightly into the nut butter. 
Place on parchment paper-lined plate and return to the freezer for at least 30 mins to solidify.  Once they are frozen, you can transfer them into a zip-top bag and store them in the freezer.  Let soften a bit at room temperature before serving.
Other coating ideas: chopped nuts of any kind, coconut shreds, granola, small cereal bits, mini chocolate chips.
Makes 4 servings.
---
How have you enjoyed making co-workers, friends, or family stare with strange but good creations this week? The link up rules can be found here or by clicking on "Strange But Good" in the menu bar above. In short, I want to see what concoctions have earned you weird looks from co-workers, family and friends! Post your Strange But Good creations, grab the logo below for your blog, and link up here.
Remember to use #strangebutgood in any Tweets and Instagrams of your creations. 🙂



***
There may be pics of us eating these posted on Instagram later today… shhhh…
Do you ever snack on frozen fruit?
What would you coat these pops with?