This is the fastest #strangebutgood post I've ever done.
Goal: Under 10 mins.
The clock has started.  I'm sitting in a parking lot in Las Vegas waiting on Vegas.  If you don't think today's recipe is strange, the writing circumstances certainly are!
We've been having to leave the house early lately.  I'm not someone who can eat first thing.  First I need my morning cocktail, coffee, and a trip to the bathroom (if you know what I mean).  When we have to leave in a rush, I make my breakfast to-go so I have time for my routine and eat comfortably.  We left for Vegas early yesterday, so I made this Peanut Butter Apple Pie Yogurt for the road.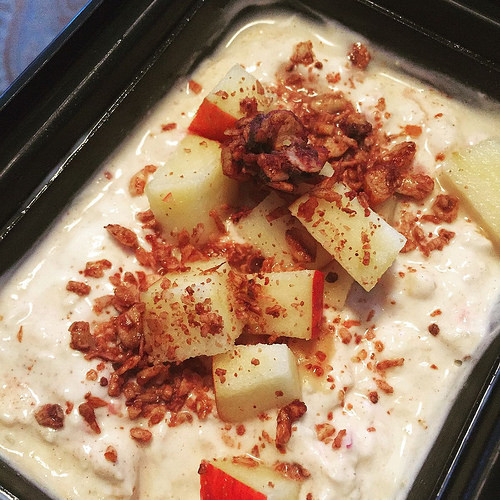 Just shred the apples with a hand grater.  It's really easy since they're soft.  If you have pie spice, you could use there here.  I like my own blend of cinnamon and ginger.
I used peanut flour for a peanut butter and apple taste, and to add protein.  You could either eliminate it or add your favorite protein powder here to create your own flavor.
Whatever you do, make this.  It's super easy and making it the night before is perfect for this busy season.*
*Please excuse the terrible pics.  We were busy.
---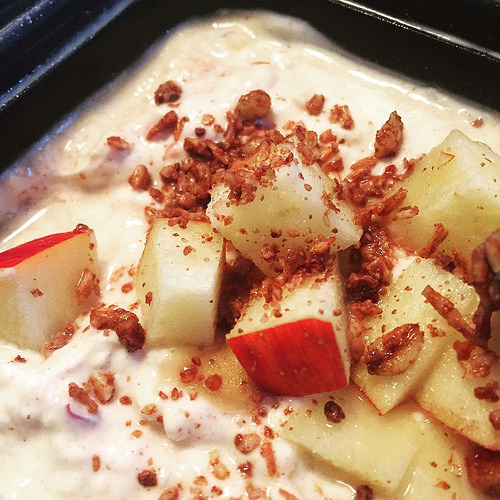 Peanut Butter Apple Pie Greek Yogurt
1/2 C Greek yogurt
1/2 shredded apple
1 T peanut flour
1/2 tsp cinnamon
1/4 tsp ginger
4-5 drops vanilla liquid stevia
Milk or other liquid of choice, to thin as needed
Mix all ingredients together.  Top as desired – I used more apples and chocolate granola.
Store in fridge overnight or eat immediately.
---
How have you enjoyed making co-workers, friends, or family stare with strange but good creations this week? The link up rules can be found here or by clicking on "Strange But Good" in the menu bar above. In short, I want to see what concoctions have earned you weird looks from co-workers, family and friends! Post your Strange But Good creations, grab the logo below for your blog, and link up here.
Remember to use #strangebutgood in any Tweets and Instagrams of your creations. 🙂