Working out can actually help alleviate soreness.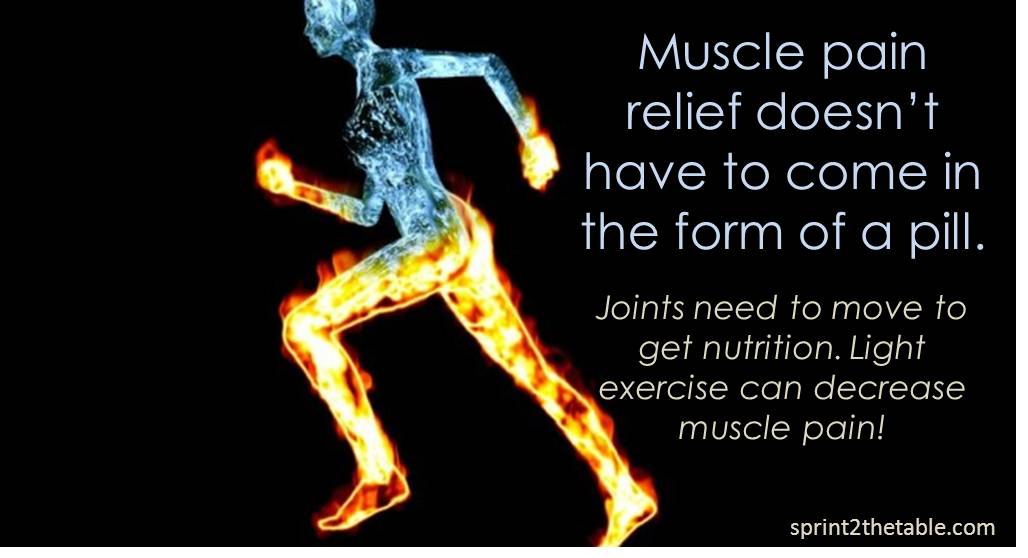 That's what "they" say anyway.  So I got up and ran a looooong 5K distance yesterday in hopes of working out some of that delayed onset muscle soreness (DOMS) from Monday's Peachtree Road Race.
Stats:
Distance – 3.14
Time – 25:31 mins
Pace – 8:06 mins
DOMS is the pain/stiffness you feel 1-2 days after a tough workout.  It refers to the little tears in the muscle rebuilding after you've broken them down – and it is an important part of the muscle-building process.  Light exercise, easy stretching, and massages are all good ways to alleviate DOMS.
Note: DOMS is not to be confused with injury or pain from doing too much too fast.  If you're experiencing that soreness, you need to REST.
_______________________________________________________________________________________
The food you eat post-workout is also important.  Lots of nutrients are a must – I like to load up on protein, fruits, and veggies.
Peaches are all over my Peach State right now.  The season is ON and sweet, juicy peaches are everywhere.
Fun fact: after the July 4th Peachtree Road Race they hand out peaches in addition to the usual bananas and bagels.
For lunch I decided to use some of the peaches my grandfather gave me from his trees in a soup.  With a side of (not pictured) chicken.
This chilled gazpacho is a great light, summery started or side dish.  The serrano adds an unexpected bit of heat on the end of each crisp, sweet bite.
I didn't add sugar/honey/agave, but you certainly could if you like a sweeter soup or your peaches aren't as flavorful.  If you aren't a fan of heat, reduce the amount of or leave out the serrano pepper.
___________________________________________________________________________________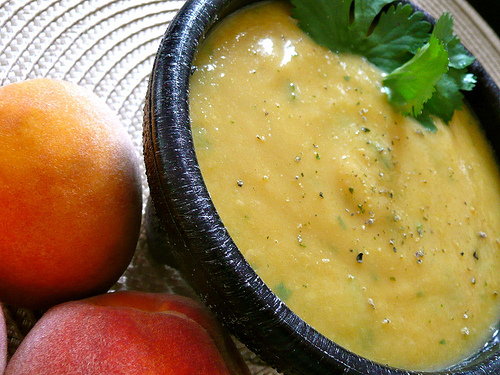 Peach Cucumber Gazpacho
1 large peach
1/3 C cucumber, peeled and diced
1/4 C yellow pepper, diced
1/2 oz goat cheese
1 T apple cider vinegar
1 tsp olive oil
1 garlic clove, sliced in half
1/2 serrano pepper
1/8 C cilantro
1/4 C coconut milk (not canned – the So Delicious variety)
S+P, to taste
Combine sliced peaches, cucumber, yellow pepper in a medium bowl.  Add the goat cheese, vinegar, olive oil, a couple shakes of salt, and garlic clove.  Cover and refrigerate overnight.
In the morning, remove the garlic from the mix and throw away.  Pour the remaining contents of the bowl into a blender and add serrano pepper, cilantro, and milk.  
Puree until smooth and creamy.  Season with salt and pepper;  you may also add agave or honey for a sweeter soup.  
Refrigerate until well-chilled, allowing flavors to combined (at least 2 hours).
Pour into 1-2 bowls and enjoy!
Makes ~1 cup.
***
A HUGE thank you to everyone for the comments you made in response to yesterday's post.  You guys made my day so much better. 🙂
What do you do to recover after a hard workout?