Staple foods.  We all have them.
Some of us have them literally.
When my boss referred to Amy's burritos as a staple food… he meant literally.  He opened this little gem and found something shiny in it.  Normally I like shiny things, but a staple in my burrito?  I'll pass.
He emailed Amy's and got a scripted response from customer service about an hour later.  The person didn't seem too concerned,but said they send the pics to someone else int he company.  Well see… in the mean time, I'm especially grateful I go my food prep!
________________________________________________________________________________________
My WIAW wasn't shiny, but it was delicious.  My boss asked if I'd bring him meals too. 😉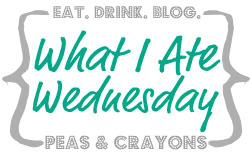 Read on for my eats, and then check out Jenn's blog for everyone else's delicious creations!
________________________________________________________________________________________
Breakfast:
My morning cocktail was followed by cookies.  Arman linked up his Caramel Pecan Breakfast Cookies to Friday's #strangebutgood post.  The flavor was amazing… but I was running late (as usual)… so I tried to make them in the microwave and jacked it up.  As such, here's a pic of Arman's original cookie.
Mid-Morning Snack:
A quickie turkey salad – I shredded up some no salt deli turkey and mixed with sugar peas and a Greek yogurt mix (yogurt, dill, lemon juice, cumin, and pepper).  These salad creations are so easy to make on the fly.  I also  like to use chicken or fish I've pre-cooked.
Lunch:
Shrimp salad with cabbage, tossed in a delicious sauce that I will reveal in Friday's #strangebutgood post… I made it as part of Sunday's food prep and surprised myself at how well the recipe hack turned out.
Mid-Afternoon Snack(s):
Swordfish was on sale and Whole Paycheck, so you know I stocked up!  With a side of honey mustard-roasted cauliflower, mushrooms, and bell peppers.
Dinner:
This dinner was a late one, but was worth the wait!  Soy bean pasta with Sizzlefish scallops (my favorite yet!) and a tasty #strangebutgood sauce that will be on the blog Friday! I'm really, really excited for this one…
Dessert:
For dessert, I was craving PB&J.  So I tuned it into a midnight snack-style greek yogurt bowl!  The yogurt base was the peanut butter, and the jam I topped it with my grandmother's homemade muscadine jelly.  I wish I could share the jelly with everyone… it is the best I've ever tasted.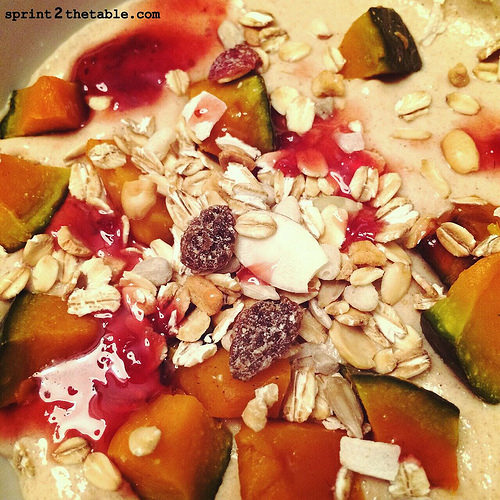 PB&J Yogurt Bowl
1/2 C Greek yogurt
1/4 C peanut flour*
1/4 C unsweetened vanilla almond milk
1 T gelatin (optional)
1/2 tsp cinnamon
6-7 drops vanilla liquid stevia
Toppings: kabocha, muesli, jelly
Mix together. Top.  Eat.
*I order my peanut flour from iHerb.  Use discount code USO924 for $5-10 off your order!  
Here are a few other ways to use crack peanut flour.
***
The last few weeks have flown by, but I must confess this week is dragging ass.  Productive, but feels long.  Maybe a little rest would be good. 😉
What is your favorite jelly flavor?
What are your staple foods?