The times, they are a changin.'
I am fully aware that the time changed Sunday, but I am still adjusting.  My brain does NOT like 6 pm darkness, resulting in me shutting down when I'd normally be gearing up to have some fun.
Maybe that's what is making this week fly by?
Despite the fact that I thought it was 10pm at 6pm tonight (it doesn't help that I keep forgetting to change the clock on my microwave), I began holiday experimentation/baking this evening.
My dinner may have included 2 cookies.  And dough.  Lots of dough.  Quality control is important in this house.
Expect some deliciousness to be posted soon!  For now, here's my contribution to Jenn's wonderful What I Ate Wednesday with a childhood favorite turned shake.
Fabulous photography courtesy (mostly) of laziness the iPhone Hipstamtic app.
Breakfast:
During After an early morning conference call, I whipped up some Vanilla-Coffee Oatmeal.
It doesn't look that impressive, but it was a flavorful bowl!  In my Vanilla-Coffee Oats:
Unsweetened Vanilla Coconut Milk (a la So Delicious)
1/4 C coffee (brewed strong)
1/2 scoop vanilla protein powder
Cinnamon
Salt
I was craving some fruit, so I had a little grapefruit.  Literally – this was the smallest grapefruit I've ever seen.  All the while diligently taking notes – multi-tasking, FTW.
Lunch:
Today during lunch I had to go to the dentist.  No cavities, but I have some enamel erosion and need to get a couple of teeth bonded.  My first old-person dental procedure.
News that was deserving a treat/comfort food.
Whole Paycheck Foods hot bar trash can.  Trash can because I just kept layering item upon item.  I can't begin to name what all was in there; I assure you it was tasty.
Dinner:
In case you're new, you should know that I have an obsession with Indian-inspired food.  This creation involved a new squash – Carnival – and was amazing.
The lentils I used were also different.  They were orange!  I can't say this wasn't influenced by my disdain for trying to make pics of brown food look appetizing.  
It was a Curried Lentil Carnival in my bowl.  Recipe to come tomorrow!
Snacks:
On the way to the dentist I had a Think Thin bar.  I used to love them, but no longer recommend these because they changed the recipe without asking me.
Post-workout was a MUCH better snack: PB&J Protein Shake!
This one is going in my regular rotation.  Today's workout was the P90X Biceps and Back DVD, followed by Ab Ripper X.  I've been stepping up my game with weight lately.  This workout left me shaking and in desperate need of protein.
My PB&J Shake hit the spot.  I loved the whole strawberries (frozen work just fine this time of year).  My Valencia Peanut Butter is just runny enough to blend perfectly, and with a big scoop of vanilla protein powder the whole thing was a satisfying 23g of protein.  (Recipe at the end)
Just before bed I conducted another quality control test with a glass of almond milk:
______________________________________________________________________________________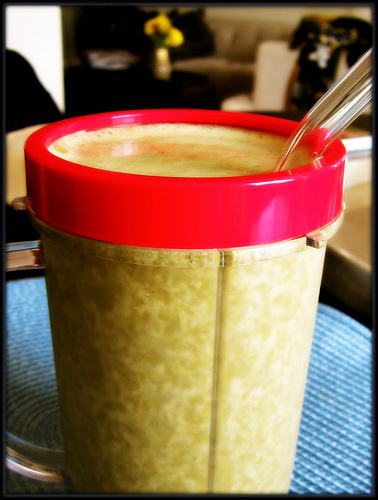 PB&J Protein Shake
2 T peanut butter
1/2 C frozen strawberries
1 C spinach
1/2 C unsweetened vanilla coconut milk (I used So Delicious)
1 scoop vanilla protein powder
 1/4 tsp cinnamon
4-5 drops vanilla stevia
Shake of salt
Shake of Guar gum
Ice + water, taste
Place everything in your blender of choice and mix until smooth.  Bottoms up!
***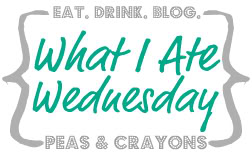 As always, check out Peas and Crayons to see the ever-growing collection of what everyone else ate today!
Have you ever had teeth bonded?  Is it a big deal?
Do you make holiday dishes beforehand to "test" them?