Technology gets me excited.
Clearly I need to get out more.
Being a figure competitor means my food scale is my most-used kitchen tool.  I need to weigh my proteins to make sure I have enough, and I can more easily get accurate serving sizes for other items.  Even if you don't eat like a crazy person, scales are a HUGE help in baking.  I no longer use measuring cups!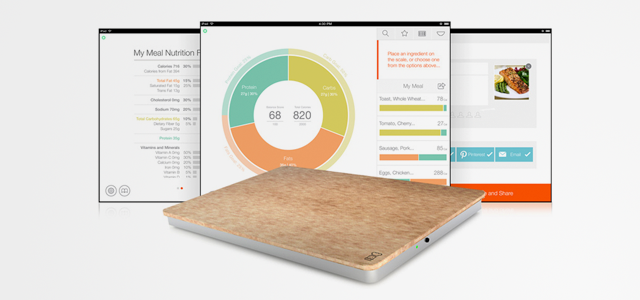 I read about this Countertop + Prep Pad with glee.  This device can determine the exact nutritional content of whatever you're making and track your eating habits.  Beyond the traditional accurate weighing of ingredients, it has a BlueTooth connection and an app which displays your data.  You place food on the scales, indicate what it is, and the app shows the nutritional data (with macros, micros, and ingredients).  It even tracks goals for you!
It's available to pre-order now for $149.95 (delivery in November).  I'm soooooo tempted…
(I randomly ran across this… they didn't pay me or anything.  It's just cool.)
________________________________________________________________________________________
This is WIAW I am back to "normal."  I food prepped well this week, and was able to keep on track through back to back meetings.  It's a fun busy though. 🙂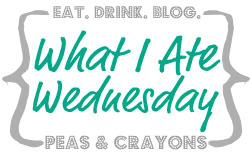 Read on for my 4 weeks out eats, and then check out Jenn's blog. for some more "normal" days of food.
________________________________________________________________________________________
Breakfast:
Ever the creature of habit, a had my Aminos and ACV morning cocktail.  Sam posted she's been starting her day with ACV for a year… made me realize I'm at about 2 years.  Whoa.
My meal was a win.  Normally I go to bed thinking about breakfast, but last night I didn't have an clear vision.  It came in the morning though!  Pear.  Cardamom.  Eggs.  Peanut sauce.  Totally normal.
Cardamom is one of those "a little goes a long way" spices, but just a pinch can make a dish something spectacular.  Especially when that dish involves pear.
I plated this for a pic before pouring it into a solo cup to-go.  See bottom of post for the prettier pic and full recipe. 
Mid-Morning Snack:
Crab salad with arugula, cherry tomatoes, hummus, and pepper.  I love crab.  I really love crab that is 20% off.
Lunch:
Dijon Baked Chicken (so glad I made a TON of froze it), roasted bok choy, and yuca fries with salsa.  I am newly obsessed with yucca fries.
Yuca (also known as Cassava) is a thick, starchy tuber.  It's sort of like a potato, but a little sweeter and drier.  It's also really hard to slice… but, like kabocha, it's worth the effort.  I sliced mine into fries and roasted it on 425 til it was crispy (maybe 25 mins?).
For a funny story about my lunch here.
Mid-Afternoon Snack:
I make a lot of food… which means sometimes I forget about recipes.  This week I remembered one I really loved: BBQ Cauliflower Bites.  Yesterday I ate it at work with asparagus and a veggie burger with beer mustard.  Happy girl, I was.
Dinner:
Dinner was a pleasant surprise.  I was SO SORE after leg day that I decided to take a rest day and detoured to Whole Paycheck Foods on the way home for some fresh fish.  I ended up with flounder, a fish I'd never prepared at home before.
I baked my flounder for 10 mins at 425 with fresh lemon, pepper, and lemon-thyme a co-worker brought me from her garden (thanks Allison!).  Eaten with half a roasted yellow acorn squash and broccoli slaw over a bed of arugula.
Dessert:
It's finally feeling like fall in Atlanta, so a warm dessert was in order.  I Made my 150 Calorie Microwave Chocolate Cake (using pumpkin puree instead of applesauce) and topped it with berries and pumpkin fluff.
Pumpkin fluff is amazing.  It's just equal parts pumpkin puree, Tru Whip (cleaner cool whip from WF), cinnamon, and butter extract.  Just do it.
________________________________________________________________________________________

PB & Peaggs
2/3 C egg whites
1/4 tsp cinnamon
1/4 tsp ginger
Pinch of cardamom
For the Sauce
1 T peanut flour (or nut butter)
1 T unsweetened almond milk
1/2 tsp vanilla extract
1/4 tsp cinnamon
3-4 drops liquid Stevia
1 small pear, chopped
Scramble together then first 4 ingredients.  Cook over medium heat until almost done.  Meanwhile, mix together peanut sauce.
Add the peanut sauce and pear, stirring to combine.  Cook just long enough to warm through. 
Devour.
***
Let's revisit my leg day.  I am so sore.  So very sore.  GROW LEGS!
Do you use a food scale?  Would you buy this hard-core one?

Have you tried anything new lately that you're loving? I'm a flounder fan now!