I'm a big fan of modifications.
Have you seen the dishes I bastardize exercise creative license with?
This week my nutrition plan has had one awesome modification.  After mentioning that I almost hurled last week after shoveling down lunch right before a workout, my trainer gave me an life stomach saving tip.  If a workout is scheduled right after a carb meal (Meal 1, 3, 5, or 7), then I can switch the order of the meals.  So instead of my scheduled Meal 3 carb + protein + veggie combo, I could have swapped it for Meal 4 which is just a veggie + protein.
3 Benefits to This:
Quick protein boost before a workout (and a little energy from the sugar if this occurs in the morning when I get fruit rather than a veggie)
Complex carbs post-workout are great for muscle repair/recovery
No risk of regurgitation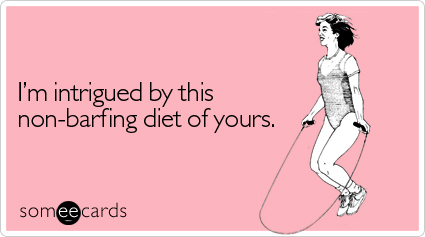 Similar to running, you don't want to lifting heavy on a full tummy.  It's hard work and being full just makes you feel draggy.  When you're in prep for a figure competition the last thing you want is to have a junk workout.  I've been relishing in this modification all week.  It has done wonders for my energy at the gym, as well as my comfort level!
---
Enough tummy talk.  We have a new theme this week for What I Ate Wednesday!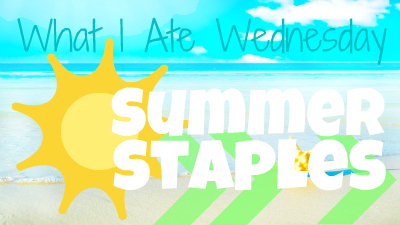 Seasonal eating is a big deal to me.  Food that is in season tastes better, and it is less expensive.  Not to mention the fact that you can support your local farmers by purchasing your product through them rather than from far away places like Chile.
Check out my (mostly) summertime appropriate eats below, then click here to Jenn @ Peas and Crayons to see everyone else's fitness foods!
---
Meal 1:
I'm recycling the pic from last week of aminos mixed with ~2T of apple cider vinegar and water.  I drink this down 30 mins prior to meal one for its benefits related to energy, digestion, and skin.
As I mentioned above, I'm doing some meal-order-swapping around my workouts.  Since I was about to hit the gym, I swapped meals 1 and 2.  So… Meal 1 = Meal 2, meaning I need a fruit and a protein.
You follow?
Last week's PB & Jeggs were so good I did a little remix of that idea.  Rather than using mixed berries, I uses apples to create PB & Aggs!  (Any Aggie fans out there?)
I shook it up a little to be more like PB & Agg Pie. (Is that taking the naming thing too far?)
PB & Aggs:
1/2 C egg whites
2 T peanut flour
2 T water
1/2 tsp cinnamon
1/4 tsp nutmeg
3 drops lemon liquid stevia
1 small apple, cut into ~1/2 in pieces
See this post for detailed instructions.
Meal 2:
Post-workout I ate what was supposed to be Meal 1.  Hooray for post-workout complex carbs!
This is a seasonal cherry-ginger protein smoothie bowl (with spinach, obv) topped with homemade granola.  It was simple, but hit the spot. 
Meal 3:
I often make it through the day with entirely vegetarian protein sources, but today I enjoyed a tuna burger with a said of salsa.  I'd love to share the recipe with you, but to be honest it was a little dry.  The flavor was good… I will keep tweaking and report back.
For my seasonal sides, I enjoyed carrot sticks and raw asparagus.  Produce is so sweet this summer!  I read somewhere that it is due to the extreme heat.  Apparently some good does come out of 100+ temps! 
My complex carb was slice of Ezekial bread with some Sunbutter.
After a nasty failed attempt at making my own sunflower seed butter, I sucked it up and bought a jar.  Worth.  It.
Meal 4:
Another seasonal veggie favorite is zucchini.  I've seen a lot of pic posted around the web of some massive zuccs. I wish I'd taken one of this sucker before I cut it up because it was a beast.
Eaten with no salt added cottage cheese mixed with peanut flour, nutritional yeast, and sriracha.  It was a sort of Thai peanut sauce!  To be honest… I went a little heavy on the nooch. 😉
Meal 5:
Apparently last Wednesday was particularly inspiring to me.  For dinner I repeated yet another meal from the week.  What can I say, I fell in love with the (gluten-free) Cauliflower pizza!
I made the crust just like this one, but topped it with a local tomato, red onion, aged balsamic, a farm fresh egg, and a bastardized vegan version of spinach pesto.
The pesto creation was quite tasty – lots of herb-y, fresh flavor.  Here's how I did it:
Vegan Spinach-Rosemary "Pesto"
1 C fresh spinach
1 large sprig of rosemary
1 T nutritional yeast
1/4 tsp fresh lemon juice
1 clove garlic
1/4 tsp olive oil
A bit of water (just enough to blend)
 Place it all in the blender and mix until smooth.
If you haven't made this yet… well, I feel sorry for you.
Meal 6:
Carrot cake is something of a tradition in my family.  It's not surprising that my favorite protein shake is this carrot cake creation.  It's what inspired the following snackage.  I had already had a smoothie at Meal 2, and since I try to vary my protein sources, I racked my brain to figure out what other source I could get 20g of protein from.  The answer?  Greek Yogurt!
Ladies and gentlemen (do any dudes read this blog?!), I give you a bowl full 'o Carrot Cake Batter:
This protein-packed snack reminds me of that recipe handed down from my MamMaw.  The freshly grated carrot and the hint of nutmeg make this batter is scarily close to the "real" thing.  I have eaten it as Meal 6 every night this week.  Admittedly, some cream cheese icing would be nice.
Recipe at bottom.
Meal 7:
Apparently I'm in comfort-dessert food mode.  Pumpkin Pie Mush, anyone?  I'm going to turn orange.
This has been done ad nauseam in blog-land, so I won't beat a dead horse.  Basically, you mix together your desired amount of oats, protein powder, pumpkin, water or other liquid, cinnamon, ginger, vanilla, stevia.  Let sit in fridge for at least an hour.  Devour.
I forgot to take a second pic, but I also topped this with strawberries.  It was tasty.
---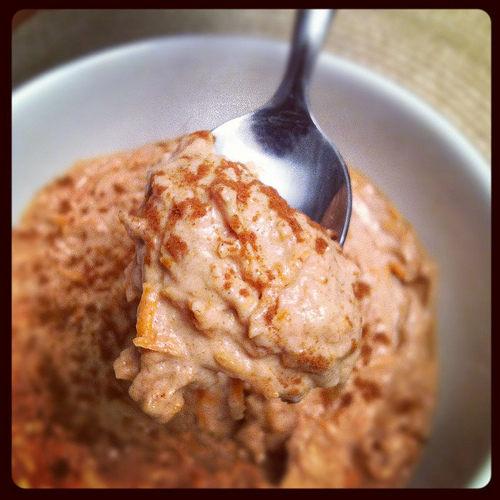 Carrot Cake Protein Batter
1/2 C Greek yogurt
1 T vanilla protein powder
1 medium carrot, grated
1/2 tsp vanilla extract
1/4 tsp maple extract (optional)
1 tsp cinnamon
1/4 tsp ground ginger
1/4 tsp nutmeg
7-8 drops liquid stevia, or sweeter of your choice
Place all ingredients in a bowl, and stir to combine.  Depending on the thickness of your yogurt and the absorption of your protein powder, you may need to add a bit of liquid.
Note: This is also delicious with peanut flour, PB2, or coconut flour in place of the protein powder.
***
Are you keeping track?  I managed 149.1g of protein.  Even more exciting (to me) is the fact that I actually kept my sodium down to 1,137mg.  Shityeah.
What are your favorite summer foods?
Have you ever actually gotten sick during a workout?  I think I would die.