Paris is an experience that everyone should have.  It's a city you can't help to fall in love with, one of those places that will always have a new surprise waiting.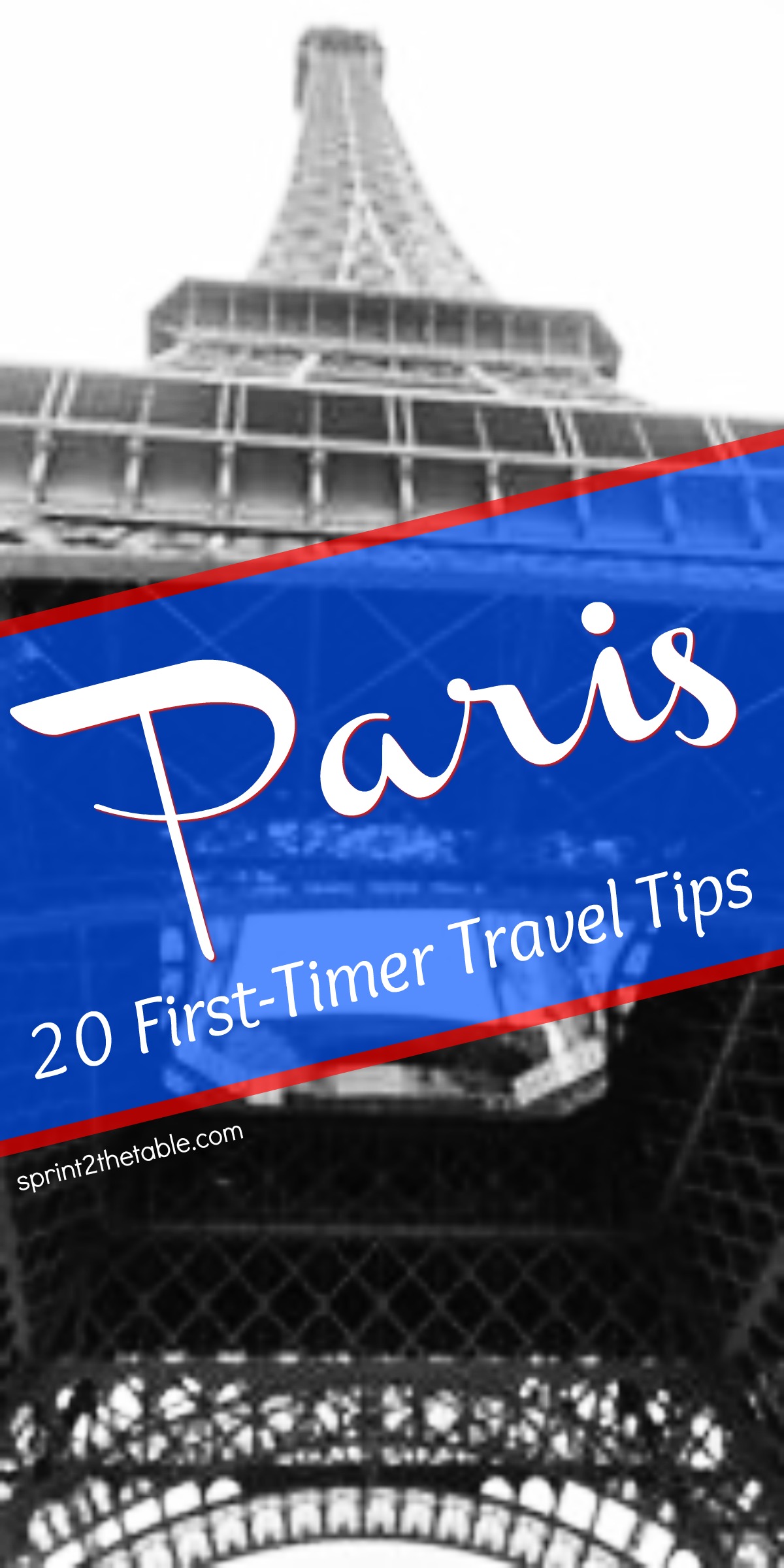 I'm a little embarrassed to say that I've put off going to Paris for years.  I always heard that French people are a bit rude if you can't speak the language.  Spanish was my language in high school… I speak ZERO French.
Vegas and I spent a week in Paris last month (on a super cheap flight, thanks to Scott's Cheap Flights), and I'm pleased to report that everyone was kind and full of friendly advice.  That said, do try to at least greet people with "Bonjour" and say goodbye with an "Au Revoir."  Be polite!
Accommodations
There are a million great hotels to choose from in Paris.  We settled on Hotel Westminster because it is centrally located in the Opera district.  I loved the staff there.  The concierge had great suggestions, and the bartenders were friendly and talented.  They also give you amazing rosemary roasted cashews with a drink (we basically ate a full pound of them while we were there).
Another option is booking a place through Airbnb.  There are so many cute places to stay; the only reason we chose a hotel over an apartment was that we had credit card points.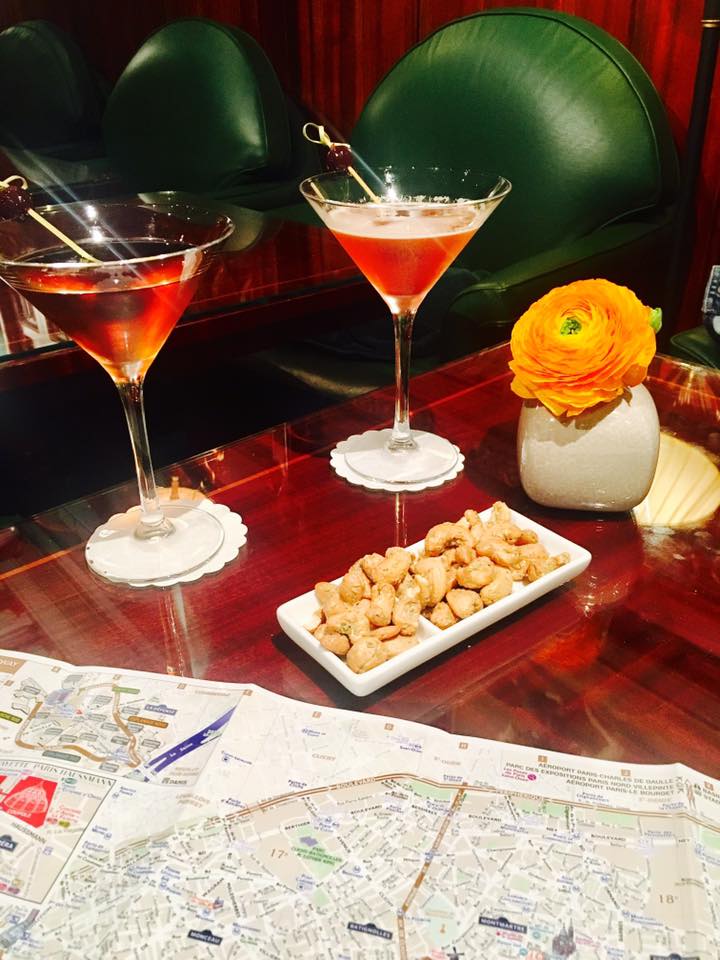 Transportation
There is no need for a car in Paris.  In fact, I'd recommend avoiding it at all costs.  Driving is a crazy mess (they don't believe in lanes), and parking is scarce and expensive.   There are too many alternatives to justify dealing with the headache:
The Metro is an easy, safe way to travel.  Just make sure you keep your ticket.  You'll need it to get out of the station at your stop.  If you accidentally drop it (like I did), you'll be fined 50€.  There are free apps for Metro maps; download one so you won't need to deal with a giant printed map.
Taxis and Ubers are everywhere in Paris.  As in the US, Uber is far less expensive.   Just don't look out the window if you get carsick… driving is like playing Frogger.
Walking is my favorite way to explore new cities.  Paris is a wonderful walking city.  Leave early and take a stroll to your destination, stopping in a shop or café along the way.
Tourist Sites
My biggest tip for these tourist sights is to spend the extra money for a "skip the line" ticket or a tour.  Many credit cards have rewards points you can use for these (our Chase Sapphire card was worth every penny for the annual fee).  We walked right into the Louvre and waited just 5 minutes for the Eiffel Tower, all the while there were throngs of people waiting to enter.
The Eiffel Tower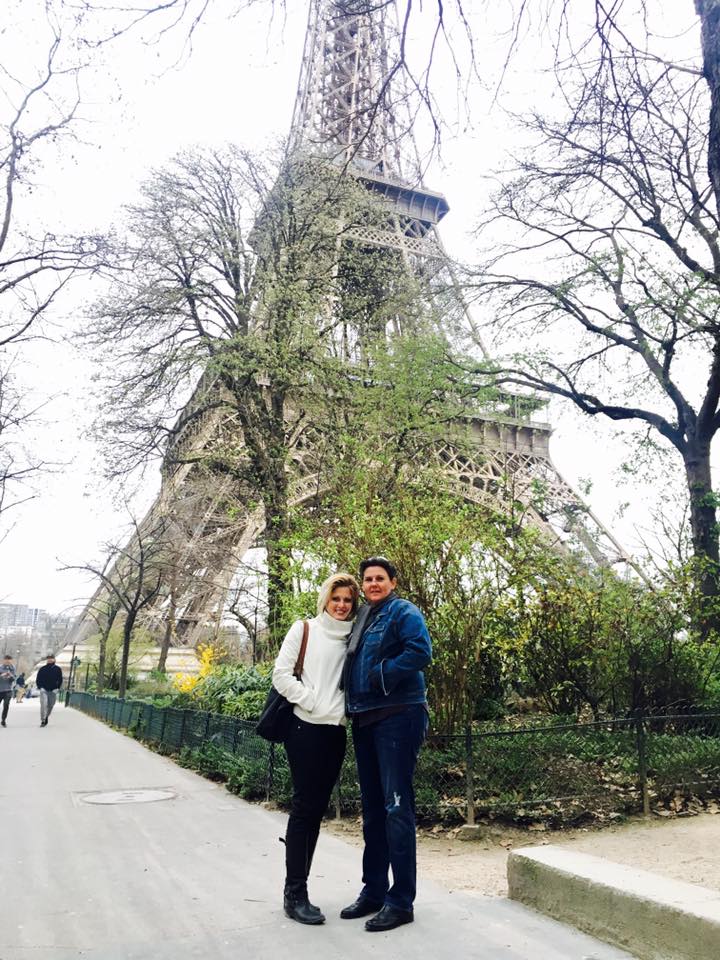 I loved our tour of the Eiffel Tower.  It was fun to learn the background of Gustave Eiffel, who built the tower. Did you know Eiffel had an apartment at the top of the tower for 20 years?  It was written into his contract.  Smart dude.
A few tips for booking:
Choose the warmest, clearest day to visit the Eiffel Tower.  It gets really windy up there!
Purchase the tour that goes all the way to the summit; many stop at the 2nd level.  The summit is less crowded and it has a Champagne bar.
Build in time to wander about.  There's a cafe on the first level and some delicious macaroons you'll want to check out.
Seeing the Eiffel Town sparkle at night was one of my favorite parts of the trip.  Take an evening stroll to see it.  The lights sparkle for 5 minutes at the top of every hour.  This was taken from Ponte de la Concorde, a perfect view!
The Louvre
For the Louvre, we decided against a tour and purchased "skip the line" tickets.  These are available on the museum website for less than 20€ each.  This does not mean it won't be crowded inside.  Here's what it really looks like to see the Mona Lisa:
I shoved my way to the front, only to be totally cut off by a little old man.  People were using their selfie sticks to get a pic with Mona.  There was a couple standing right in front of the rope making out (WTF?!).  It was insane.  People have no spacial awareness or common decency.
Stop by and wave at Mona, but enjoy the rest of the museum.  There are some really fabulous Italian works, like from Botticelli's angels (my favorite) and some others but Leonardo that I think are better.  The marble sculptures in the Cour Marly (under the glass-roofed part) are truly impressive, especially if you're into mythology.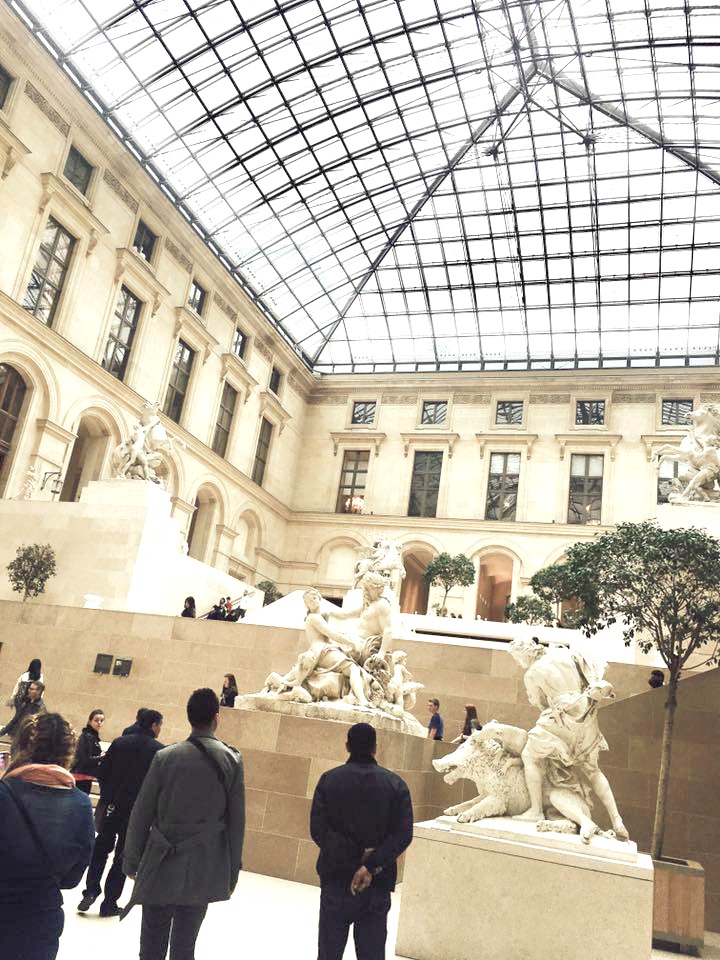 Notre Dame
This is one of my favorite European churches because it was built is so many phases.  You can really get a feel for the layers that were added over the 200 of years of construction thanks to exhibits showing you each stage.
The rose stained glass, the woodwork, and all of the stone work is jaw dropping.  We also loved seeing the Joan of Arc statue; in 1909 that she was beatified at Notre Dame by the Pope.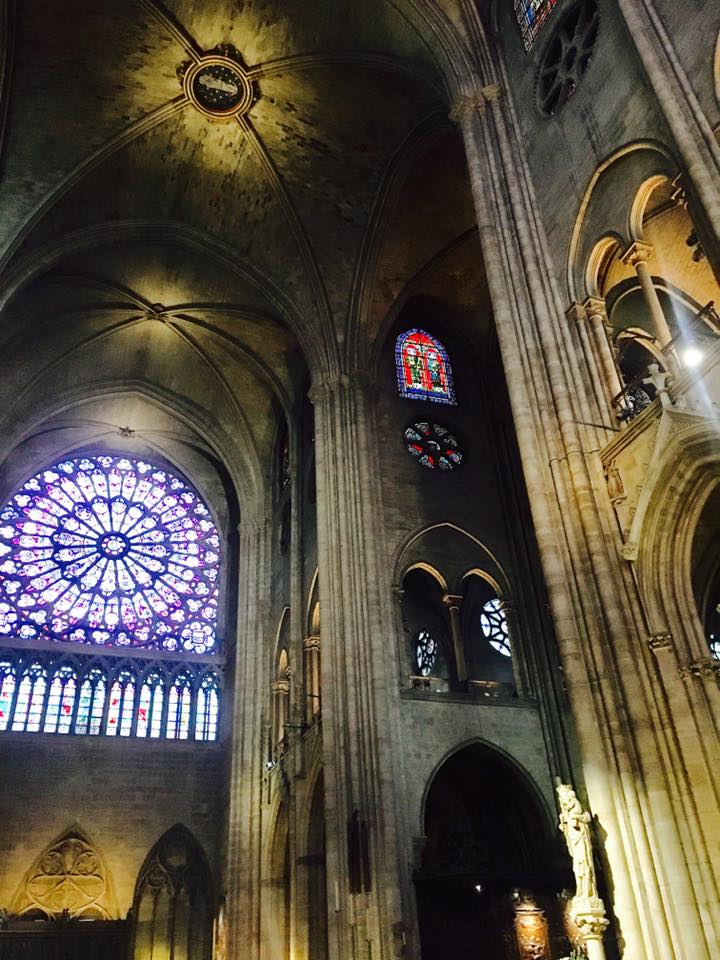 All churches in Paris are free to enter, FYI.
Shakespeare & Company
Okay, okay… this is actually a store.  A bookstore.  But it's worth a stop!  It's just down the street from the Notre Dame and has a cute cafe where you can grab a snack or a coffee after browsing for a book.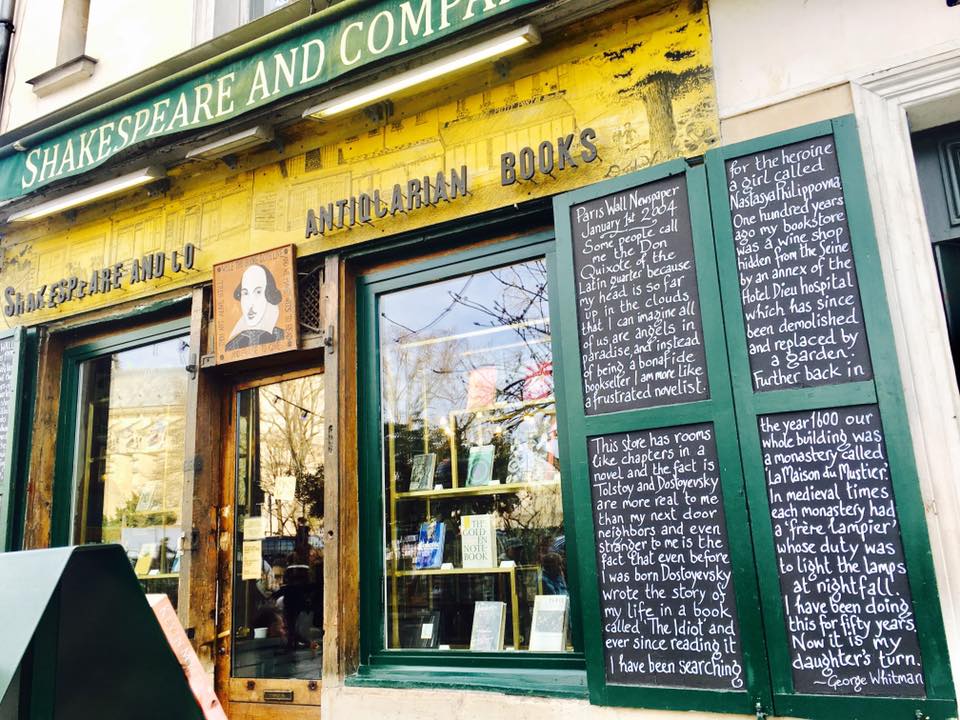 Make sure you wander up the staircase to the library portion of the store.  You'll find some pretty impressive first editions and classic typewriters.  It's mind blowing to explore the shelves and think about who has browsed those same books over the decades.
Shakespeare & Company was founded in 1919 by a woman, Sylvia Beach, who is responsible for making much of the classic literature we read today possible.  Below is her history, as posted on a wall in the bookstore: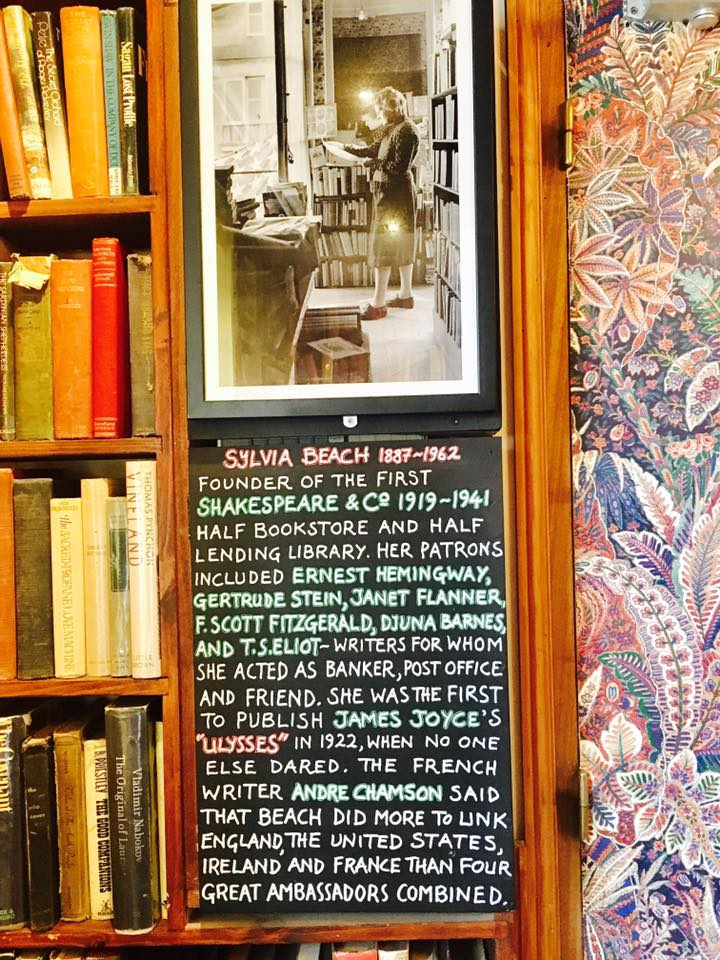 Eating in Paris
I'm sure I don't need to tell you the food in Paris is worth the trip alone.  I'll highlight a few of our favorites below, but the best way to eat is to wander about and duck into a cute cafe, ask a local where they buy baguettes, or make reservations at a place you'd normally not spend the money on.
Angelina
Angelina is a well-known tea house in the 1st.  Yes, it is touristy… but it's worth it.  They're famous for their impossibly thick hot chocolate.  It's literally like drinking a melted chocolate bar.  You have to try it; I recommend sharing with a dining partner though – it's as rich as it looks.  It's presented you in with a cup and saucer, a pitcher of the hot chocolate, and fresh whipped cream.
Apparently Coco Chanel loved the hot cocoa so much, she was a daily customer.  You can't question her taste!
We also really enjoyed our brunch items.  I had a croissant stuffed with perfectly scrambled eggs and a lox "rose" on top.  I still think about it.
Derriére
One of out most entertaining dinners was at a place called Derriére.  It's set up like a house; the idea is to make it feel like "a home away from home."  You can eat in the bedroom, the kitchen, a parlor.  Anywhere.
The food was good, but the atmosphere made the experience.  Scroll through the pics below to see our meal, the ping pong table next to us, and me walking through a wardrobe to a secret room.
Capucine Café
Capucine Café was a great stop near our hotel in the Opera district.  It's where we had a perfect Sancerre rosé wine, a roasted sea bass I had a moment with… and it has the distinct honor of being the place we decided to try escargot for the first time.
They're actually really good – sort of like a mussel or clam, but not as briny.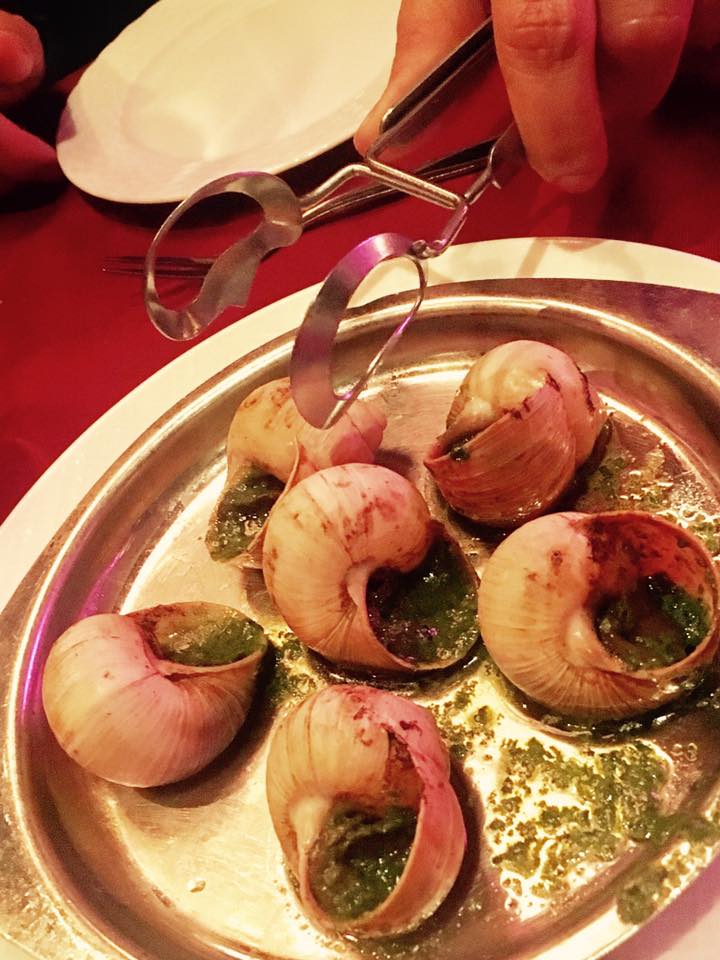 Funny story: the server didn't understand our terrible accent when we asked for escargot. She got it when we said snails.  Silly Americans… 😉
Verjus
Verjus was my favorite meal of the trip.  They have just a few seatings a night and a fixed menu (though they do ask if you have any food allergies).  It's in the intimate little room off of a side street.  The staff is lovely, the space is lovely… it's everything you hoped Paris would be.
I won't bore you with pictures of everything, as the menu changes and the lighting is difficult.  Here are a couple of favorites:
Day Trips
Within just an hour of the city, there are a lot of day trips you can make.  We did two day trips, which was a lot with only a week in Paris.  It was 100% worth it.
Versailles
No trip to Paris is complete without seeing The Palace of Versailles.  It's an easy train ride, but make sure you buy a ticket to Chateau Versailles (there are several places with Versalles in the name… yes, we made that mistake).
Buy your ticket in advance online.  You will still have to wait in line; however, I have a secret to skipping that.  Have lunch at the restaurant there.  It's called Ore, and it worth a stop by its merit.  I had a wonderful shrimp and avocado salad!
Here's where the secret comes in: if you eat at the restaurant, they let you enter the palace through a side door with no line.
Enjoy the palace, but save time to wander the extensive castle grounds.  It's hard to imagine how decadent the life of Louis XVI and Marie-Antoinette must have been!
Side note: There were a lot of runners out; it made me wish I'd brought a change of clothes.  There must be over 5 miles of trail.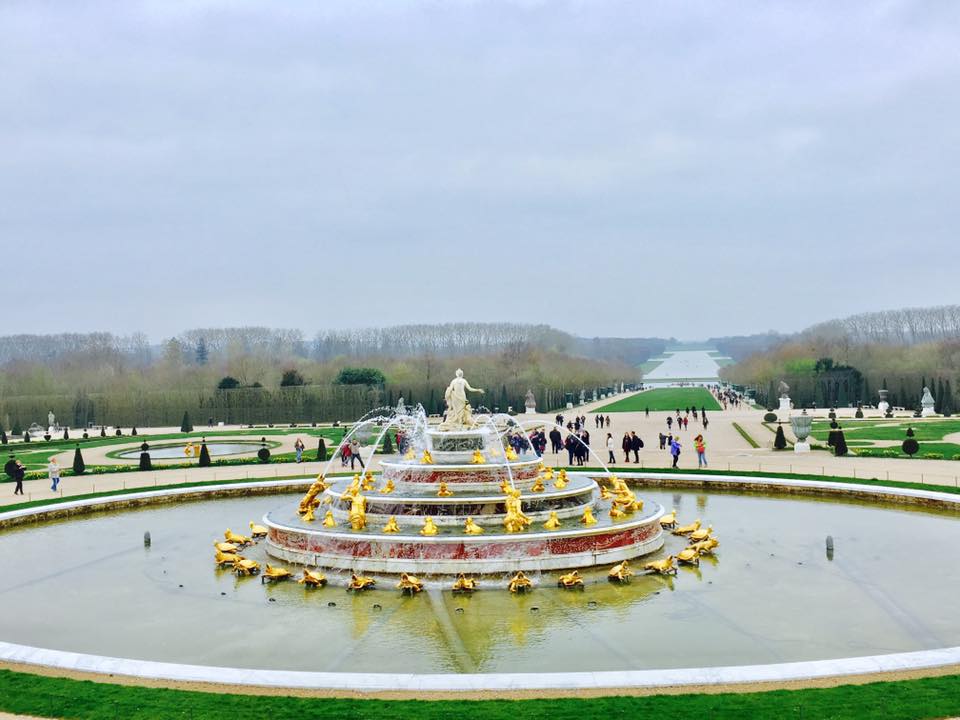 Champagne
Ya'll know I love my wine.  In order for a sparkling wine to be called Champagne, it must actually come from the Champagne region.  As someone who loves the bubbles, taking a day to visit the Champagne region was a non-negotiable.  There are two towns in Champagne, Reims and Epernay.  Someone compared them to Napa and Sonoma, Epernay being the more laid back "Sonoma" of the region.  Naturally, that's what I chose.
We booked a tour through France Bubble Tours.  It was an easy train ride from Paris to meet our guide at the Epernay train station.  The tour was a great experience.  Our little group of four rode through the countryside to see Dom Perignon's tomb in the Benedictine Abbey of Hautvillers and learned a lot about the history of sparkling wine.  For instance, did you know Dom Perignon invented it on accident?  In his journals, he wrote "I am drinking stars!"
From there, we toured Moët & Chandon, drove along the Avenue de Champagne (which has 100km of tunnels storing Champagne under the pavement!), had a Champagne tasting lunch at a boutique winery called Julien Chopin, and finished with a tour and tasting at a family Champagne maker called Bouché.
We probably drank 7 glasses of Champagne.  Oddly, I felt fine!  It was my favorite day of the whole trip.  If you like wine, I highly recommend visiting the region.
Other Things to Know
Wi-Fi: Wi-fi is fairly common in Paris.  It was my sole means of communication during the trip.
Bathrooms: Public bathrooms are hard to come by.  Never, ever pass up an opportunity to pee anywhere in Europe.
Attire: Parisians are stylish – every man, woman, & child.  If you dress like an American in workout clothes and sneakers, you'll stick out like a sore thumb.  Even I ditched my spandex capris for dark jeans and black pants.  Dress comfortably, but don't look sloppy.  Take a pair of boots and/or ballet slippers you can walk in.
Dinner: No one in Paris eats dinner at 8:00 pm.  In fact, most restaurants aren't even open until 7:30 pm.  If you're starving, pop into a café – they're open all the time.
Neighborhoods: Like many larger American cities, there are neighborhoods in Paris with their on distinct feel.  Our favorite was the Marais.  It's an upscale but funky little neighborhood with lots of cafés and boutiques.  It's also home to the "falafel wars."
Side Trips: You could potentially visit another country for the day. Brussels is an hour and 15 minutes from Paris by train; both London and Luxembourg City are two hours from Paris by train.
Macaroons: Everyone knows Laudree to be the best in Paris.  Pierre Herme is better. 😉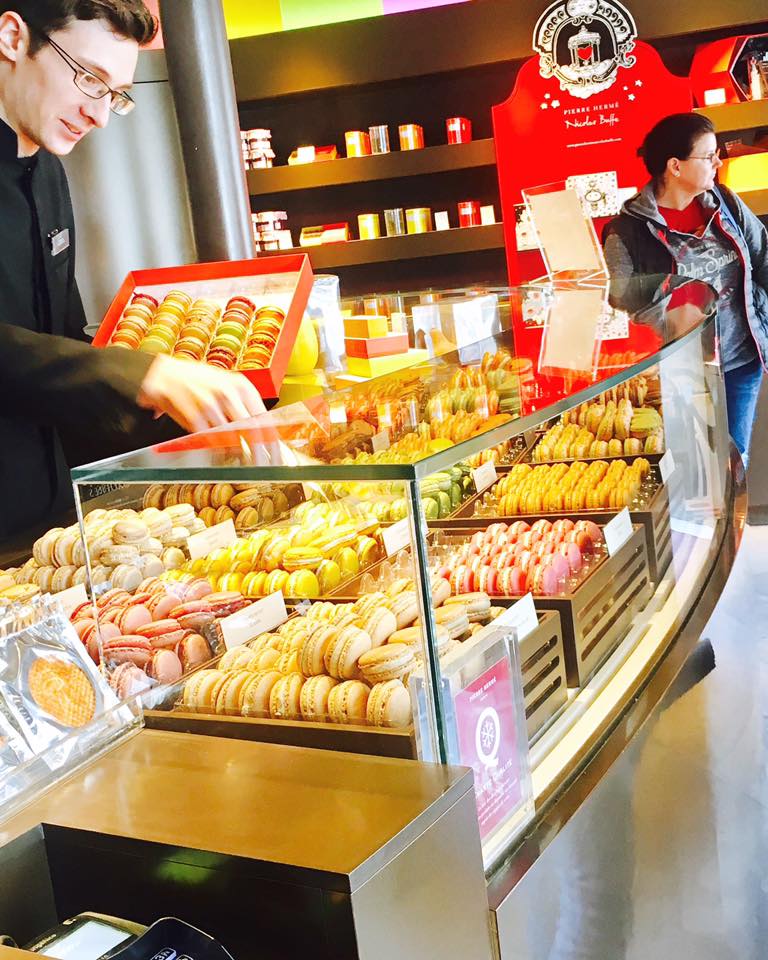 ***
Whew!  That was a long one.  I'm ready to go back!
Have you been to Paris?  What other suggestions do you have?
Where are you traveling next?  Psssst… check out my tips for flying on the cheap.