"What healthy foods can I bring to work/school?"
That is one of the most common questions I hear.
The good news is: it's not hard!  If you have some fresh veggies and dip, you've made a good start.  Add some fruit, a carb, some healthy fats, a protein…. and you're in business!
One of the easiest sack lunches is leftovers.  Make extra of whatever you've had for dinner the night before.  Stick that in a container and take it into the office.  Simple!
Another option is a salad.  No, not another boring salad!  Think outside the box with toppings.  You can easily add items like:
Roasted veggies (ex: eggplant, zucchini, asparagus, squashes, beets)
Fruits (ex: blueberries, raspberries, pineapple, grapefruit sections, apples)
Seeds or nuts (ex: sunflower seeds, sesame seeds, pepitas, almonds, walnuts)
Other greens (ex: spinach, sprouts, arugula, shredded cabbage, kale)
Legumes (ex: black beans, chickpeas, kidney beans, lentils)
Herbs or spices (ex: cilantro, parsley, oregano, cumin, red pepper flakes, Chinese 5 spice)
Proteins (this is where leftovers really help – ex: grilled chicken, tempeh, tofu, lentils, quinoa, veggie burgers)
Dressing your salad is another way to shake things up.  A few of my go-tos:
Use salsa to add some heat (really good with avocado and black beans)
Thin out hummus with apple cider vinegar (1:1 ratio)
Leftover pesto (like this beet sunflower pesto pictured below) mixed with a bit of balsamic or water to thin
Mash an avocado with lemon juice for a creamier dressing
Fresh lemon/lime/orange juice with a drizzle of olive oil
Need your carbs?
Bring along a tortilla, pita pocket, or whole grain bread to eat on the side or stuff your salad into. Or have a healthier chip alternative on the side – I'm really digging PopChips and Pirate's Booty.
________________________________________________________________________________________
Jenn's What I Ate Wednesday this month is in the theme of green.  I wasn't as green as usual… but it was a veggie-laden day for sure!
It's also a "What I Ate at Work" WIAW.  I've been going to CrossFit right after work this week, so I'm eating more snacky things all day long so I am not starving before class ends.

___________________________________________________________________________________
Breakfast:
My routine lately has been to get up, do a quick 15-20 workout (from Pinterest or BodyRock), and make a protein smoothie to cool off and refuel.  It's an addiction.
This morning's smoothie:
Spinach
Pineapple
Cucumber
Celery
Flax meal
Ginger
Maca
Vanilla protein powder
Ice + water
Lunch:
Post-cleanse my favorite addition is CARBS.  Peanut butter is a close second.
I brought my tortilla and the makings of a wrap to work.  These get constructed on-site so the tortilla doesn't get soggy.
In my wrap:
Broccoli sprouts
Broccoli and carrot slaw
Roasted banana squash
Celery leaves
These sprouted chickpeas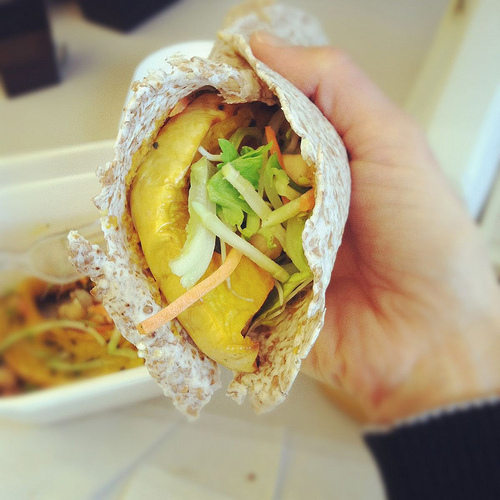 See the container in the background?  I (once again) over-filled my wrap so half of the fillings were eaten with a fork on the side.  🙂
Snacks:
Yes, I snacked all day.  You might even say that I skipped dinner in favor of snacking.
My snacks:
Carrots, cucumber, and red pepper with raw sweet potato hummus
PopChips
Apple
Kombucha
Leftover airplane peanuts
Vegan jerky (Thai Peanut is the BEST!)
Dinner:
This is really 2 snacks eaten 2 hours apart.  I had the ice cream first.  Duh.
I'm still working on this one (it deserves its own post… and I'll make one sans spinach so the pics are prettier 🙂 ), but let's just say it was incredible.  The Vitamix continues to be the best purchase I've ever made.
Round 2 of dinner was a piece of Ezekiel bread topped with hummus, tomato, cilantro, and a vegan mozzarella cheese slice (which tasted nothing like mozzarella).  I stuck it under the broiler for 3+ mins… let's pretend I didn't forget it in the oven… burnt non-cheese isn't too bad!
***
Crossfit #3 tomorrow.  I'm already sore from tonight.  Translation: I'm in love.
Annnnd another shameless plea: I am honored to have been nominated as a "Best Healthy Eating Blog" for the 2012 Fitterati Blog Awards on FitnessMagazine.com.  If you're so inclined, pretty please click here and vote for me. 🙂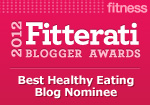 What are some of your favorite items to bring to work/school for lunch?
What is your strangest/favorite salad topping?