Active.com is a great resource for runners.
I enjoy their weekly emails with tips on issues such as: how to fuel your body, preventing various injuries, and working out in sweltering heat.
Today's email included an interesting article on overpronation.
Overpronation is when one's ankles roll inward too much.
It is widely believed that this can lead to over-use type pain or injury (shin splints, joint pain).  Many people (myself included) get specially fitted for running shoes and/on inserts in hopes to correcting the "problem."
Today's article from Active asserts that corrections for over pronation should not always be made.  They say:
"…doing so can and often does result in one symptom going away and another, usually a more complicated one, developing elsewhere."
Here's what really resonated with me:
Often over pronation is the symptom of another problem.  Most common is a lack of normal ankle range of motion.  If the foot/ankle isn't bending properly, the knee is restricted and can't "travel forward enough for the body to move its center of mass over the foot."
The result?  Overpronation.  That pronation causes the knee to drift to the midline, which means the hip turns excessively inward.  Snowball.
Correction through shoes and inserts either a) doesn't work or b) makes the underlying cause worse because the overpronation "is a needed compensation for a lack of mobility elsewhere in the body. Taking this compensatory element away without first addressing and correcting the true underlying cause will inevitably force compensation (frequently accompanied by pain) in another part of the body."
So what should you do?
See if you over pronate with a squat test.  Stand with your feet shoulder-width apart and attempt a squat.  Are your knees bent 90 degrees or less?  Are your heels still on the ground?  Are your feet still forward (not turning outward)?
No?  If you can't do the squat correctly, the article says your foot pronation is likely "due to inflexibility of your ankles and that is what should be corrected."
Bottom line: Before you go out and buy special shoes or inserts, see a professional to have a complete evaluation (pelvis, hip, knee, ankle and foot) done by a professional.
---
On to my actual Wednesday eats in honor of WIAW.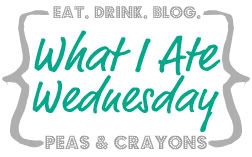 1 day later than usual due to procrastination/over-sleepiness rather than the pursuit of true Wednesday eats.
Breakfast
Banana Green Smoothie
Vanilla protein powder
Maca
Banana
All-Bran (lots of it!)
Peanut butter
Spinach
Coconut milk
Cinnamon
Vanilla
Water + ice, to taste
Lunch
Snacks
Dinner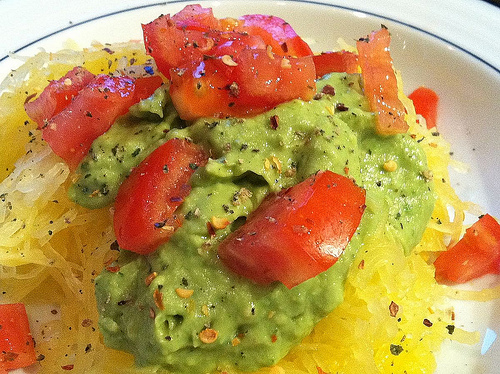 I made spaghetti squash and topped with tomatoes AND…
Angela @ Oh She Glows' Creamy Avocado Sauce.
If you haven't made this before, you are missing out on some serious creamy deliciousness.  Sooooo good.
My modifications:
Added red pepper flakes, nutritional yeast, and red onion
Subbed 1 T of coconut milk for the EVOO
Used just 1 clove of garlic
***
Don't forget to enter my Exceed earbud giveaway!  These are pretty awesome – I've never even felt like they were going to fall out.
It's my birthday eve!!!  The bad part about being an adult is that I still have to work all day.
What do you think about pronation?
Do you over or under pronate?  Have you even been evaluated?