Let's talk Christmas trees. 
Ours is the best.
I mean… have you ever seen a more perfectly shaped tree?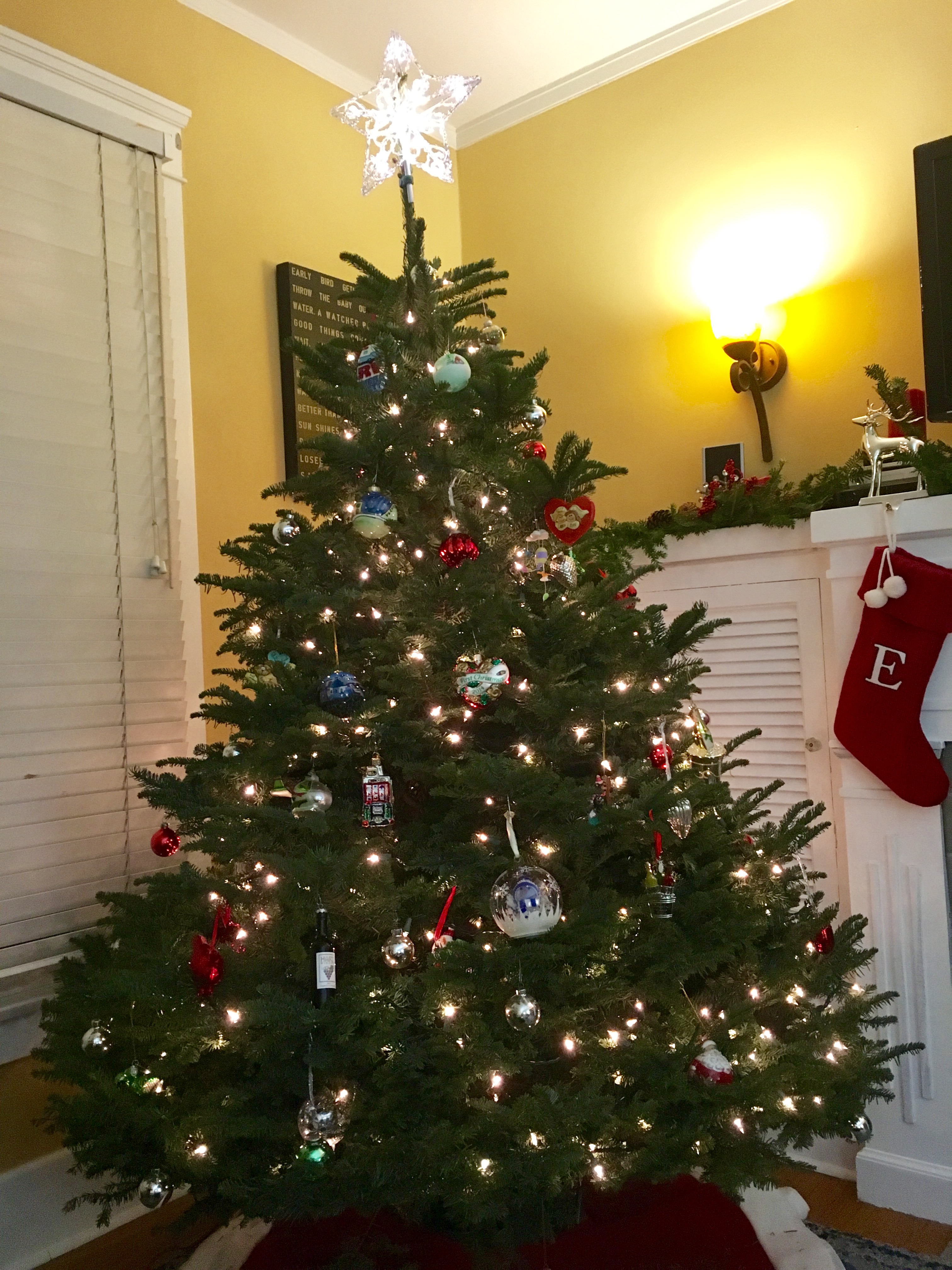 Ok, ok… I know all of your trees are gorgeous too… but this is our best yet.  AND I won the 3-year debate about whether you should wrap the lights in layers to create depth, or just run them up and down.  Vegas JUST admitted (as I was drafting this post) that they look better layered.  I win. 
I'd put money on our Christmas tree decorating spread too.  This cheese and charcuterie tray won the night!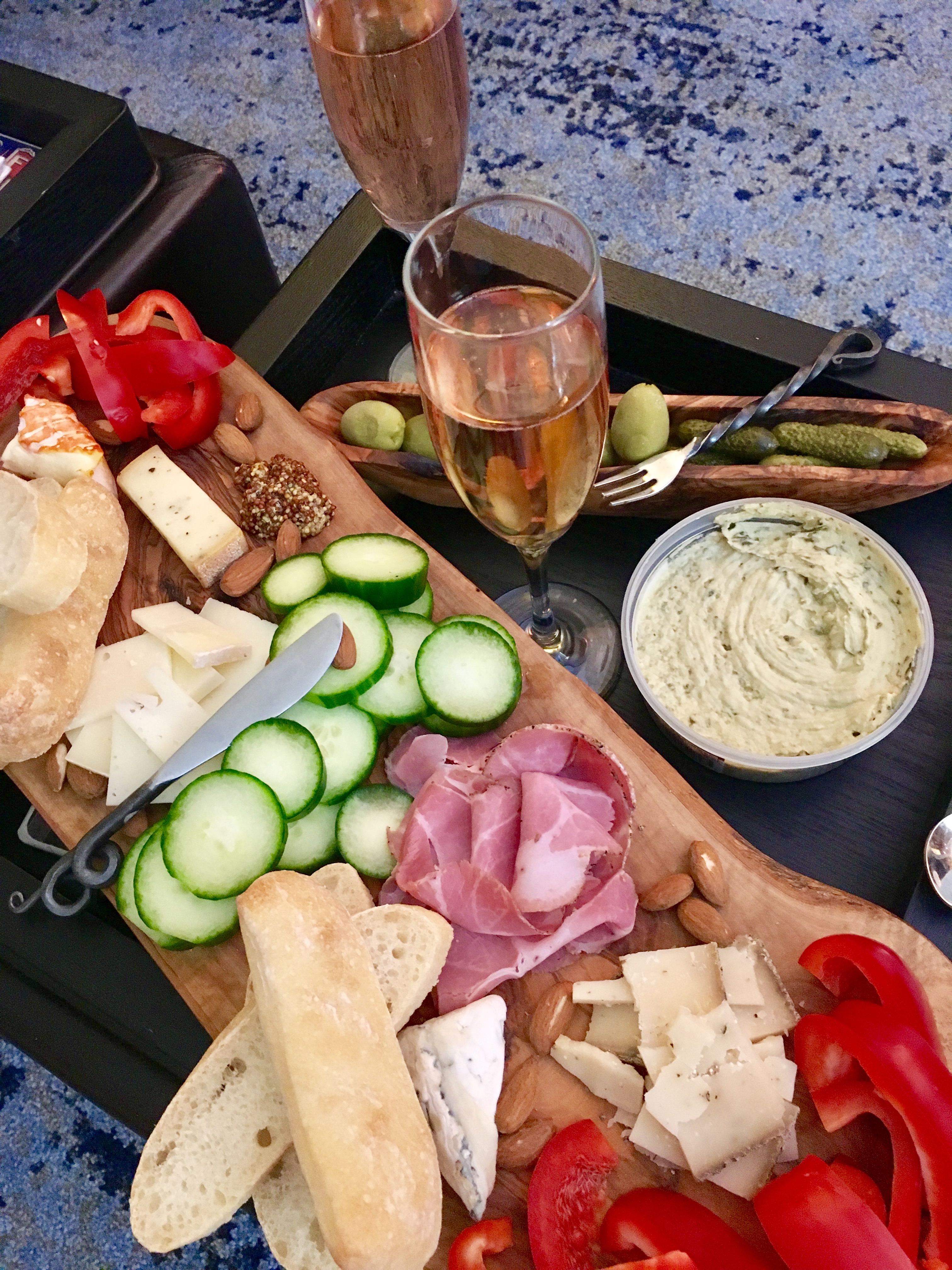 There we 5 different cheeses.  I went a little crazy in the gourmet cheese store.  If you're every in San Diego, you MUST stop in Venissimo.  They are incredibly helpful in the shop with suggestions on pairings… and letting you try basically everything.
My favorite was the cheese soaked in Prosecco.  Shocker.
---
I've been doing really well at eating better lately.  I've somehow managed to lose a few during this holiday season!  Hopefully I can keep this up in Mexico this weekend.  Pray for me.
Read on for my whole day of eats, and link up to Jenn's WIAW baby at Arman's today!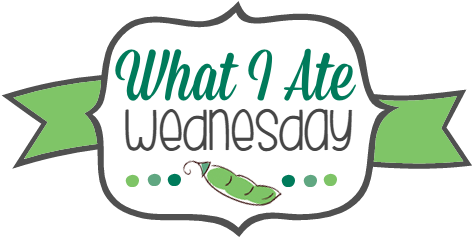 ---
Breakfast:
The usual morning cocktail followed by my vitamin gummies. 
Breakfast was a favorite – eggs and bacon!
Lunch:
Soooo… Whole Foods post-workout is a bad idea.  I went it for some oats and left with all this.  Including tuna and salmon sushi.  It's just so yummy…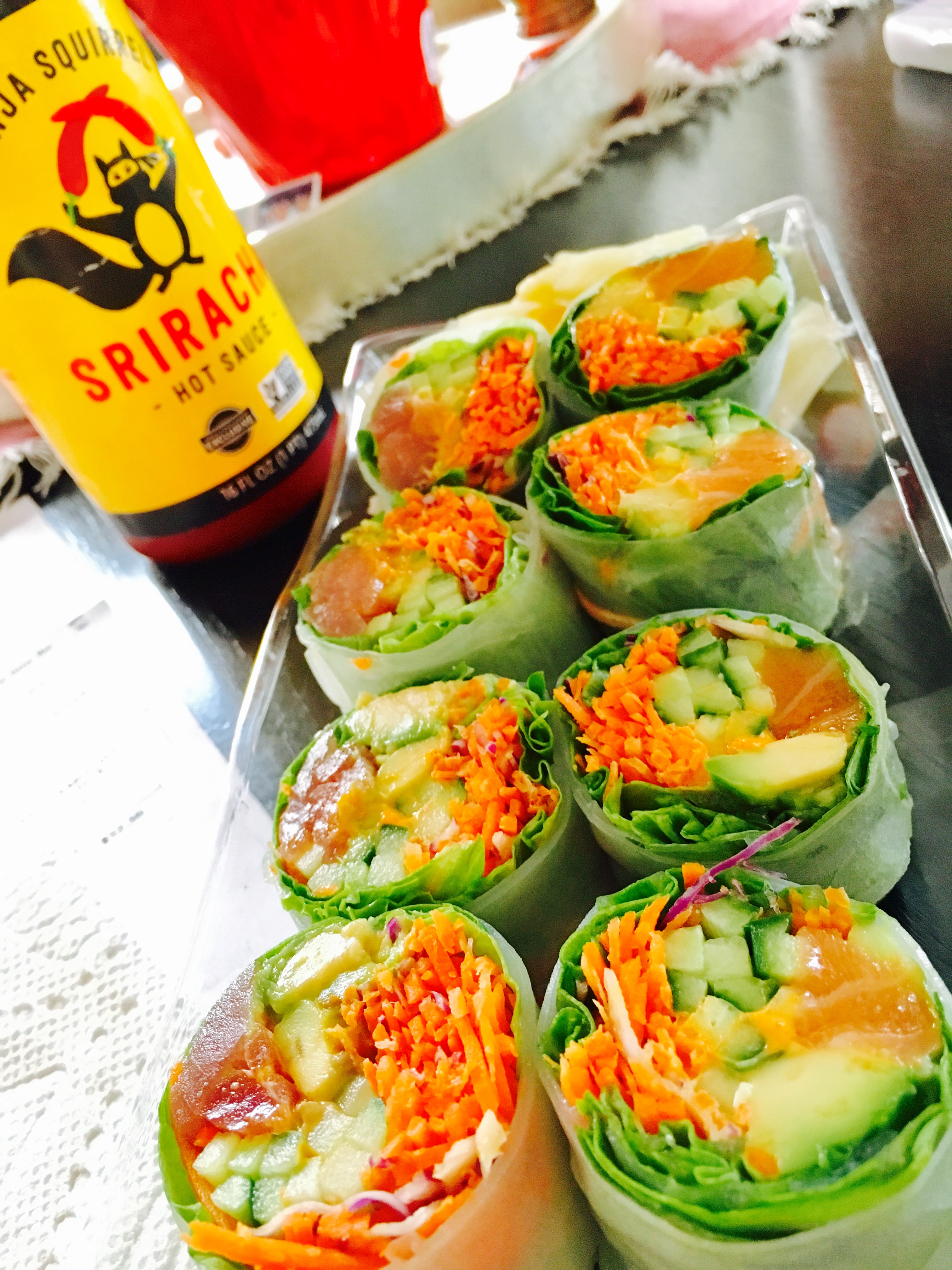 Side note: I use sriracha instead of their fake wasabi.  It's way better.
Dinner:
This was the highlight of the day.  We were invited to try out a new Italian restaurant in San Diego, Ambrogio15.  The Milan-style restaurant was not at all what I was expecting… it was like a gourmet restaurant focused on pizza.  It's Italian-owned and operated, and you can tell!
They place an emphasis on high quality sustainable ingredients imported from farms in Italy.  This included everyone from the flour used in the perfectly charred crust (a recipe that took a year to formulate!) to the incredible list of biodynamic boutique Italian wines.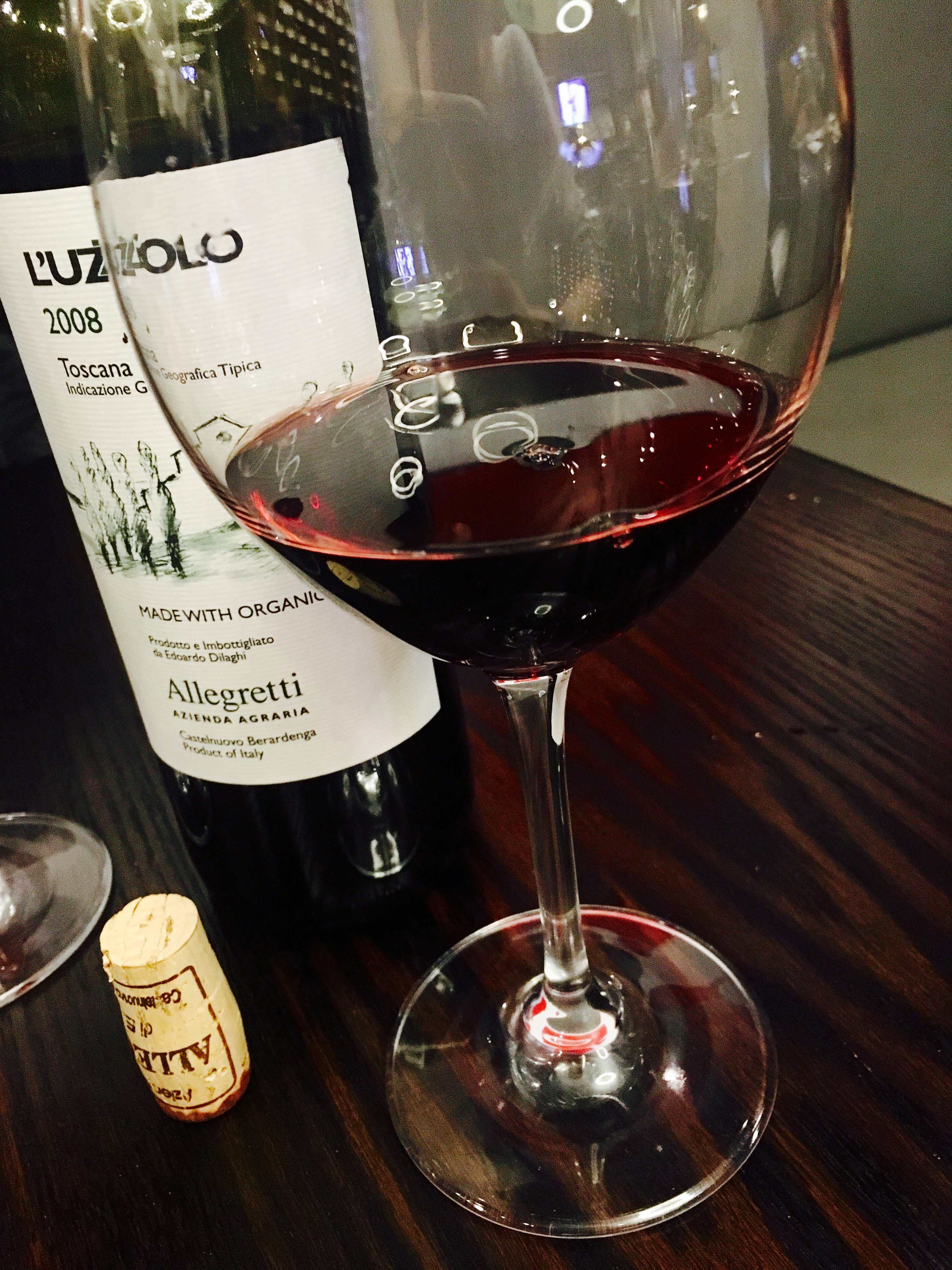 Vegas and I cracked up when I asked the owner why they have mainly Tuscan wines.  I was curious since they're from Milan, which is in Lombardy.  He answered: "Because they are the best!"
Having just returned from Italy, we agreed.
As an appetizer, we took the servers suggestion and tried the burrata and zucchini carpaccio.  The perfectly creamy burrata reminded me of a fresh Krispy Creme doughnut.  You know that feeling – when they melt in your mouth and you could probably eat a dozen without pausing?  This is the cheese version of that.
Last but very certainly not least was the pizza.  We selected the Salsiccia, Mozzarella, Asiago, e Porcini.  Translation: a light San Marzano tomato sauce, fresh cheese deliciousness, Italian sausage, and mushrooms.
The crust was that perfect, thin Italian-style I crave almost daily when I'm not actually IN Italy.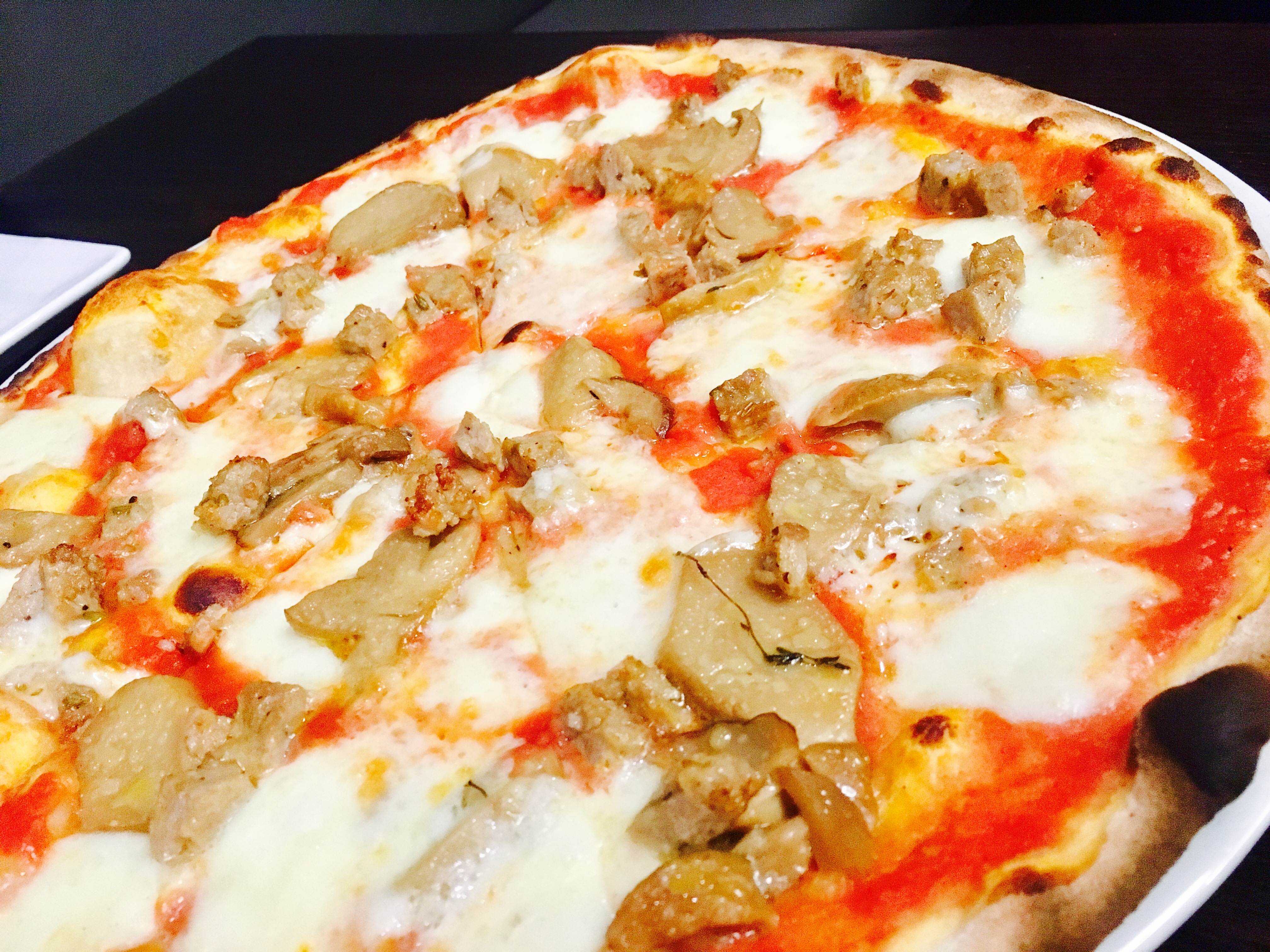 We devoured the whole thing, barely stopping to speak.
It's rare… but sometimes I have better things to do with my mouth!  #TWSS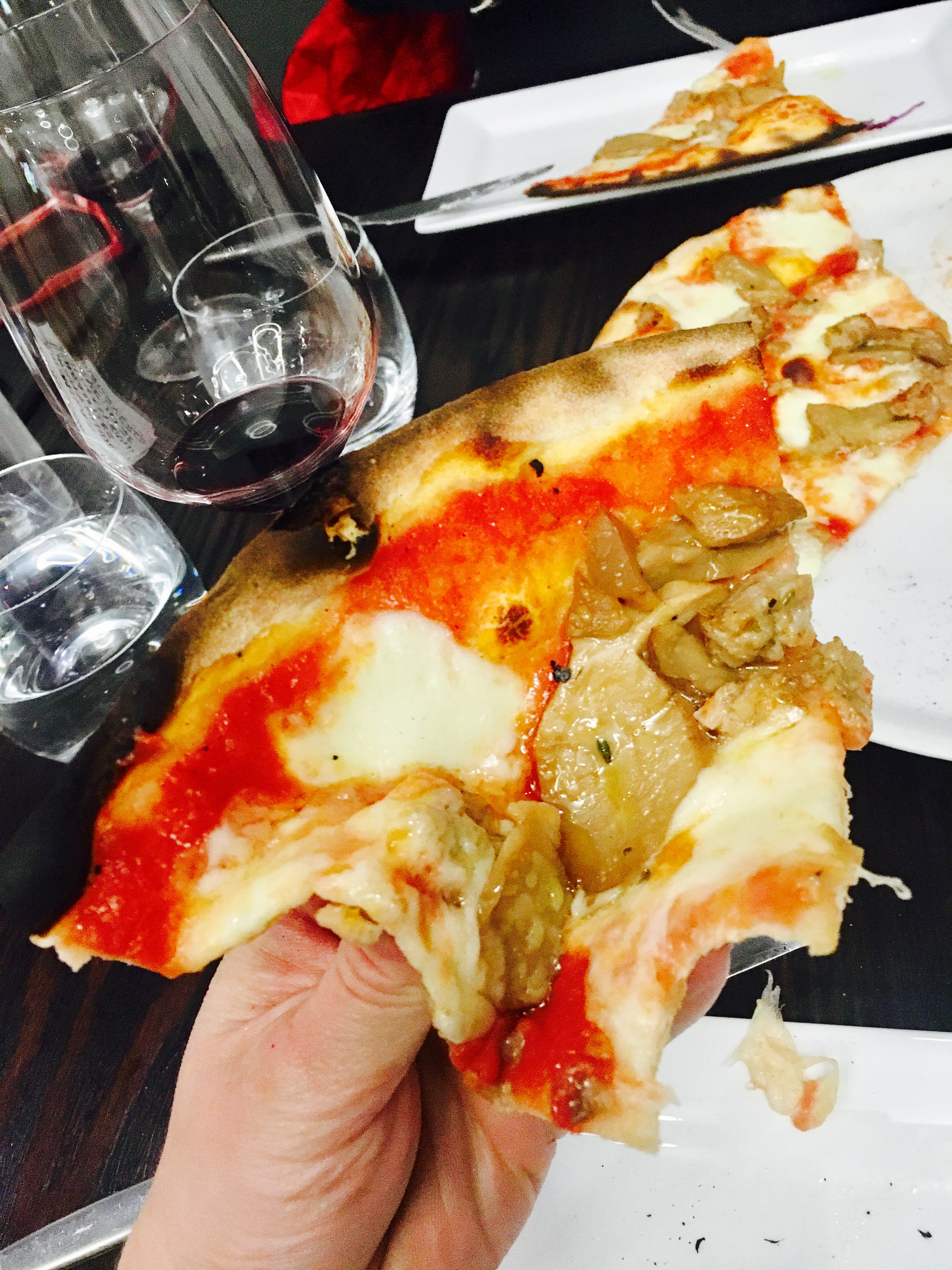 We had to pass on dessert (because STUFFED), but I will certainly back to Ambrogio15 to try the tiramisu!  And more focaccia.  That slice that came with the burrata was among the best I've had!
***
Annnnnd now I want pizza again.
Christmas tree lights: wrap and layer or run 'em up and down? 
How do you like you pizza?  Thin crust?  Thick?  Chicago-style?