105 lbs doesn't seem like a ton.
Until it's on your lap while you're doing dips…
Normally I do legs (my least favorite) with my trainer, but last night I had a back and tri day.  It was a great reminder that – even though my upper body is more developed – I still need a "check up" every so often.  With a little help I can move SO much more weight.  I couldn't have stacked those weights on my lap by myself… and there is no way in hell I would have turned that last set into a drop set.
I'm feeling much better with my diet after last week's adjustments, and it's paying off.  My trainer noticed growth.   (He also told me I make sex-like noises while doing hack squats.  Weird that hacking with 200 lbs elicits the same sort of sound…).  A couple of other people have commented recently too (on the gains, not the noises).  Never in my life did I think people telling me I look bigger would be a compliment! 🙂
It is a little disconcerting to have lost my abs, but I know they'll be back and looking better than ever after bulking season.  I need to print that reminder out and tape it to my mirror.
---
My Kitchen Workout (have you joined?) is keeping me motivated an (mostly) on track during this month of indulgences.  Jenn's What I Ate Wednesday theme this month is also a great accountability check!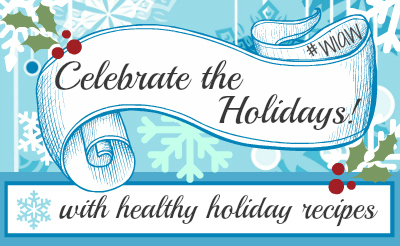 Below is a day of a figure competitor's bulking-season eats.  Check it out, and then be sure to head over to Jenn @ Peas and Crayons and see what everyone else is eating during the most delicious time of year.
---
Meal 1:
I started my day with the only thing I like to repeat: my morning cocktail (mix of Apple Cider Vinegar, Glutamine, and Fitmixer Aminos), and my 2 mile incline walk.
Then it was time for a breakfast I started dreaming up on Sunday.  This is a new version of my TVP oatmeal, and it may be my favorite one yet!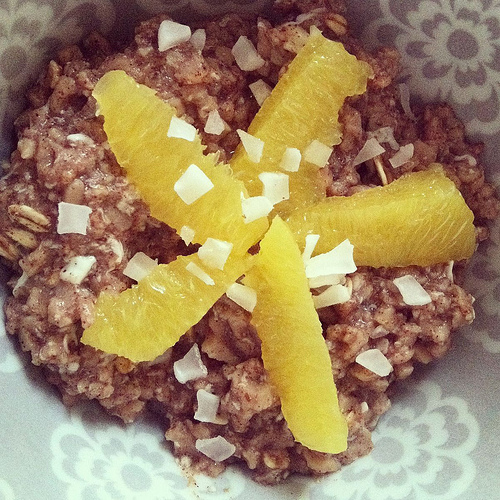 Orange Cardamom TVP "Oatmeal"
1 C water
1/3 C TVP
2 T oats
1 tsp ground flax
1/2 tsp cinnamon
1/4 tsp cardamom
1/2 tsp coconut extract
4-5 drops lemon liquid stevia (or sweetener of choice)
3 T egg whites
1/2 orange, sectioned
Unsweetened coconut flakes, to top
Prepare according to these instructions from the original recipe.  Top with orange sections and coconut. Demolish.
Meal 2:
Last week I rocked a chili-lime crab salad with mango for lunch.  This week I was ready for more… but needed to make it strangers for this Friday's link up.  Being strange pays off, friends.  This one was a hit!  The sweet citrus from the orange was perfect against the tangy lime and heat of the cayenne.
Curried Chili-Orange Crab Salad
3 oz crab
1/2 large orange, sectioned
1/2 C edamame
Pumpkin seeds
Juice from 1/4 fresh lime
1/4-1/2 tsp curry powder
Cayenne pepper, to taste
Cilantro
Meal 3:
I had to get a new plate to take to work.  My zoo animal paper plates ran out.  Booooo!
On my pretty blue plats is: Chili Nutty Baked Tofu, celery sticks, a P28 protein bagel, and the last of my favorite hummus.  I get this Roots hummus at Whole Foods.  It's from Asheville, but I'm not sure if you can get it outside of the Southeast.  If you can, the spinach is worth a try!
Meal 4:
If you follow me on Instagram, you may have seen my new swordfish creation Monday night.  I finally tried making it a different way – I chipped it into cubes, coated it in lime juice, avocado oil, and my Mexican spice blend before cooking it under broil for ~10 mins.  It worked like a charm!
I brought the leftovers to work to be enjoyed over a kale salad massaged with coconut vinegar, fresh orange juice, and nutritional yeast.  Topped with baby bellas and red pepper.  My complex carb was a very tasty Garnet sweet potato.
And I wonder why my co-workers think I'm weird….
Meal 5:
Leftovers from yesterday… a creation that I made for this Friday's Strange But Good link up.  Are you guys planning to participate?!  I'm so excited to see what everyone comes up with!!
Don't know what I'm talking about?  Click here for the explanation.
Meal 6:
My trainer's gym is pretty far away (30-45 mins… or an hour during rush hour…), so I always take a recovery shake to enjoy on the ride home.  After a killer workout, I enjoyed a favorite: Carrot Cake Batter Shake.
Don't you love when your clean-eating #kitchenworkout meals taste dirrrrty?  I added some kale (clearly not enough since it's still orange-ish), and stirred in muesli for a chewy happy ending.
Meal 7:
I'm on a serious bender with my 150 Calorie Chocolate Microwave Protein Cake.  Tonight I topped it with a healthy scoop of Arctic Zero Cookies 'n Cream ice cream and a drizzle of peanut flour sauce. Cherries on top.  Fo' shizzle.
***
The protein count for the day: 177.2g.  I can almost feel the growth.  Bwhahaha!
It's been a week… time for another shameless plugs!  I'd love it if you'd click here and "Like" my new Facebook page. 🙂
Do you have a workout partner or trainer that you "check in" with when you need to push harder?
What is the tastiest "clean" food you've eaten this week?  Work it out in the kitchen!