This One Pan Mediterranean Chicken Sausage & Vegetables dish is the perfect weeknight meal.  Healthy, easy clean up, and it takes less than 10 minutes to prep!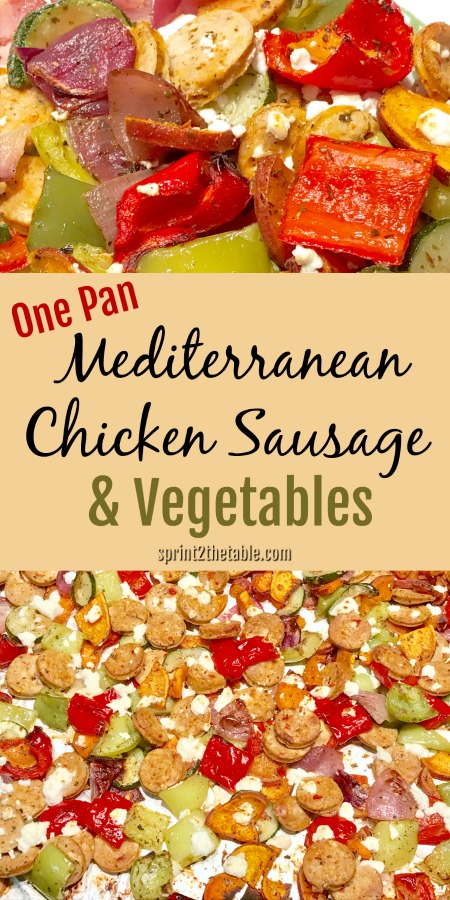 I'm a little embarrassed to admit that I'm only just now experimenting with one pan meals.  This really is a food trend that makes sense.  Just one pan to clean and it's packed with veggies and protein!  I love to cook some fancy 5 pan stuff, but some nights… I just don't have it in me to do much more than cut veggies.
The one pan option is simple, nutritious, and there's leftovers for breakfast!  Not that Vegas and I weren't tempted to eat the whole things that night.  When we finished, she said, "I'd have that again."  (This is the highest compliment in our house.)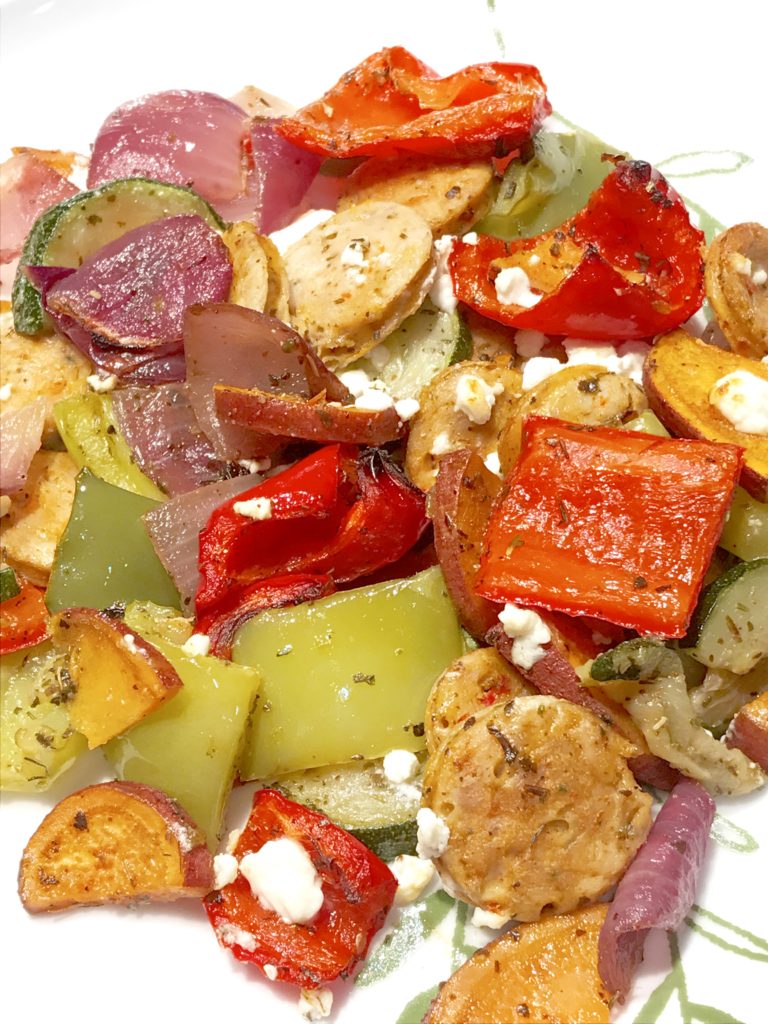 This is also a customizable dish.  You can use whatever veggies you have on had.  I added sweet potatoes for a little bulk, but you could use any starchy vegetable.
For this dish, I decided to make it a Mediterranean theme.  It's packed with bell peppers and zucchini, and seasoned with oregano and garlic.  I topped with with feta to compete the Mediterranean theme.  It sort of reminded me of the Baked Feta (Feta Psiti) we recreated from our Greece trip!
Remember when I said the leftovers were good?  Or are you just skimming my riveting post?! 😉
It was awesome for breakfast the next day with an egg on top.  #yolkporn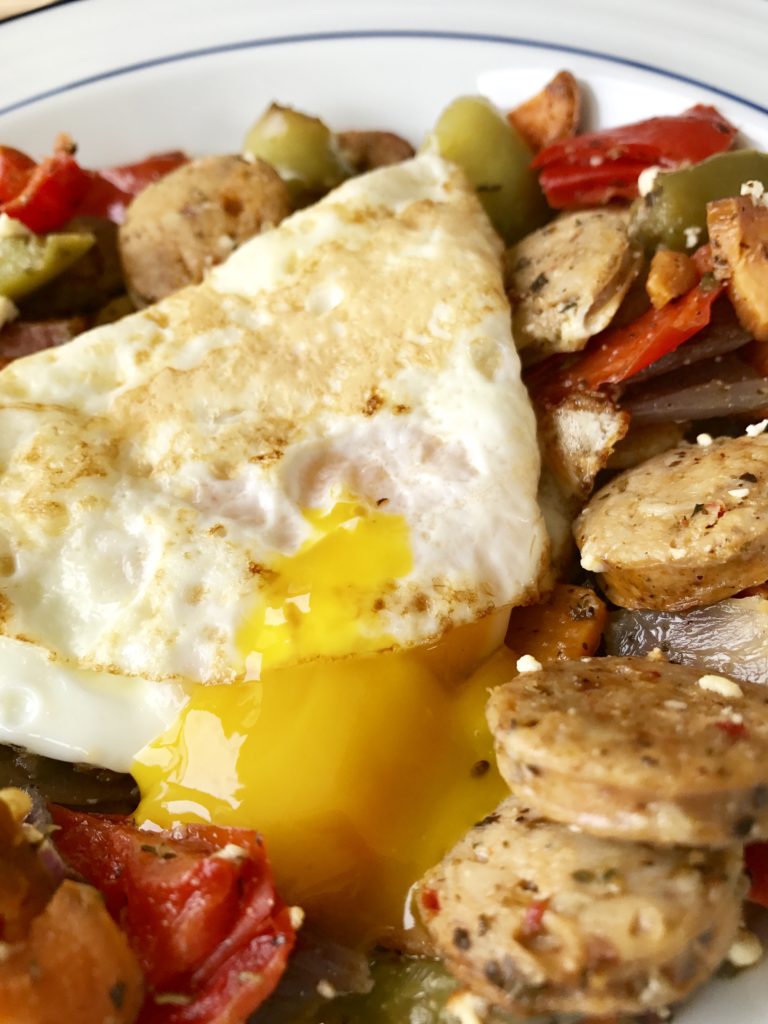 ---
One Pan Mediterranean Chicken Sausage & Vegetables
Prep Time: 10 mins
Cook Time: 30 mins
Keywords: bake entree gluten-free soy-free bell peppers chicken sausage onion zucchini Mediterranean
Ingredients (4 servings)
Red bell pepper, chopped
Green bell pepper, chopped
Medium zucchini, sliced into 1/4-inch pieces
Sweet potato, sliced into 1/4-inch pieces
Medium onion, sliced
1 T olive oil
2 tsp dried oregano
1 tsp dried basil
1 tsp garlic powder
1/2 tsp ground pepper
1/4 tsp paprika
7 oz red pepper & asiago chicken sausage, sliced into 1-inch pieces
Instructions
Preheat oven to 400°F. Cover a large baking sheet with aluminum foil.
Combine vegetables, olive oil, and spiced on the baking sheet. Toss to mix.
Spread out evenly and cook for 20 mins, tossing half way through.
Add sausage pieces, toss, and cook an additional 8-10 minutes, until warmed through.
Top with feta and enjoy!
---
Check out all of the other One Pan Dinner ideas in this month's Recipe Redux!
***
I can't wait to do more of these.  Maybe with breakfast sausage and eggs… mmm…
Have you ever made a one pan dinner?
What's your go-to quickie dinner?