I can't end a run on uneven mileage.
The following post is sponsored by FitFluential LLC on behalf of Reebok. All opinions are my own… 'cause you know I can't keep them to myself.
Lately I've been itching to run more, but I'm 100% out of practice.  Busting out more than a couple of miles is no longer easy to motivate for, let alone to complete!  2 things happened last week that helped change this.
A friend invited me to go running

I received Reebok ONE Series Cushion shoes to test out
Call it OCD, but it drives me insane to end at 4.78 miles, for instance.  I will run up and down my street to hit 5 miles.  If you are a runner who tends to go a little further then you meant to, you know how painful that can be.  You're tired, bored, thirsty… your knee hurts, your shoe is rubbing your heel… whatever it is, you're ready to be done.
These things combined are what lead me here – sitting on my patio enjoying the cool morning air after an even 5 mile run.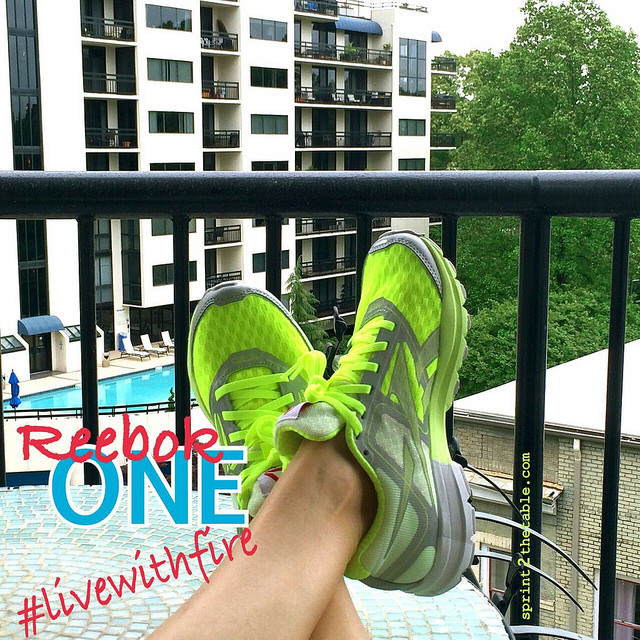 I am NOT a morning person, but the excitement to try these out was too much.  This shoe was built in 3 "zones."  It has a three-foam midsole, decoupled outsole, and stable lateral arch area, which means the Reebok ONE Cushion is designed to maximize comfort and performance.
Let's talk a second about agility.  I'm a city runner and constantly avoid potholes, uneven sidewalks, homeless people… I need to be able to bounce around quickly.  That's a little easier when you're expecting obstacles… when you get off the beaten path and encounter other species it gets a little more difficult.  I was thankful these shoes performed when I was shocked by a little sidewinder snake!
ONE Highlights:
Structured textile upper designed to support the foot over the center of the platform, plus spacer mesh for breathability
Low-cut design for added mobility with technical upper construction for fluid, seamless motion transition through the shoe
Three-foam midsole with ultra soft layer for shock attenuation, lightweight layer for foot guidance, and a responsive layer to help with propulsion forward
Stable and flat lateral arch area for maximum ground contact for runners with a neutral gait
Outsole release zone for pronation control and stride integrity, plus outsole progression 

groove for longitudinal flexibility
High abrasion rubber heel with decoupled outsole durably isolates shock absorption at the heel strike
In plain English, these are great shoes for a run.  They hold up and make the last stretch to even mileage more enjoyable.  I loved the cushioning my knees so desperately need; it didn't make the shoe feel heavy!
The fact that they inspired two early mornings was key for me.  When my friend invited me to go running, it involved trails at 7:30 am on a weekend!  The moon was out when I got up!  I bounced my way do the trails with gusto and didn't trip at all (I'm a notorious klutz, so that's impressive).
In addition to good footwear, refueling is important too.  I chose Huevos Rancheros (pictured above), extra Sriracha.  A lady complimented my shoes while we were eating! 😉
Want to check these shoes out for yourself?  You can buy Reebok ONEs online via Reebok's FitHub – Men's and Women's.  Or use this locator to find them in a store near you.
***
I'm exited to have these shoes with me in Switzerland – maybe they'll help me keep up with Lucie!
Do you have to end a run on even milage?
What things to do you have to dodge on a run?