Food, in the simplest of definitions, is fuel.
I missed that memo.
Food, for me, has always been entertainment.  It's art.  It's an experiment.  It's what I do when I'm sad, happy, grumpy, tired, bored… I love food.  End scene.
You might imagine that a limited diet is my worst nightmare.  I've been trying to prove you can still be creative on a competition diet.  You can… but the last week of cutting is HARD.  You'll notice from last week's WIAW at 4 days out, I still had a lot of variety.  This time around I decided to try something new.  Being more boring traditional.
I cut fat and am sticking to lean proteins (mostly tilapia).  My main veggie is asparagus.  My carbs are oatmeal in the morning and sweet potato after that.  I'm not hungry at all… but my palette is bored out of its mind.  Food has become fuel.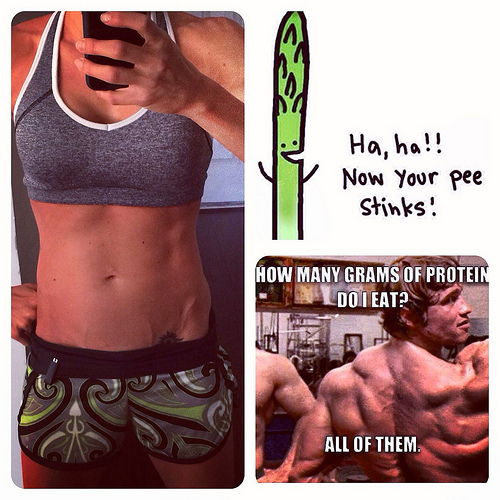 Why am I doing this?  Quite simply, to see if it's necessary.  I want to compare last weekend to this weekend.  Will it make a difference if I eat more like everyone else the week before a competition?  Only my abs time will tell!
The fascination with experimentation is what's keeping me on track this week!
---
I almost feel like I should apologize for the repetitive nature of this WIAW.  I am 4 days from my 4th figure competition.  It's the last one for a long while… I promise next week will be more interesting.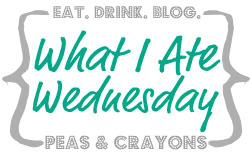 Read on for my eats, and then check out Jenn's blog for everyone else delicious creations!
---
Breakfast:
I still start the day with my Aminos and ACV morning cocktail.  I swear it's more energizing than coffee.

Breakfast was oatmeal with a ton of cinnamon, honey, and pomegranate atop a homemade Turkey Breakfast Sausage Patties.  I really do love the turkey "sausage."  It's something I would make in the off-season too – they're a great clean, low-sodium alternative to the store-bought stuff.
As usual, I ate it in the car on the way to work.  Turkey-oatmeal coffee mug parfait!
Mid-Morning Snack:
Surprise, surprise.  Tilapia.  I did add some variety with cucumbers, red bell pepper, and purple sweet potato chips (with cinnamon).
Lunch:
Fish variety at lunch – I had Perch with my asparagus.  The asparagus I sautéed during food prep with shallots, garlic, lime juice, and herb.  I'm really loving the perch – it's super mild.

Mid-Afternoon Snack:
Tilapia.  Again.  Added some variety in two ways: I used purple asparagus and I made it into ribbons!  Purple asparagus is thicker, so it makes it a bit easier to shred into ribbons.  Fuel can be fun.  Ish.
Dinner:
Dinner was is my favorite treat – Sea Bass.  It even makes asparagus taste better.  Purple sweet potato is like dessert.  I topped it with some nutritional yeast for a nutty accent.
Dessert:
It's not really dessert anymore.  Tilapia topped with a blend of Mexican spices and cucumber with salt-free mustard.  Nom.
***
I prepped all my food to take to Denver today for this weekend's competition.  Tilapia and curry-roasted asparagus are on tap for the plane.  Others on the flight are going to love me. #sorryimnotsorry
Do you view food simply as fuel?  Fun?  Something else?

How do you keep it interesting in the kitchen?