The city of Alba in Italy's Piedmont region is my favorite place in the world.
It's known for food and wine, so this shouldn't be surprising to anyone.
The Piedmont region in Italy is heaven for those who love food and wine.  It's known for Barolo (the "king's wine") and white truffles, which are nearly worth their weight in gold (I'm not exaggerating).  Don't forget that it's also the home of Ferrero Rocher and Nutella!
I highly recommend at least one day in the city of Alba, which is about an hour's train ride from the larger city of Turin (Torino, in Italian).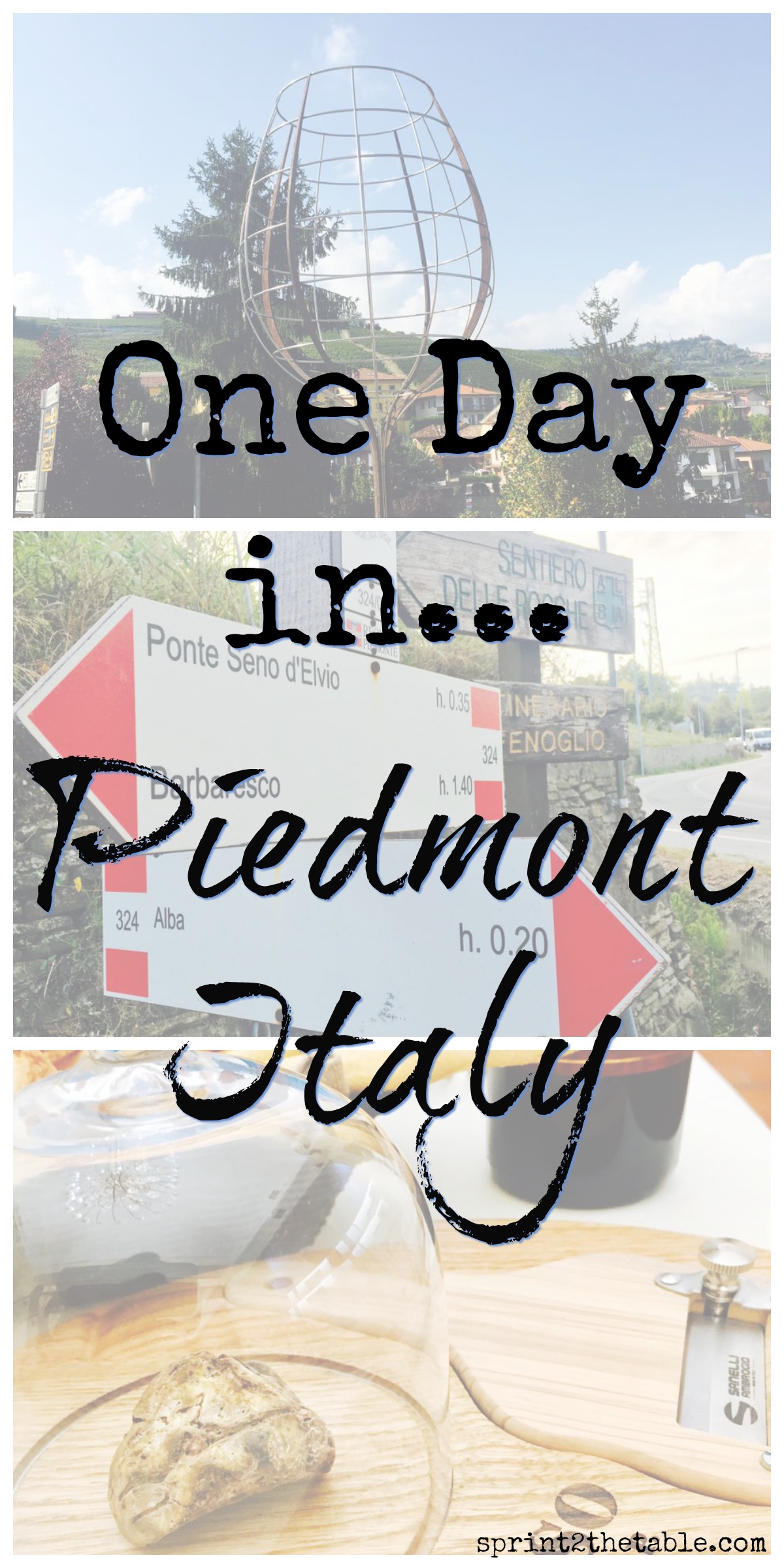 Narrowing down the options during your stay isn't easy; I recently spent 4 full days in Alba and could have stayed 4 more weeks.  The good news is that you can hit the high points quickly if you're pressed for time.  This post is written with the assumption that you'll arrive late in the afternoon, stay a full day, and take the train out the next morning.
There are many gorgeous Bed & Breakfasts in the area, but they're further out of the city center and will require a car.  I prefer booking an Airbnb location in the heart of Alba.  Ours was just steps from the main street, and we felt like locals living on one of the cute side streets above a little café.
The day you arrive, I recommend starting at the tourist center to arrange winery visits, followed by dinner at slow food restaurant Osteria dell'Arco.  This way, the next day (your full day) can be spent tasting wine in the the famed Barolo area, and finishing off with dinner at Enoclub in a gorgeous wine cave.
---
Upon Arriving
Take a stroll down the main street, Via Vittorio Emanuele, taking time to window shop.  There are dozens of shops along the street.  Be sure to say hello to my friend Tomi at my favorite truffle shop, Inaudi!
Make your way to Pizza Duomo before 6:30 pm so that you can visit the tourist center and schedule a driver for your Barolo wine adventure the following day.  This isn't a ho-hum tourism center like we have in the States.  This one is extremely helpful for scheduling a variety of trips, plus there's a special desk in the tourist center for wine tours!
The lady at the wine desk there can help with appointments, but I recommend requesting the following:
Start in Barolo with a tour and tasting at Pira (run by the first female maker of Barolo!)
Head to Serralunga for lunch and a tasting was with Anselma Giacomo
Finish in La Morra to watch the sunset and do a tasting with
Whatever you do, get a driver.  The wine counter will help you with that as well.  It should be about €120 for a day, but WELL worth it.  They all have really nice cars – this isn't like a taxi service.  We rolled in a brand new Audi!
Dinner
Walk south down Via Vittorio Emanuele to Piazza Savona for dinner at the popular Osteria dell'Arco.
It is a cozy, traditional Piemontese restaurant known for well-executed regional dishes in accordance with the Slow Food philosophy.  It's in the Michelin guide, but is also popular with locals.  You might call ahead for a reservation, especially during the high season or on weekends.
In addition to food, the restaurant has an impressive wine selection with prices that will make you sick when you think about what we pay in the States.  You can get an excellent bottle for under $20!
I recommend my namesake, which I *think* was just €15.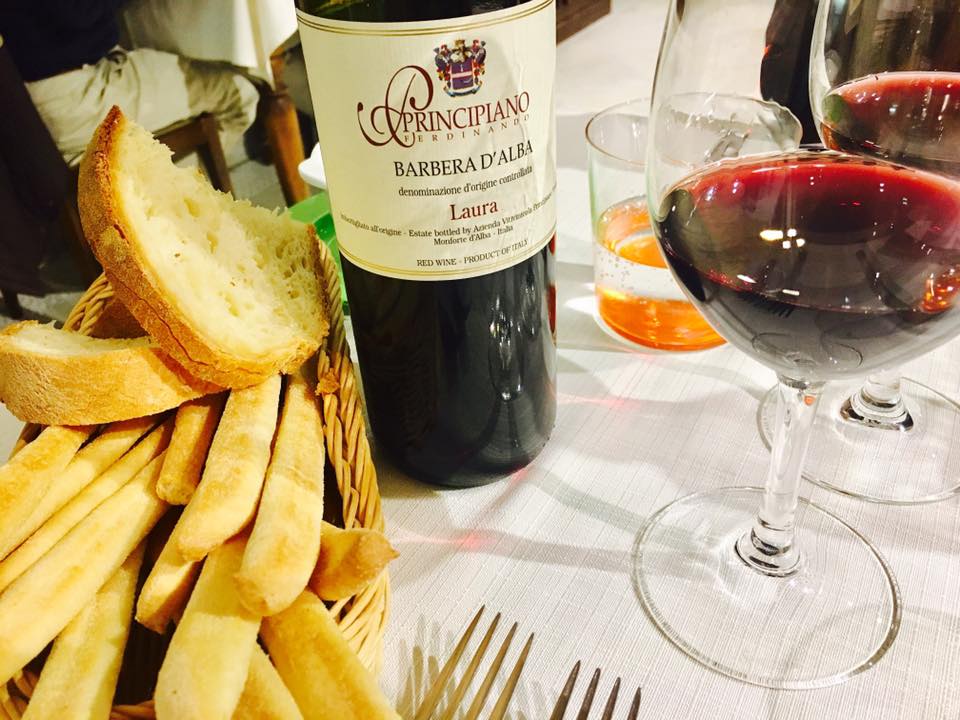 Breakfast
Skip it.  You're going to have a huge lunch… and you're probably still full from that dinner!
Instead, enjoy a jog through town while it's still quiet.  I circled the main area, ran up a hill that pointed toward the city of Neive, and finished up at the café below our Airbnb for a cappuccino and a fresh croissant.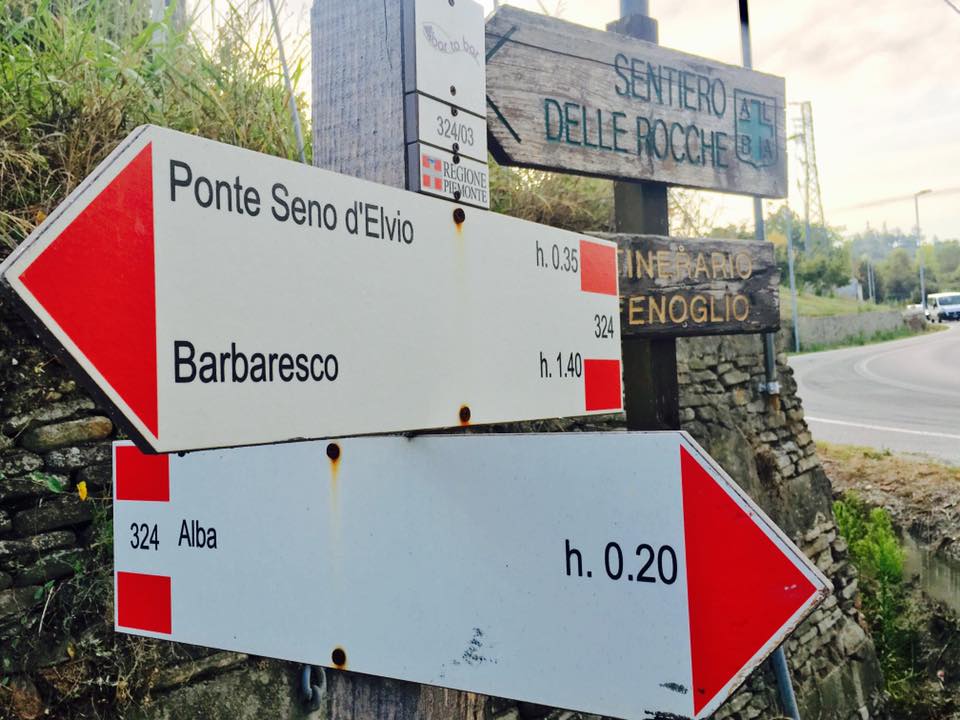 Clean up and meet you driver for the day.  It's unlikely he'll speak much English, but try to have a conversation anyway.  You'll get a lot of great insider tips!
Barolo
Barolo is a quaint little town about 9 miles outside of Alba.  I recommend starting the day here, but be careful… you'll never want to leave.
Barolo is a red DOCG wine made from the Nebbiolo grape.  It is arguably one of Italy's greatest wines.  Those considered to be of the highest quality are made from grapes grown on the Cannubi hill.  The wine is aged 2 years in French oak and then an additional year in the bottle.  It is a big, spicy wine with some chewy fruit flavor (big reds are the way to my heart).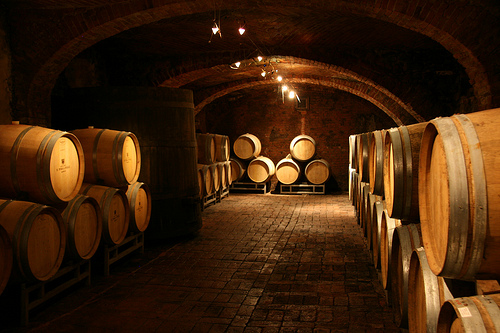 For your tasting in Barolo proper, I recommend E. Pira & Figli.  It is run by Chira, the first female maker of Barolo and definitely the coolest winemaker in the Barolo.  There are more female producers now, but Chiara remains one of the only 2 organic Barolo makers.  They only produce ~12,000 bottles a year, and are committed to sustainable, biodynamic viticulture.
Tip: Make sure to try Chira's Barolo from the Cannubi and Via Nuova crus.  They're my favorite with their classic violet and vanilla notes.
Read more about my visit here.
Lunch
Meet your driver and head over to Serralunga for lunch before your next tasting.  The drive will be less than 15 minutes.
For lunch, I recommend Osteria Tre Case.  This is a newer place was recommended to me by a local (Maria from the winery you'll be visiting next).  You'll need to ring the bell at the door to get in, but don't let that deter you.  Ask for a seat on their rooftop patio if the weather is nice.
The setting, the food, the wine… you'll think you've died and gone to heaven.
Tip: Order the cheese plate for dessert.  It comes with a fantastic Barolo Chinato jam… plus they bring out a complementary small plate of sweets with the check.
Serralunga Wine Tasting
Your tasting in Serralunga will be with Maria at Anselma Giacomo.  Maria is the wife of Franco Anselma, the winemaker, and is possibly the sweetest woman I've ever met.  Give her a giant hug from me!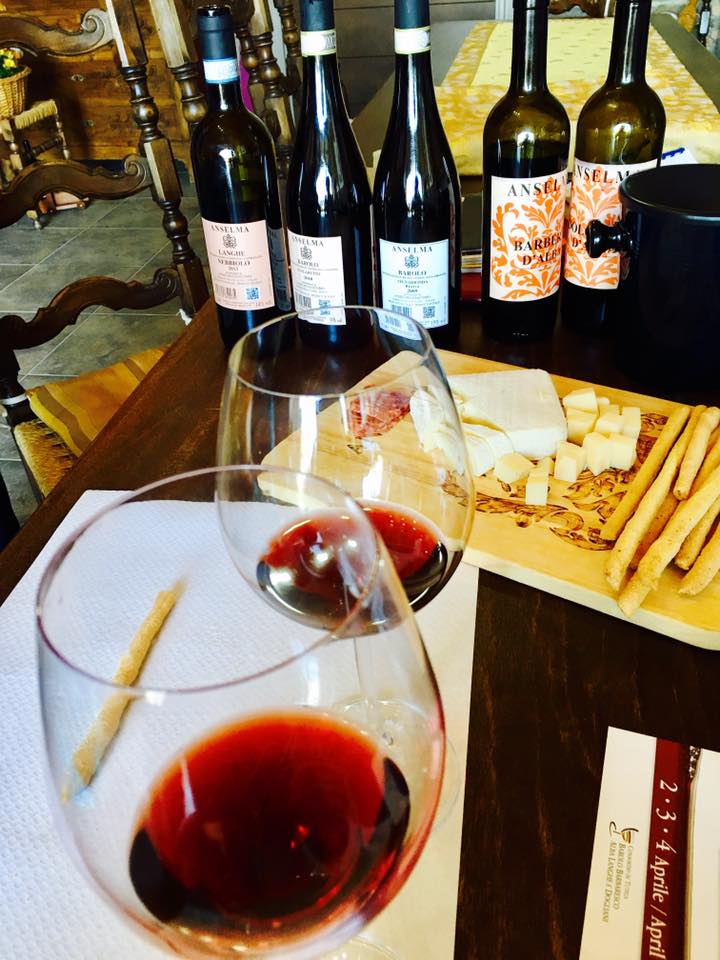 Maria will give you a fabulous tour, filled with the history of the old town and winery (which has been in the family since the early 1900s).  Then you'll taste Anselma's award-winning wine, alongside some meats and cheese.
Tip: Make sure to try the Barolo Collaretto.  We came home with 3 bottles… and 2 are gone.
La Morra
Take your camera and head over to La Morra, which is about 15 minutes from Serralunga.  It is the best town for panoramas.  Head straight up the hill (it's tiny town – you can't miss it) to the little park area for the best views.
Side note: You might stop along the way up the hill at the gelateria for a refresher.  I recommend the Barolo Chinato Chocolate.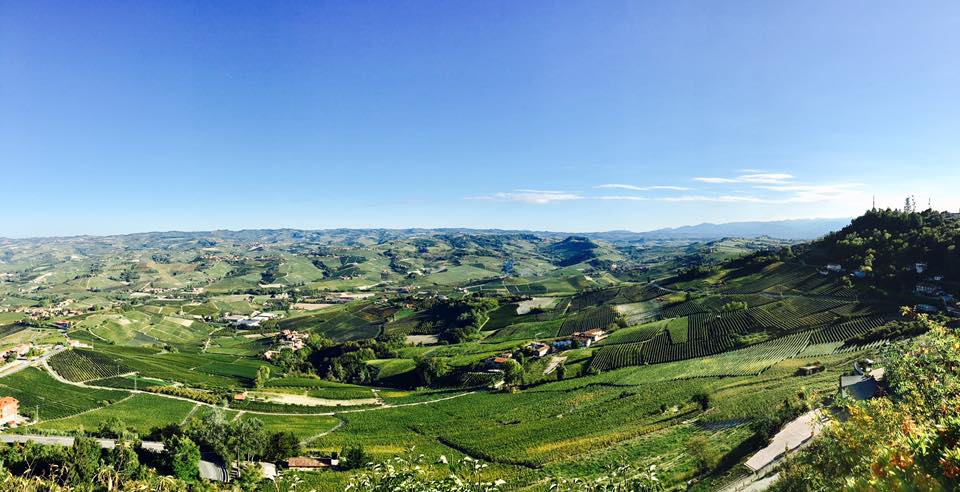 For your tasting, head to Michele Mascarello.  Stefano, the winemaker's son, will likely be doing the tasting.  He's very knowledgable and hilarious if you start a side conversation with him.  He went to school in New York, so his English is excellent and he's full of fun stories.  He's also really cute… sorry ladies, he has a girlfriend.
We actually like their Nebbiolo the best out of the reds, but ended up buying 2 bottles of bubbly (only one made it home… the other was consumed in Florence).  Their Brut Spumante was super dry and filled with the teeny little bubbles I love.  With it's bread-y and dried fruit flavors, it's perfect for a pre-dinner drink!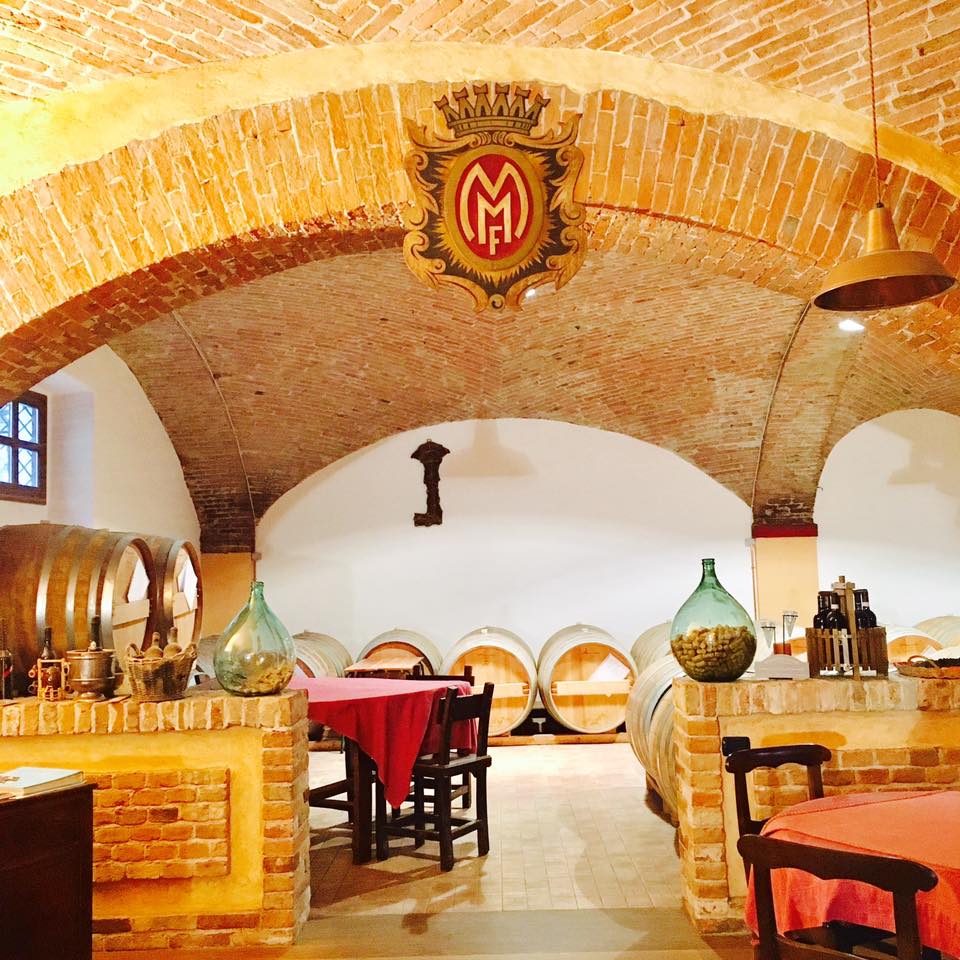 Tip: Depending on the time of year/day, you might want to taste before pictures so you get sunset shots!
Dinner
Once you've made your way back down to Alba you'll be ready for a proper meal!  If this is your last night there, I can't recommend Enoclub enough (make a reservation in advance!).  It's a bit hard to find, but it's in Piazza Savona just below Caffè Umberto.
Set in old wine cellars from the 19th century, the cave-like atmosphere can't be beat.  The elegant-yet-comfortable ambience feels like a hug.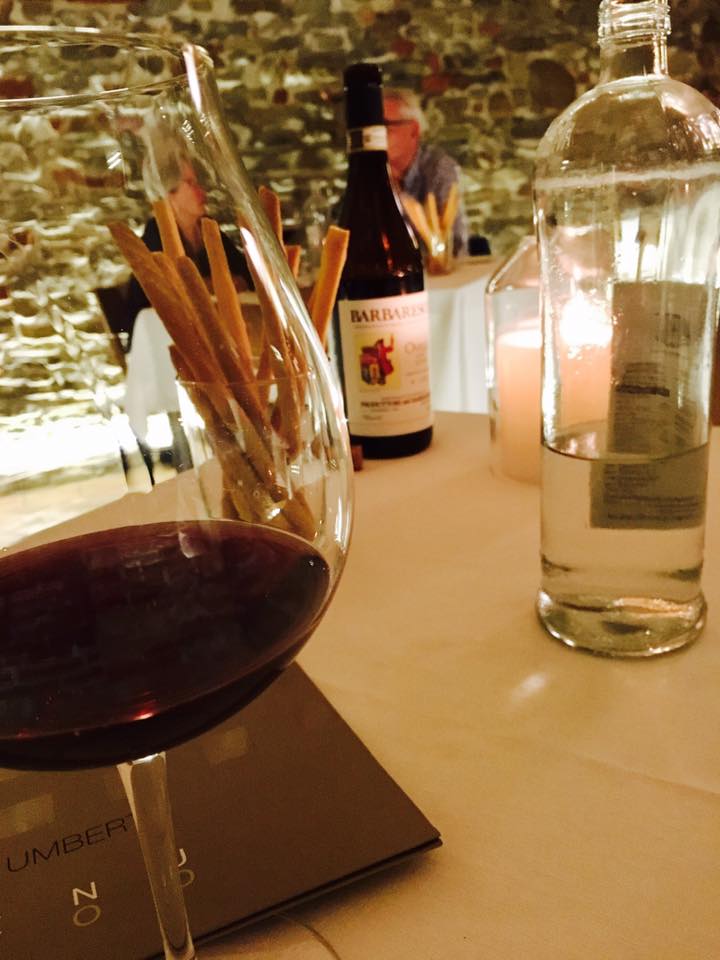 The dinner was just as amazing as the setting.  From the first bite to the last, every detail was perfectly executed.
You can read more about what we ordered here, but here's the quick list:
Amuse bouche: mini spinach quiche with a schemer of tomato sauce
Potato with cream sauce and black truffles
Veal tartare with black truffles and microgreens
Plin with butter and sage
Rabbit stuffed with Borage leaves
Molten chocolate cake
So that's your day in Alba!  If you do go, please feel free to email me or comment here with questions, suggestions, feedback… whatever.  I've been twice now, and blogged about the first trip here, here, here, and here.
Here is another post from this most recent trip, which include a day of food, our favorite apertivo spot, and some fun pictures of the donkey race (which was hilarious, as you would imagine).
Getting to Italy
Check out my tips for flying on the cheap.  Vegas and I each paid $75 for our tickets!
Getting to Alba
If you're flying into Turin, you can get a train to Alba with one change in Bra for ~€7.
You'll want to take a taxi or bus from the Turin airport to the Porta Susa train station.  From there, use a kiosk to buy your ticket to Alba.  You can check the schedules in advance on the Trenitalia website, but they generally run every half hour.
When To Go
October is my favorite time of year to go to Italy.  The summer crowd has come and gone, and it's a bit cooler (about 70-75ºF).  The vineyards are ready for harvest, so they're at their most beautiful.
Best off all, the truffle festival is takes place in October.  You can readily find the coveted white truffles in every restaurant.  Trust me – splurge at least once on a truffle-topped dish.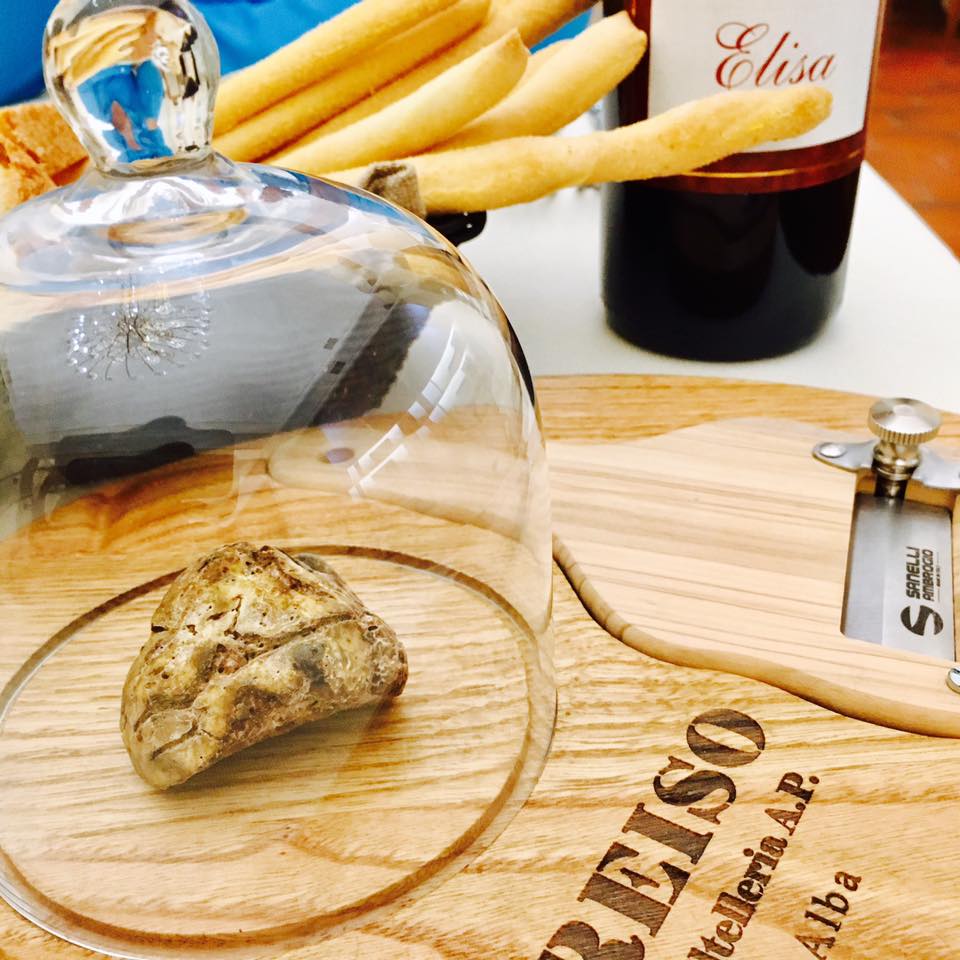 If you're early enough in October, you can catch the donkey race too!
***
I can't tell you enough what a dream this place is.
Have you ever had a white truffle?
What would you look forward to most on this trip?