Lately there seems to be a streak of obnoxious.
Or maybe I'm having a streak of impatience?
We've become a nation of "have it your way."  But has it done nothing more than turn us into entitled, bourgeois consumers?  We can have virtually anything we want almost instantly.
Take Starbucks.  Yesterday I ran across this article filled with the most obnoxious Starbucks orders.  At first I thought they weren't SO bad… but keep reading.
My favorites:*
Decaf, Soy Latte With An Extra Shot And Cream → Soy, decaf… with CREAM?  And an extra SHOT?  I'm naming this "The Oxymoron"

Quad Grande, Non Fat, Extra Hot Caramel Macchiato Upside Down → Upside down?  This is coffee.  Not a cake.  And why bother with the non-fat after all the damn sugar you're drinking?!
Caramel Macchiato, Venti, Skim, Extra Shot, Extra-Hot, Extra-Whip, Sugar-Free → You are aware that whip isn't sugar-free, right?
Grande Chai Tea Latte, 3 Pump, Skim Milk, Lite Water, No Foam, Extra Hot → If you have a pump number specification, you miiiiight be high-maintenence.  And lite water?  As opposed to full-fat?
*All of this is in good fun… I'm sure people (read: my boss) think the way I order in restaurants is obnoxious.
It is rare that I buy coffee.  It's rare that I even drink coffee.  That said, I do dig this Mocha Protein Frapp.  I know, I know, leave it to me to prefer a protein drink…
Who needs Starbucks when you can have a homemade protein mocha frapp with a fraction of the sugar?  Make this and save yourself $6 and 20g of sugar.
____________________________________________________________________________________
This day of WIAW eats was odd… there were some semi-fails and a wave of nausea… but  let's face it, eating is always the best part of my day.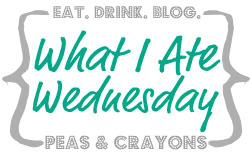 Read on for my eats, and then check out Jenn's link up for everyone else's delicious days.
____________________________________________________________________________________
Breakfast:
My morning cocktail (apple cider vinegar, water, Glutamine, and Fitmixer Aminos) happened, as usual.  I swear this is the biggest addiction in my life.
Breakfast was a pancake experiment… it's not there yet.  Will keep working.  That said, everything is better when topped with bacon and peanut butter sauce.
Mid-Morning Snack:
I don't buy packaged proteins very often, but I do like the Trader Joe's Balsamic Chicken.  Its full of flavor and high in protein.  Perfect for busy weeks!  I ate it with raw corn and riced cauliflower mixed with hummus.
That sounds odd after typing it out loud… hmmm…

Lunch:
My favorite: Sea Bass.  I prepare it during my Sunday food prep.  It's simply coated with fresh thyme, rosemary, garlic, black pepper, and lemon, then I bake it on foil in the oven for 12 mins (400 degrees on convection roast).
I ate it with a side of veggies I pre-roasted on Sunday.  To reheat them, I just place them in the oven under broil so they get nice a crispy.
Afternoon Snack:
The smoothie love continues.  After my workout this afternoon I made a strange… but strange… smoothie bowl.  I think it would have been fine if I hadn't added so much wheatgrass. 
In my smoothie:
Chocolate protein powder
Wheatgrass
Spinach
Broccoli slaw
Maple extract
Cinnamon
Fresh ginger
Liquid Stevia
Toppings: TruWhip, cacao nibs and raw oats
I had an awkwardly timed hair appointment after work, so I had a second snack to tide me over.  My favorite thing.
Kabocha squash!  I roasted it like I did in  this #strangebutgood post and topped it with a quick sauce of peanut flour, almond milk, almond extract, cinnamon, and a couple drops of stevia.  And cacao nibs (I think I'm addicted).
Dinner:
I went to get my mane tamed, and while I was in the stylist's chair I got oddly nauseous.  It was so weird!  Suddenly I just felt like I might have to run to the bathroom.  I drank water, breathed calmly, and made it through the cut.
After I got home I wasn't hungry, but I knew it was time to eat.  Cheese toast sounded good, so I made that with some Ezekial bread and sample packet of Dubliner cheese I found in the fridge (hope that wasn't too old…).  Then I added a bunch of stuff.  Swordfish (just a bit for protein – seafood isn't appealing when feeling puke-y), sugar peas, hummus, and roasted tomatoes with basil.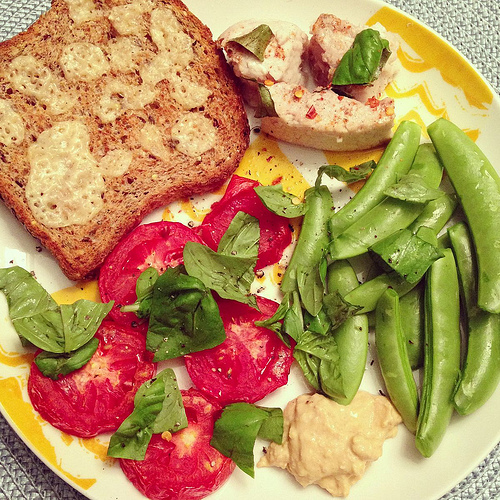 Dessert:
I still felt a little off, so I went with Greek yogurt hoping the good bacteria would work some magic.  A bit 'o #strangebutgood always makes me feel better. 🙂
Popcorn is an awesome dessert topper.  I buy mine in the bulk bins and pop it in brown paper bags in the microwave.  This was topped with melted cherries.  The underbelly of this deliciousness was Greek yogurt mixed with 1/2 scoop of protein powder, carob powder, cinnamon, a little cayenne, and a few drops of Stevia.
***
After leg day on Monday, I am so sore today that just the thought of walking hurts.  Can that cause nausea??? 😉
What is the most obnoxious thing you order?  Mine is salad.  Basically I want to build my own.  I don't want the cheese if it's the crappy shredded stuff, I do want to add red pepper flakes, the dressing must be on the side, and – for the love of god – don't salt anything.  Is that so hard?!
What do you eat when your stomach doesn't feel right?