The fun part about moving is using all the baking supplies.
Flour, and sugar, and buttah…. oh my!
I made Cat's browned butter cookies for the gym crew.  Then I did the Fudgy Brownies that Juli linked up to last week's #strangebutgood to have as road snacks for Vegas and me.  For ease, I made them as peanut flour-dusted balls (and because balls).
Next up is my own concoction – Oatmeal Jam Cookies.  Jam may sound strange… but – in fitting with the Friday theme – it's good!*
*Don't take my word for it – my boss said it's one of the more delicious things I've ever brought in to work.  The he asked if I used "real" butter.
I used Banana-Rum Jam (a Fresh Market find), but you could use anything here.  It just happened to be what I needed to use from my fridge.  Not an uncommon theme when moving.
You could probably stir in some peanut butter too.  PB&J Oatmeal Cookies sound divine… I might have added a schmear to one or two of these.  Don't leave out the chocolate, though.  all desserts should have chocolate.
Allowing the dough to chill help the flavors to meld together.  It also helps them remain doughy.  The cool dough left to bake in mounds on the cookie sheet allows the center to remain satisfyingly under-done.  Remember this method from the Bourbon Chocolate Chip Cookies?
If you are crazy prefer them crispy, just flatten them a bit before placing in the oven.
---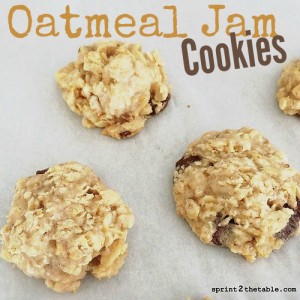 Oatmeal Jam Cookies
1 C butter, softened
1 C white sugar
1/2 C jam
2 eggs
2 C all-purpose flour
1 tsp baking powder
3 C quick cooking oats
1/2 C semi-sweet chocolate chips 
In a medium bowl, cream together butter, white sugar, and jam. Beat in eggs one at a time.
Combine flour and baking powder; stir into the butter mixture.  Fold in oats and chocolate chips.  Cover, and chill dough for at least one hour or overnight.
Preheat the oven to 375 degrees.  Roll the dough into tablespoon sized balls; place 2 inches apart on parchment-lined cookie sheets.  
Bake for 8 to 10 minutes.  Allow cookies to cool before housing a few with cold a glass of milk.
---
How have you enjoyed making co-workers, friends, or family stare with strange but good creations this week? The link up rules can be found here or by clicking on "Strange But Good" in the menu bar above. In short, I want to see what concoctions have earned you weird looks from co-workers, family and friends! Post your Strange But Good creations, grab the logo below for your blog, and link up here.
Remember to use #strangebutgood in any Tweets and Instagrams of your creations. 🙂



***
I can't believe it's almost time! Vegas and I head out Sunday to San Diego.  Anyone along I-40 want to hang out?  LOL!
What's your favorite cookie?
Are you a doughy or chewy cookie person?  Crispy?