You guys have the best ideas.
I make a LOT of shakes and smoothies (what distinguishes the two, btw?).  Would you believe that you don't even see half of the craziness I blend up?
There are the favorites that end up in steady rotation: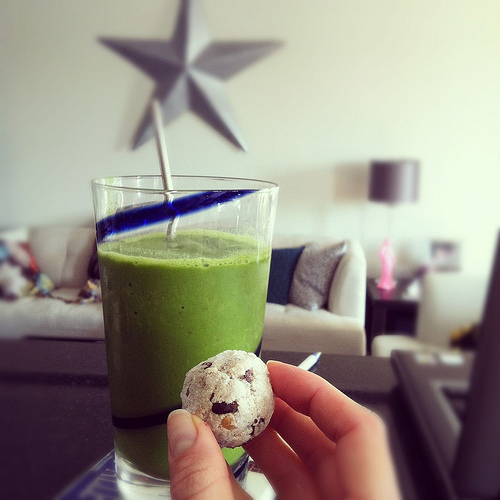 Banana-Maple-Ginger (pictured with Lisa's raw cookie dough ball)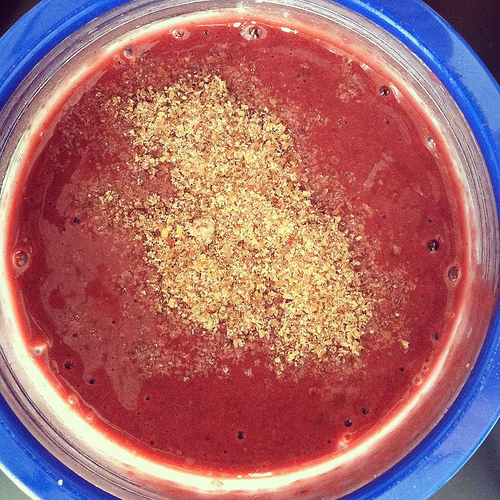 Roasted Beet and Orange Smoothie
My all-time favorite…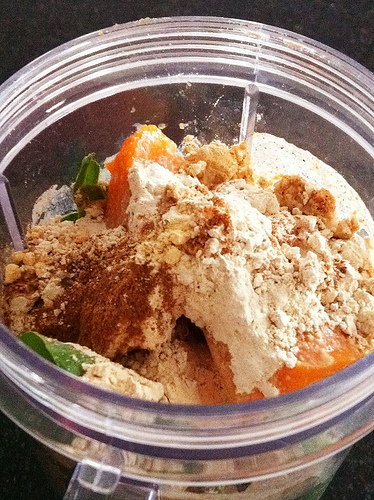 And my new favorite…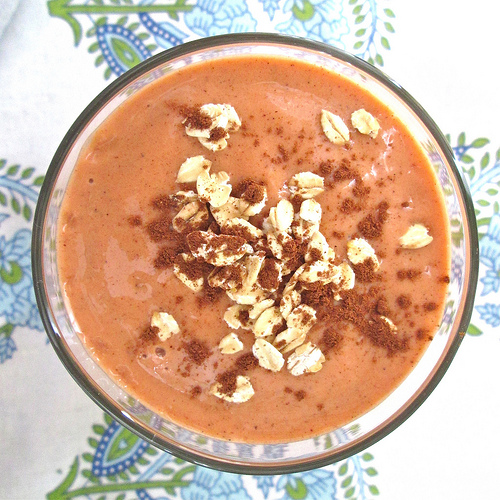 Which brings me back to the subject of the day.  When I posted the Carrot Cake Batter recipe, Allie commented that she's more of a cookie than a cake girl.  She requested an Oatmeal Raisin Cookie Shake.
I owe her big time for that request, because this is GOOD.  The test batches weren't too painful to drink either.
Appropriate for breakfast or dessert, this is one tasty batter.  The mix of oats, banana, flax, and coconut flour give it a fabulously doughy texture.  I almost wanted to pop the mix in the oven once I blended it.
Nutritional yeast may seem like a weird addition, but it have a rich, nutty taste that compliments the sweet flavors in this dough.  The vanilla and cinnamon add to the cookie flavor, and – if you have it – the butter extract just adds a hint of "fresh from the oven."
Confession: I don't like raisins (or any dried fruit for that matter).  Feel free to blend a few in for added cookie sweetness, but I – being a good blogger – bought 19 cents of raisins from the bulk bin for a topping to enhance the photo accommodate Allie's request. 😉
***In any of these shakes, you may leave out the protein powder.  I like the addition because a) protein is good for muscle building/recovery and b) it make it more filling.***
_______________________________________________________________________________________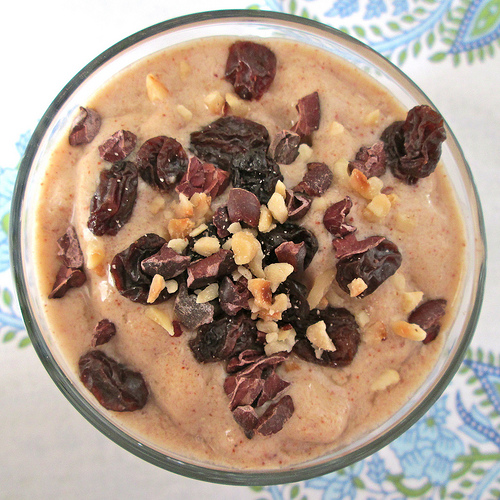 Oatmeal Cookie Shake
1 scoop vanilla protein powder
1/3 C rolled oats (use gluten-free for a GF shake)
1/2 banana
1 T ground flax
1 T coconut flour
1.5 tsp nutritional yeast
1 tsp cinnamon
1 tsp vanilla extract
1/8 tsp butter extract
7-8 drops liquid stevia
1/2 C unsweetened almond milk (or other liquid)
Ice, to taste
1/8 tsp Guar Gum (optional, but this will make your smoothie thicker)
Toppings: crushed walnuts, raisins, cacao nibs (optional)
Combine all ingredients in a high-seed blender and blend until smooth.
Add toppings and drink your dough!
Makes 1 smoothie.
***
Another confession: I didn't like oatmeal cookies until I was an adult.  I did; however, always like oatmeal.
Have you tried any of these smoothies?
If you could make a recipe request of any blogger, what would it be?