Lame jokes are my favorite.
Q: What did the fish say when he hit a wall?
A: Damn.
I'll spare you more jokes and get right to the point. Remember my post competition treat of choice? 
NuttZo was a big treat for me because I hadn't been "allowed" nut butter on my training plan for a while, and because at ~$15 it's a pricey jar of creamy, nutty deliciousness (worth every penny, btw).
That's not a problem for one of you… The lovely people at Nuttzo have offered to give away a jar of the good stuff!  this is a jar of the Original flavor (my favorite).  It contains peanuts, cashews, almonds, Brazilian nuts, sunflower seeds, flax seeds, hazelnuts, sea salt.  All organic.  No added sugar or oil.
Other reason NuttZo rocks: 
Legumes + nuts and seeds = a complete protein (all your amino acids)
Provides 50% of your DV of ALA Omega 3 per serving (650 mg)
A 16-ounce jar of NuttZo Original provides 14 servings – less than $1 per serving of organic nut-nutrition
 

Receive up to 4 entries by:
Follow me on Twitter or Subscribe to the Sprint 2 the Table RSS feed or email
Tweet: You could say something like: I've entered to win a jar of nut butter in the @NuttZoCEO giveaway at @sprint2thetable http://wp.me/p16jDn-1hN  #giveaway

Be Social: Facebook Like NuttZo, Pinterest Follow Me and/or Pin Something of Mine, Instagram Follow Me
Comment: What is your favorite way to eat nut butter?
Please leave a *separate comment* for each entry!
Contest ends at 11:59pm EST on Tuesday, November 13th.  The winner will be announced on Wednesday, November 14th.
---
Just in case you need some ideas for using nut butter, here are my top 5: 
(Note: many of these call for peanut butter or peanut flour, but you can sub in NuttZ or your favorite nut butter.)
All-time favorite breakfast invention.
Perfect on a cold morning.  Like now.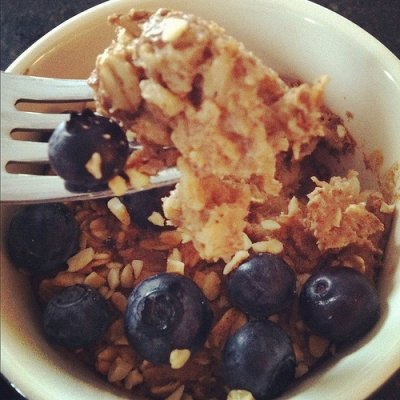 Lauren can vouch for me – baked tofu is fantastic fluffy goodness.
These are only 100 cals and have just 2g of sugar.  And you'd never know it.
To my fellow addicts: this is also amazing with pumpkin. 
***
I get my new nutrition plan today… I'm at once relieved (this has been a junk food bender) and sad. 
What's the most #strangebutgood way you eat nut butter?
What is your favorite lame joke?