Have you guys been on Instagram lately?
That's a rhetorical question.
Last week my feed was filled with peeks inside my trip to the NOW Foods headquarters in a Chicago suburb.  I was one of 7 lucky FitFluential bloggers that spend 2 days immersed in NOW, getting an insider look at the company and their passion for providing high-quality, affordable products.
But first, schwag: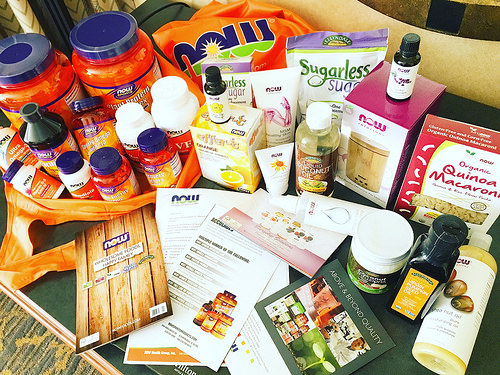 At the end of this post, there is an opportunity for YOU to win ALL of these goodies too. It's filled with supplements, gluten free-pasta, sugar-free sweetener, and even an oil diffuser!
After checking in, we were treated to a private dinner at Glen Prairie with NOW's CEO, Jim Emme.  I was lucky enough to sit right next to him while we dined.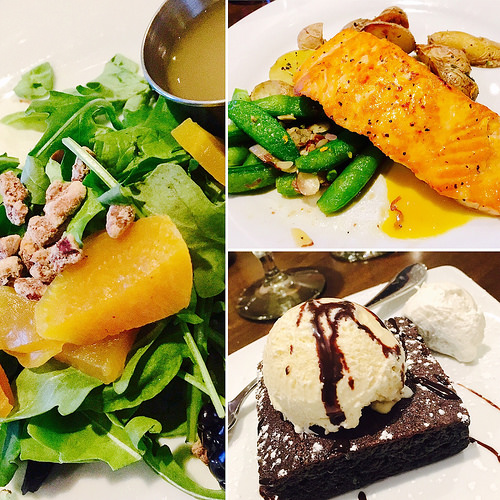 I spent years in consulting, meeting with leaders of various companies and hearing all about their problems.  I'm pretty jaded with corporate America, to say the least.  Jim is NOT that guy.  I've never met a more genuine leader, or one who cares so much about the people that work for him. It's amazing how he – and everyone I met – are truly committed to providing high quality supplements and healthy ingredients to people that are actually AFFORDABLE.
More fun facts about Jim:
He is tall.  Like really tall… maybe 6'3?!
He plays basketball twice a week, does Crossfit and follows a paleo diet (he did not have a brownie).
He meets with any employee that is about to be let go to see if there's a personal issue that might be impacting performance.
He started at NOW as a plant manager.
He can milk a goat.
The food at dinner was excellent.  I had the Golden Beet Arugula Salad with goat cheese toasts, followed by pan-seared Skuna Bay Salmon with sautéed snap peas, fingerling potatoes, and orange beurre blanc.  Homemade gluten-free brownie for dessert with french vanilla ice cream.  Pretty sure I'm the only girl that finished hers, but mah gainz and all… mwhahaha!  There was also red wine involved.
---
After dinner we went right to bed because there was a 6 AM fitness class the next day.  Central time.  Which means I got up at 3:15 PT.  Soooooo tired.  Suzy was there for me to capture the moment.  (She is amazing, btw.  Another perk to this trip was meeting or reuniting with friends!)
The workout turned out to be a HIIT session at Life Time Fitness.  It was a tough 45 minute workout (I felt like a total wuss with my stupid ACL), and I was actually GLAD to end it with 15 mins of yoga.  I almost fell asleep.
I woke up rallied in time for a group picture.
The NOW crew never let us go hungry!  We fueled up before the workout with various energy bites (click each for recipe) – French Vanilla Coconut, Cashew Butter & Berries, and Pom-Berry Nut.
Post-workout we were gifted with a protein shakes in the coolest blender bottle I've ever seen.  It had a separate compartment for powder on the bottom and two compartments for pills on the top.
We had breakfast looking out on the golf course of the hotel before returning to our rooms to shower for the day's activities.
---
First up was a private plant tour.  We were given a short presentation about the company before donning some super-sexy hair nets, glasses, and lab coats for the tour.
It was great to learn so much about NOW.  I'd purchased a few of their products in the past, but never put much thought into the particular brand.  Over and over again I realized how much care is put into each one of the nearly 1,500 high quality, natural, and affordable products ranging from vitamins and supplements to hair and skincare products to snacks and olive oils.  I had no idea that 75% of their supplements are non-GMO!  That's really really hard to do when you're sourcing so many ingredients from around the world.
Now Foods is a family owned company, founded in in 1968.  You can tell that each employee is treated like family – everyone was smiling and waving at us as we walked through the plant!
As we walked through the plant, we saw firsthand that NOW Foods doesn't just test the final product for quality, they test each individual ingredient that goes into a product.
Our definition of value is the best quality product at best possible price." – Jim Emme, CEO
There was so much high-tech equipment in there… it was like nerd heaven!
After the plant tour, we were off to their headquarters for lunch and a wellness presentation by NOW Spokesperson, Dr. Wendy Bazilian.  When I saw that the lunch was catered by Whole Foods, I was over the moon happy.  You guys know how I feel about Whole Foods. 😉
Wendy's presentation was fantastic.  She talked about Food Tribes, which was a new concept to me.  A Food Tribe is a social group connected by a common set of beliefs that shape their food and lifestyle choices.  Makes total sense, right?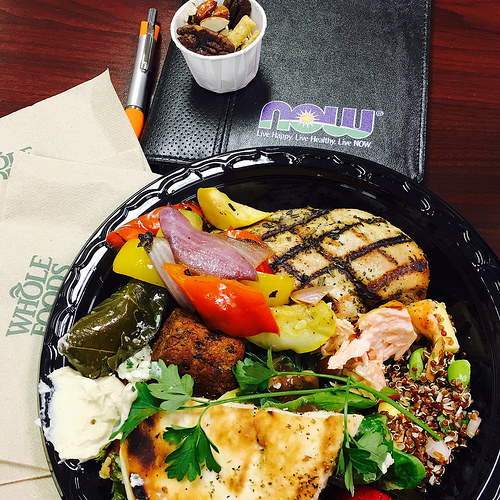 I was really interested in the research she shared on gluten-free diets and performance.  People often go gluten-free because they think for some reason it's healthier, but that's not necessarily the case (allergies and sensitivities aside).  There are studies testing athletic performance that determined there is no benefit to going gluten-free if you don't truly have a medical reason.
Next up was a DIY Post-Workout Bath Tea and a gym equipment spray led by Tina Tews, Personal Care International Sales Assistant.  That bath tea smells so good with the lavander and chamomile – my luggage smelled fantastic when I got home.  
Lastly, we were off to the test kitchen for a NOW® Natural Foods Overview by Dave Rosenberg, Foods Brand Director and an Ellyndale Foods™ premium oil tasting led by Suzy Singh, R&D Chef.  FYI – all of their food products are non-GMO.
Chef Suzy is basically living my dream.  After a stint in Neural Engineering (NOT part of my dream… holy mother of smart), she decided to follow her passion and go back to school at Le Cordon Bleu to be a chef. She was on season 2 of MasterChef, finishing in the top 5.  Then she went on to have a successful samosa food truck, the first South Asian food truck in Chicago.  She missed the science side of the world, which is what led her to R&D for NOW Foods.  Isn't that an amazing story?!
On to the oil tasting, lead by Chef Suzy herself.
If you've been reading my blog for a while, you know that I love wine.  In, fact, Vegas and I just took a level two certification.  It was really cool to learn that you taste oils much like you taste wine.  You give it a swirl to let the air in, smell it, and suck it through your teeth, holding it on our tongue to get the full effect.
They were all really good, but the coconut infusions were my favorite.  I wanted to roll around in the butter infusion and the garlic… well, I could have eaten enough of it to scare off a family of vampires.
I was so sad when it was time to leave.  Always thoughtful, the NOW crew had a make your own salad in a jar bar set up for us.  We got to use the oils we just tasted to make our own salad dressing too.  Wouldn't this be a fun party idea?
It was great to meet so many new friends, and to reunite with friends I haven't seen in a while (like the marvelous Katie!).  And KELLY OLEXA!  I finally got to meet FitFluential's leader and she is every bit as amazing as she comes across online.  You can fluff my hair any time, friend.
Special thanks to Alana, NOW's Senior Public Relations Specialist.  She was the force behind organizing this amazing event.  She even memorized our bios and greeted us by name as we arrived!
---
Giveaway
Whew.  That was a lot.  Thanks for sticking with me.  NOW (<– see what I did there?) it's Giveaway time!
Don't miss the Fitfluential Twitter chat on Thursday, June 16 2016 at 9pm ET!  All the bloggers that attended will be there chatting and using the hashtag #NOWGetFit.  Come say hi!
Check out NOW Foods on Instagram, Facebook, and Twitter.  They'll be showing a video from our time there!
This post is sponsored by FitFluential on behalf of NOW Foods.


***
I got home and crashed hard… but only after following the trail of notes and peanut M&Ms that Vegas left for me. <3
What NOW brands products do you use?
Did you know how to taste oil properly?