There are some meals you never forget.
And not just because you ave to take out a second mortgage to pay for them. 
On our last night in Vegas we had the best meal.  Nobu in Caesar's Palace.  It blows my mind that food so good exists inside a casino/hotel.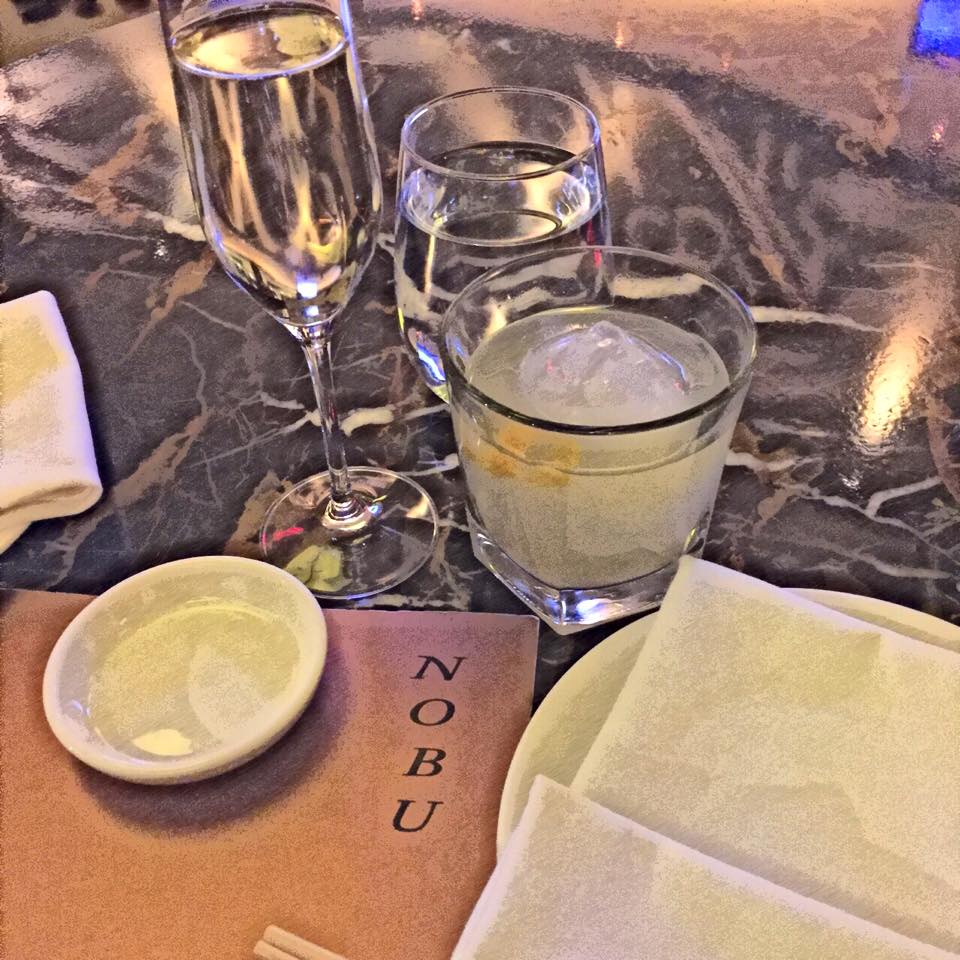 Lucie and I were actually being lazy and didn't feel like leaving the hotel for dinner… never mind the fact that our "hotel" was the size of a small city.  It was the best lazy decision I've ever made.
Chef Nobu's Japanese food has a bit of a South American flare.  It's incredible.  We were forced to try a bit of everything.
The above was just to start.  The "taco" shells were actually fried wontons.  They were the perfect mini bite!
The server then directed us to the hot dishes.  We were debating between several things, but she all but forced us to order the Miso Black Cod.  I am so very glad she did – I took one bite and sat back in my seat and laughed.  It was so good… I had a full on foodgasm.  (Yes, that's an annoying word… but there's just not another way to describe it.)
You can find the recipe for the cod here.  I'll be making it at home for sure.  The pink and white thing is the middle is a sort of ginger.  You eat the white part before the cod to cleanse the palate.
The next hot dish was kushiyaki (grilled skewers).  We ordered chicken and scallops and had teriyaki and anticucho sauces.  It was fine.  The scallops were excellent, actually… but that cod though.
We ended with the sushi course.  It turns out that sushi for dessert is an excellent idea.  This is actually the order that the server suggested.  Sushi is traditionally eaten at the end of a meal.
I'm going to try to remember what all we had.  The sushi roll on the left was a lobster roll; it had some slightly spicy crunchy things in the middle that made of an amazing texture contrast.  The bottom right is barracuda nigiri with a garlic chip on top.  Above that is yellow tail belly nigiri with leek.  Then there was shrimp nigiri (yes, raw shrimp) with cilantro and a tiny dot of a spicy red chili paste.
The last one was sweet shrimp with a fried head… you do eat the whole thing.  Rather, we almost did but neither of us could choke down the eyeballs.  It was tasty though!
When Vegas arrived we had more mini tacos, skewers, and a tempura fried Rock Shrimp dish was was so good we miiiiight have "helped" her finish it.
It wasn't cheap, but good lawd it was good.  If you're ever in Las Vegas, at least go sit at their bar and have one or two dishes.  I can't recommend it enough!
---
This WIAW is significantly less awesome than the meal above.  No groceries.  I just didn't care after all the Vegas deliciousness.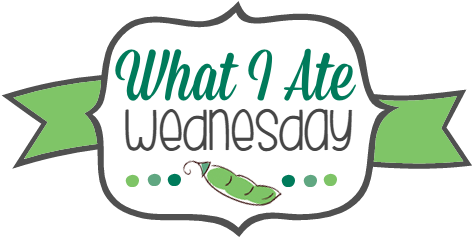 Read on for my eats, and then check out Jenn's blog for everyone else's delicious creations!
---
Breakfast:
I had the usual morning cocktail and morning sludge.
No food in the house almost always means yogurt breakfast.  Greek yogurt, a peach, and about half a jar a reasonable amount of the granola Meghan brought Lucie and me when she visited last week.
Lunch:
We had another visitor this week!  Gina drove down to San Diego to have lunch with Lucie and me.  (Mostly Lucie… people never came when it was just me – haha!)
I showed up nice and sweaty from the gym.  I'm learning to just own being the smelly kid.
We ate a a new place in Hillcrest called Fresh Catch.  You choose your fish from the counter and the will prepare it basically anyway you like – grilled, cajun, etc.  Then you can decide to have it over salad, as a sandwich, in a taco, or plated with rice and veggies.
I got the yellow tail grilled over a salad.  Extra sriracha.
Dinner-ish:
I should be ashamed… I had a margarita for dinner.  I'd snacked on more of Meghan's granola and Lucie and I went to get our nail done… then there was a delicious looking margarita bar… we did have some chips and salsa too at least!
Mine was a #strangebutgood kiwi-jalapeno margarita rimmed with bacon salt.  Lucie had the Watermelon Cucumber Margarita.  Practically a health drink.
Dessert:
I did eat a more legitimate meal when we got home.  A yogurt bowl (again) with cinnamon and peanut butter protein powder.  Topped with chocolate fluff (coca powder + coconut flour + stevia + milk), True Whip, and Rice Krispies.
***
We made a pit stop at Sprouts on the way home.  I swear to eat like a civilized human being tomorrow. 
Have you ever had a foodgasm?
What's the most embarrassing dinner you've ever had?  We needed a margarita dinner after the day we had!