I made it almost 31 years never having been to New York.
The city.  I've been to Syracuse and Schenectady.  Doesn't count.
Last week I finally got there!  I had a work conference at Columbia University.  It didn't leave a ton of time to explore, but I was thrilled.  Especially when the hotel looked eerily like a scene from one of my favorite movies, The Shining.
I had a lot of fun, and the conference was great.  We went to dinner one night as a group.  I tried my first NY pizza (but failed to get a picture).
There IS a picture of some a little good-natured competition after dinner… if you know me, you know that this is fairly typical.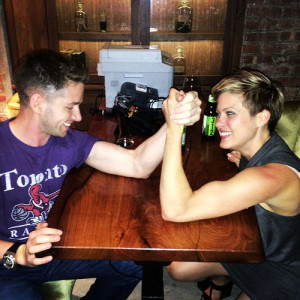 The next night I had free time while my boss went to the most epic dinner ever.  I tried not to think about the fact that he was at Thomas Keller's Per Se… arguably one of the top 5 restaurants in the US.
Finding cheese-heaven made me feel a little better.  (I took this for you guys.)
Secretly, a teeny part of me was glad to have time to explore the city on foot.  One of my favorite ways to tour is by taking a run.  I made it ~6 miles around Central Park!
It took longer than I meant for it to because I kept stopping to take pictures.  Everything was so gorgeous!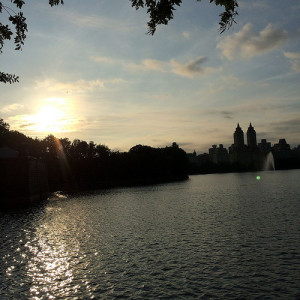 By the time I dragged myself out of the park, I was STARVING for dinner.  With so many options in the city, I didn't really know where to turn!  Thank God for Google.
Silly me forgot the list of restaurants I'd kept in my phone for when I finally made it to NYC, but as soon as I saw the name Candle West pop up as being nearby I knew that's where I had to eat.  Candle was on my list!  It's a vegan restaurant with some of the most inventive menu items I've ever seen.  The neatest thing about any "special" diet or food philosophy is that it forces creativity.  Even better – I got to meet up with a friend from high school to eat!
The verdict?  It was ok.  The menu was cool, but it there were components of each dish that could have been done better.  No regrets… but that's my honest opinion.  I had a strawberry mezcal drink to start.  I only drank a sip (you know it's bad when I don't finish a drink!).  My starter was a grilled artichoke with avocado aioli over spiralized zucchini and tomato sauce.  I would have left off the tomato sauce; it took away from the delicious aioli.  For a main, I ordered the morel crusted tofu for with truffled cauliflower purée, mushrooms, asparagus, and fennel.  The tofu and fennel were great.  The cauliflower didn't meet expectations; it lacked the flavor I expected from the description.  I didn't eat the asparagus.  
Dessert.  I can't believe I'm about to say this… it was too sweet!  I ordered the chocolate and peanut butter mousse pie.  The peanuts added a good texture contrast, but the berry sauce on top didn't fit with the dish at all.
The next morning I was up bright and early to go to a meeting.  Thankfully I didn't have breakfast because there was a surprise waiting for me.  The meeting host had ordered bagels from what everyone says is the best bagel in NYC, Ess-a Bagel.  Everyone is right.  I'm still craving them.
These were epic bagels.  Perfectly salty, light, a little doughy, and incredibly fresh.  Do NOT miss them if you're ever in the city.  I normally won't eat a bagel.  They just aren't "worth it" to me.  I ate the equivalent of probably 2 giant bagels (I had to sampled every flavor, obv).  Worth.  It.
Before we went home, my boss had one more surprise for me.  He knew how much I'd wanted to go to Per Se, so he brought me back a souvenir: Biscuit-y cookie sandwiches filled with chocolate ganache in a branded tin.  Marvelous.
Boss of the year award goes to Bob!!!
***
I'm already plotting my next trip to the city!
Have you ever been to NYC?  Do you recognize any of these sights?
Who do you think won the arm wrestling? 😉