Welcome to the new Sprint 2 the Table!
Thank you guys for putting up with my outdated look for so long.  I am no web designer, so I finally decided to do the smart thing and enlist help.  I hope you like it, and that it makes it easier to navigate around here.  If you run into any bugs, please let me know.  There are always kinks to workout.  Kinky.
ALSO… I added a tab for training and nutrition.  I earned my certifications a few weeks back, but hadn't had the time to really promote it.  With the new site in place, I'm ready to take it to the next level.  Wheeee!
Speaking of taking it to the next level (how's that for a smooth transition?), I took my kitchen tools to the next level with a new handheld spiralizer.  It's the easiest, most awesome thing ever.
I immediately put it to use with a zucchini.  I made a salad of  zucchini noodles, red bell pepper, avocado, and salsa. I ate it with a piece of salmon from a special delivery that arrived from Sizzlefish.
 They also sent over scallops in my box this time.  I hadn't tried them before, but I'll definitely be getting them again.  I seared them in a pan, then added in tomato sauce and chickpeas – my first time trying their scallops.  It was easy and delicious!
Then I had an amazing dinner with one of my favorite people (Jessica, who thought of my new tagline) at one of my favorite places, Better Half.  Zach, the chef and owner, has a really cool story and makes some of the most amazing, innovative food in Atlanta.
This is going to get long… Clockwise from the top left:
Stuffed cherry peppers with goat cheese and cream corn with pickled okra, tomatillo sauce, and lemon popcorn
Olive oil poached shrimp with cucumber, watermelon jelly, and tapande
Trout with tomato water, cream corn, bacon, and dehydrated tomato
Compressed pork shoulder with peach molasses, pickled watermelon, and corn pudding croutons
Toffee cake with curry ice cream and peaches
Lemon curd with burnt meringue, condensed milk ice cream, and lavender jelly.
The weekend was starting out strong!  Then arrived the fail boat.
I got up early and hit the ninja gym… running on these things is fun.  I like to do it to warm up.
I'd tweaked my ankle the day before, but thought it was fine.  I guess it was weaker, because the next thing I knew I hear my ankle pop.  I tried to tough it out.  That wasn't a good strategy.  I decided I needed to get get it x-rayed since I couldn't walk and the whole popping sound had scared me.
Next thing I knew I was staring at this sign:
If I'd been pregnant, we'd have had MUCH bigger problems than my ankle.  Read Monday's post for more on that. 😉
It's not broken.  Just a bad sprain.  So… I went to the gym.  Don't need feet to do upper body!  Click here if you're interested in seeing the gimp workout I did.  The shirt is ironic.  I found pain pills from last year's surgery and passed out slept like a little baby the night before. #doasisaynotasido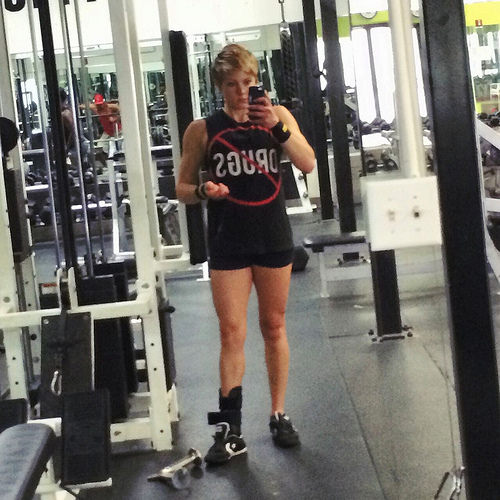 After than I went for a massage and was reprimanded by my brilliant therapist.  He said he could tell I'd never had a sprain before.  When I asked why he said "because you have to REST.  It's not something you just walk off."  Oh.  My bad.
Soooo… I got worked on and went home.  I did rest… after I food prepped and made dinner.  Roasted poblano pepper stuffed with sautéed lean ground turkey, red and yellow bell peppers, onion, and Mexican spices. Topped with Cypress Grove's Sgt. Pepper goat cheese.  It was marvelous.
***
Resting is so boring.  How do people that don't workout or have hobbies do it?
Have you ever sprained an ankle?  Any magical cures are welcome…
Any feedback on the new look? Or content?