It's Nature.  In a box.
Sort of.
Nature Box is a monthly mail order snack company.  For $19.95 they will send you a box with 5 new healthy, all-natural snacks each month.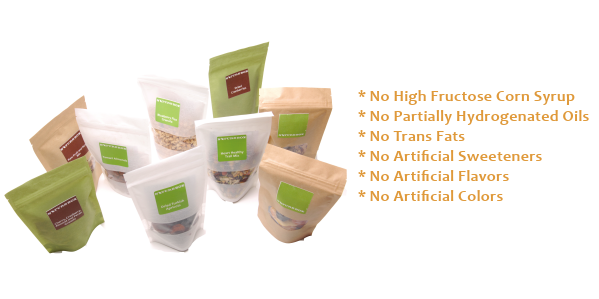 They were kind enough to send my April's box to sample, and the snacks inside did not disappoint!
In my box:
Cranberry Granola
Dried Currants
Dried Pears
Spicy Pumpkin Seeds
Salt & Pepper Pistachios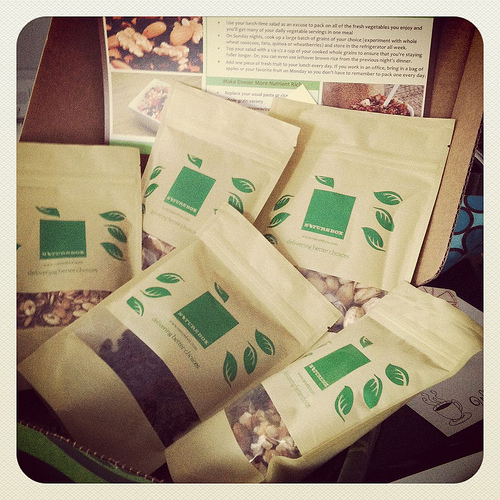 My favorite was the Spicy Pumpkin Seeds (obv – I love me some heat).  Each bag contained 3-4 generous servings… not a bad deal for $20!  That's only $5 a bag.  It's less than your latte. 😉
***Disclaimer: I was provided with this box at no charge. All thoughts and opinions are my own.***
So what's in it for you?
Nature Box would like to offer one reader their May box for free!  Receive up to 4 entries by:
Follow me on Twitter or Subscribe to the Sprint 2 the Table RSS feed or email
Tweet: You could say something like: I've entered to win May's healthy snack box in the @NatureBox giveaway at @sprint2thetable http://wp.me/p16jDn-1hN  #giveaway

Be Social: Facebook Like NatureBox, Twitter Follow NatureBox, Pinterest Follow Me and/or Pin Something of Mine, Instagram Follow Me
Comment: What is your favorite healthy snack?
Please leave a *separate comment* for each entry!
Contest ends at 11:59pm EST on Thursday, May 3rd.  The winner will be announced on Friday, May 4th.
_____________________________________________________________________________________
Speaking of boxes…
I also received a fun box in the mail from my Foodie Penal – Elizabeth @ I am Guiltless.  Why fun?  Check out the packaging:
Alas, there wasn't any beer inside.  The goodies she sent were tasty though!
In my Foodie Box:
Quinn popcorn – lemon & sea salt flavor
Rice noodle soup
Loose-leaf green tea AND a tea ball
Vega Sport powders
Cherry-Almond Rise bar (OMG – this was amazingly good!)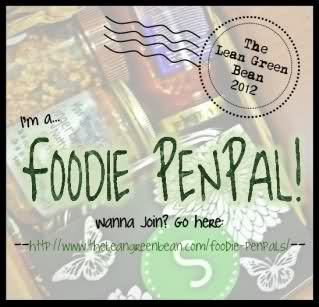 To sign up for a Foodie PenPals in May, send an email to the brilliant Lindsay at theleangreenbean@gmail.com with the following info:
-Your full name
-Your email address
-Your blog name/address (if you've got one)
-Your twitter handle (if applicable)
-Whether you are a US resident or Canadian
Join in by May 4th as pairings will be emailed on May 5th!
_____________________________________________________________________________________
And the wrap up…
The running is still "eh" thanks to my bum knee.  I'm taking it sloooow (which kills me), but it is nice to be able to do a little bit.  Even if that little bit isn't pretty.
Thank god for weights.  I love them.  And Pinned workouts.  The end.
Workout Recap (4/23 – 4/29):
Monday – This Pinned workout, Tris/Chest, 2 mile walk, 100 push-ups
Tuesday – P90X Plyometrics, 2 mile walk, 100 push-ups
Wednesday – Bis/Back, Ab Ripper X, 2.5 mi walk

Thursday – This Quad + Core tabata workout, 4.3 mi walk/run, 100 push-ups

Friday – This Pinned workout, 3 mi walk/run, Shoulders

Saturday – Tris/Chest, Ab Ripper X
Sunday –  This Pinned workout (OMG – 1 legged burpees suck… love/hate them), Softball, 100 push-ups
 ***
The tattoo is awesome.  Pics and the back-story tomorrow!  Oh… and there will be cupcakes. 😉
What are your thoughts on ordering food (via subscription, co-op, online grocery, etc.) vs. going to the store yourself?
Have you ever done one-legged burpees?