Sometimes you need a holiday break to be a real break.
Not that holidays aren't nice…
This year I was feeling run down after training so hard from my competition, working, and  – yes – consistently blogging.  I love all of these things, don't get me wrong.  I also love my family.  However, a true vacation getaway was in order.  When Heather and Kirk (her hubby) extended an invitation for me to crash their Thanksgiving vacation on the slopes in Vail, CO I jumped at the opportunity.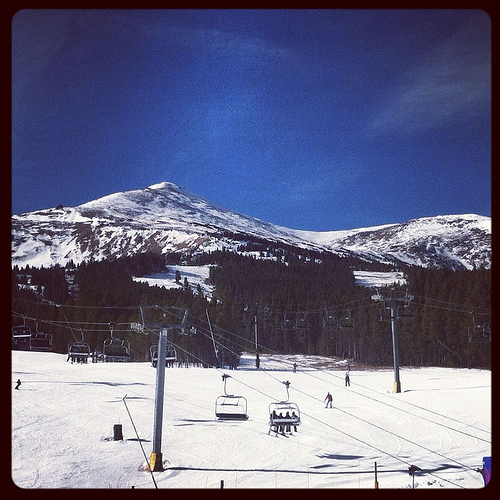 We ate fantastic food, drank amazing wine, skied, cooked a vegan Thanksgiving, and even ran a 5K (my first in at least 6 months).  There was also a tasting dinner before we left for Vail, but that's another post.
I am relieved to report that after a 2 year break, I can still ski.  There were a couple of falls, but nothing bad and after a couple of runs I was able to keep up with Heather and Kirk on their snowboards.  I can tell my legs are much stronger now than they were two years ago.  I guess hack squats work…
We took a break from the slopes for Thanksgiving.  We earned our turkey with a 5K Turkey Trot!  It was a lot of fun… and I realized exactly how much harder it is to run at 9000 ft.
Following the run, Heather made her famous doughnuts.  These were her Pumpkin Spice Doughnuts with Cranberry Frosting.  All vegan, and all delicious.  Heather had to adjust the recipe due to the high altitude; I'm totally impressed by her ability – they were absolutely perfect.  I ate mine at a painfully slow pace (like my 5K – haha).  It was so delicious I didn't want it to end!
I should also note the lovely orange plates provided by the condo owners.  Seriously.  Doesn't they know that orange does NOT photograph well?!
We spent the rest of the day watching football, playing Scrabble, and being bums.  It was awesome.  We got up every once in a while to begin another dish for out dinner, so when it was time to eat everything pulled together quickly.
This was my first vegan Turkey Day.  I've never been a big fan of traditional Thanksgiving food anyway, so this was absolutely perfect for me.  With a spread like this, why would anyone miss the turkey?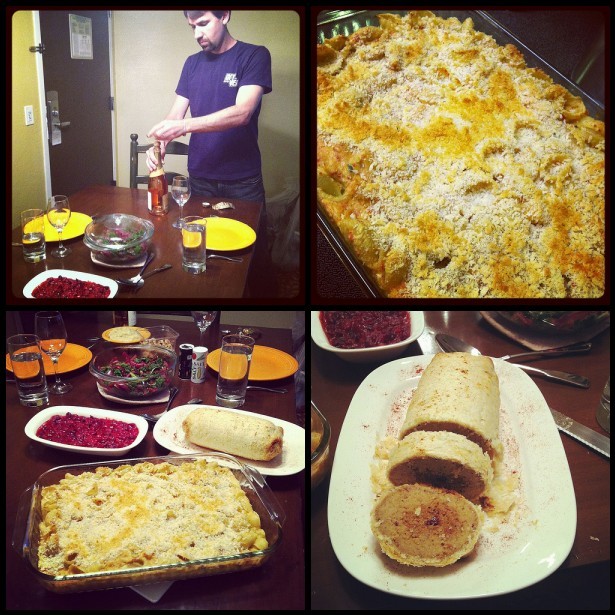 Clockwise, left to right: Kirk opening the champagne, Heather's Beer & Butternut Mac 'n Cheeze, the spread, and our vegan hazelnut cranberry roast en croute.
Each dish was better than the last.  Heather's vegan mac 'n cheese was every bit as good and the "real" thing.  She also made the first cranberry sauce I've ever liked!  I made a version of other Heather's Caramelized Onion, Cranberry & Kale Saute.  It was basically the same except I added jalapeno and used fresh orange juice in place of maple syrup for the vinaigrette.
My (orange) plate:
Much more to come on our adventures, but I'm sure you've seen enough orange plate photography for one day. 🙂
Thank you again to Heather and Kirk for letting me crash their holiday and being such incredible hosts!
***
I fell in love with Colorado.  I may have considered pitching a fit when I had to go to the airport.
Have you ever had a "Friendsgiving" or another friend-holiday?
What was the best dish at your table this year?