This is a story about my snowy drama in Northstar.
Thankfully it ends well.
Thanks to the generosity from the Northstar team, Vegas and I were able to sneak in one more snowboarding trip this season.  Remember that Northstar travel guide I wrote last month?  We re-lived it… but bigger with a TON more snow, new-to-us food stops, and a bit of drama.
This is how my Monday started out in the parking lot…
Northstar got more than 47 inches of snow in the last 3 days.  That's on top of the 19″ base.  I've never seen so much snow in my life.  I was boobs deep in it in some places!
We trekked to our favorite market, Copper Lane Cafe and Provisions, to get a breakfast sandwich.  I'd never eaten there before, but we're going to make it our regular stop.   This sandwich was AMAZING.
Dramatic, no?  Don't worry.  This day gets better.
First off, let me talk about boards.  We were given demo boards from Northstar via rentskis.com.  This was awesome on two counts: nicer boards make a HUGE difference and we could store them there overnight.  Not having to schlep stuff through the winter wonderland of snow is key.
Boards in tow, we made it to the top of the mountain.  I cannot do anything the easy way, so I directed us to the trails on the backside of the mountain.  They're a little longer, more challenging, and less packed.
It was a blast.  I couldn't stop laughing every time I fell in the snow.  It's like falling into a marshmallow.  This is my first full season snowboarding, so soft falls are especially appreciated.
Feeling confident, I told Vegas to go down that same trail again while I tried a different one.  One that was completely and totally NOT groomed.  It's sort of like off-roading.  Fun, right?!
What I didn't know was that when you fall, you cannot get up without a fight.  A brawl, really.
I couldn't stand up for more than 30 seconds at a time.  There were mini tracks where the snow had been ridden, so if I stayed on those I was fine.  That is a BIG if.  There's no turning, as the tracks are so narrow.  You just have to stand up and ride it.  Turns out that is WAY above my skill level.  I'd start going fast (again, there's no turning… so no slowing down), lose my balance, and bust it.
This is where the fighting happens.  I'd skid into that soft, fluffy, powdery snow, often ending up buried up to my chest.  Then I had to figure out how to get up without relying my hands too much because they'd uselessly sink down into the snow.
Getting upright involved a lot of flopping back and forth, literally digging out of snow, jumping, and muttering profanities.  I repeated this maneuver until I'd crashed my way down the half mile long trail.  I've never been so happy that I workout; that was cardio and strength training all in one!
I got to the bottom, met Vegas, and told her the whole exhausting story.  I was laughing at myself.  It was a fun learning experience.  Until…
DRAMA.
I cannot find my phone anywhere.  I fell so much and did so much digging out of the snow… it must have come out of my pocket.  Naturally, I flip my sh*t.
Vegas tired to calm me down, but the full gravity of the situation hit me.  I didn't just loose a $700 iPhone.  I lost my debit card, credit card… my ID.   WHICH I NEED TO FLY HOME.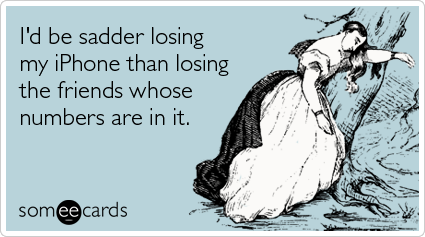 The world is basically ending thanks to my super cool wallet phone case.
Ever the voice of reason, Vegas pulls out her phone and suggests using Find My iPhone to locate it.  Genius!  We locate the phone 0.8 miles away.  Back down the trail I go.  I told Vegas to take the easier, neighboring trail because: 1.) I'm the better boarder and 2.) I knew how bad this was going to suck.
I manage to board down to where my phone allegedly is.  I'm pinging and pinging it.  My hands are frozen from holding her phone to find mine.  I'm trekking waist deep through snow alllllll alone on the mother effing trail.  I can't find my phone and I'm close to tears (I do NOT cry as a general rule).
Then I see Vegas' head pop over the top of the hill.  She saw me through the trees and came to help.  I almost shed tears of relief!
Of course, she manages to hear the ping with her bat ears and proceeds to dig my phone out of 3 feet of snow, about 5 feet from where I was standing.
Note to Self: Next time she acts like she didn't hear ask for something… do NOT believe her.
In total disbelief, I proceeded to promise to give my hero anything she wants… for the next 24 hours.  Gratitude has limits.  😉
Freezing, exhausted, and relived, we got back to the easier side of the mountain to board down.  Thankfully, without incident.  Even more thankfully, there were s'mores at the bottom.  There are complimentary s'mores every day at 3:30 pm in the village.  It's pretty much the best thing ever.  Next to finding your life line in 3 feet of snow, that is.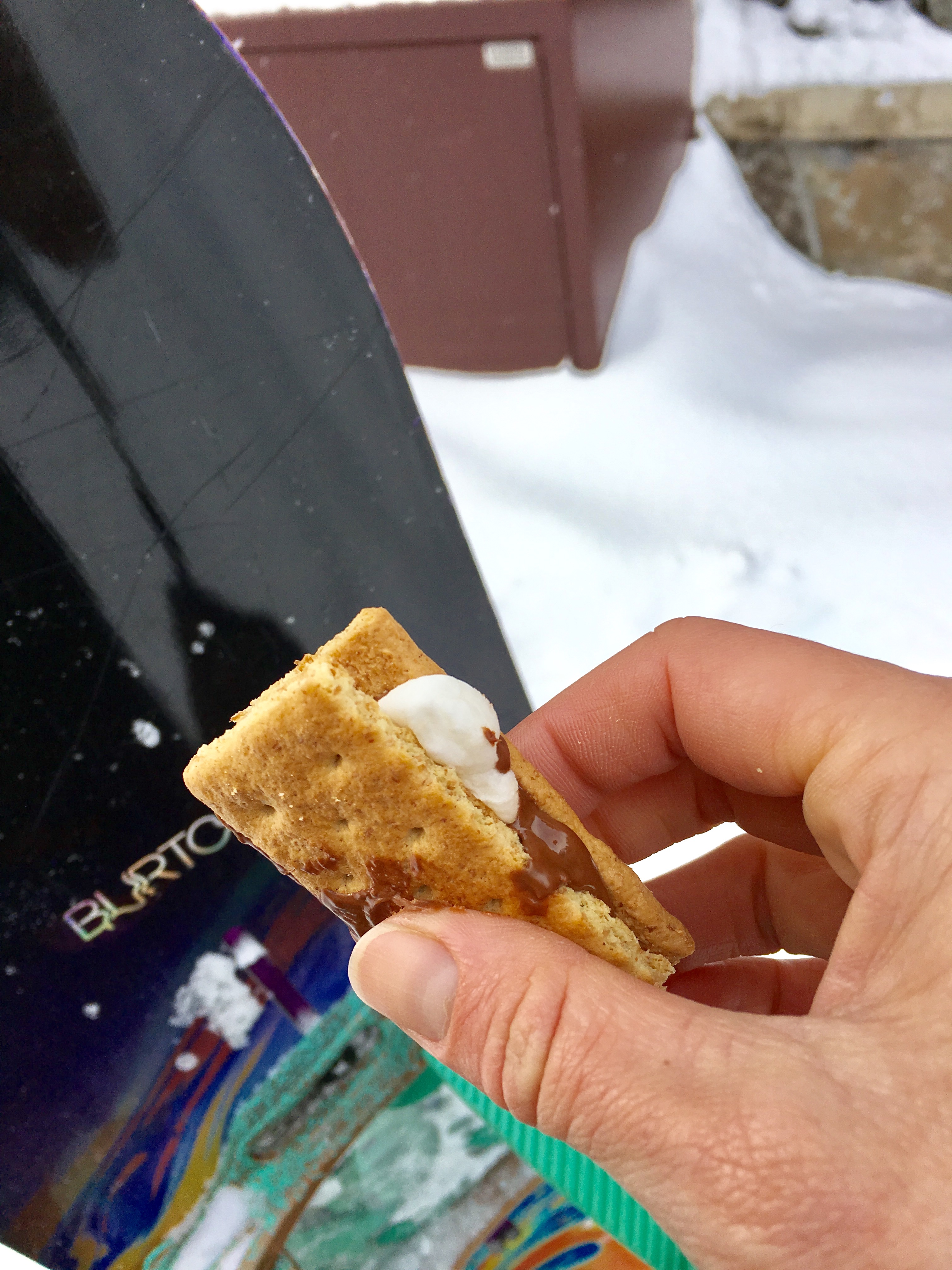 Celebratory pizza and drinks ensued at Rubicon in the Village.
Once I had my phone in hand, I was able to laugh about the whole thing.  It was still a GREAT day of snow!  Plus red wine and pizza with your love is one of life's simplest pleasures. ♥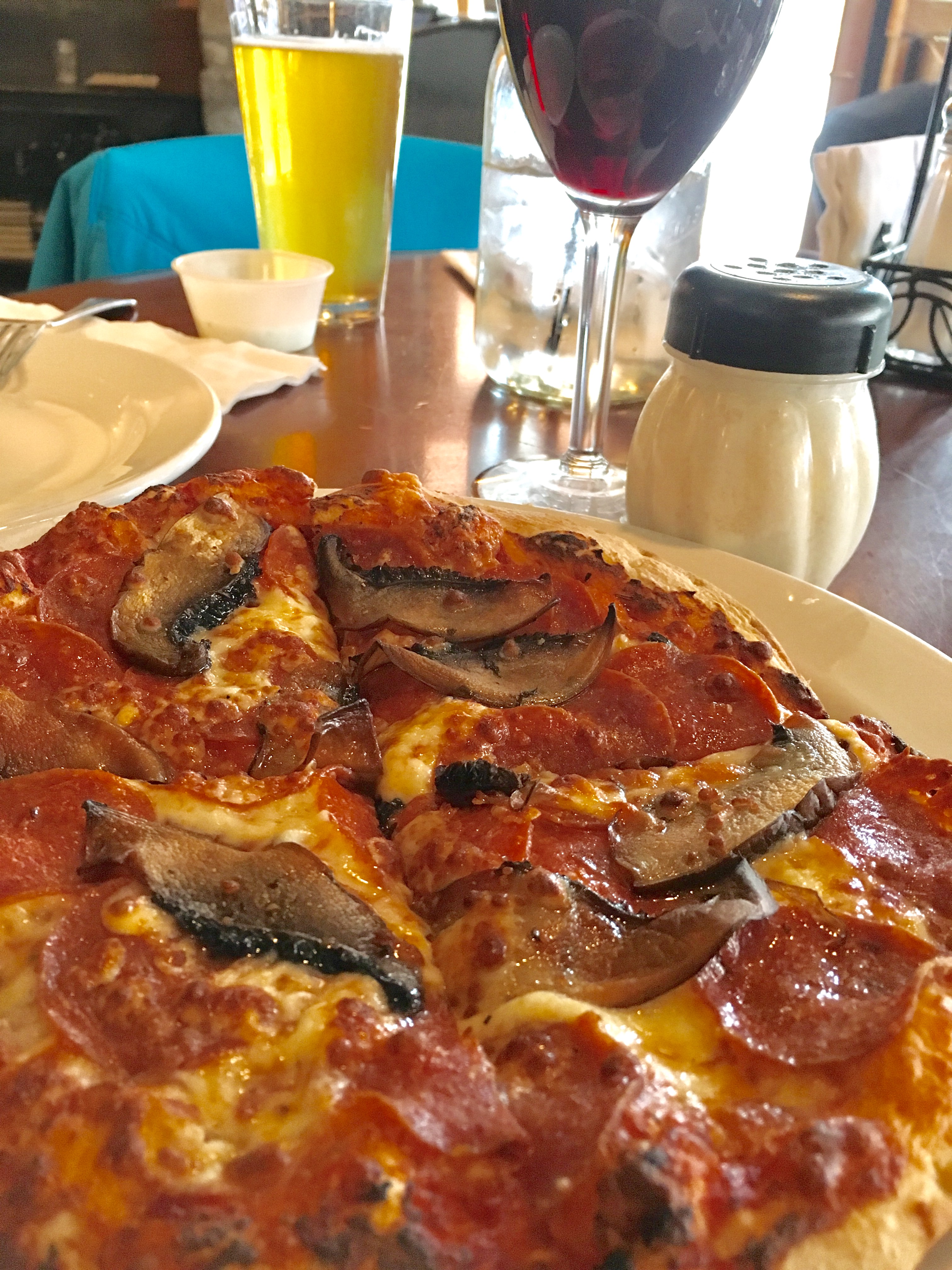 *end scene*
We walked back to our condo, where I decided to dig the car out of the snow before dinner.  This may seem crazy since I was too pooped to poop.  It's really a lesson in knowing myself.  It was a brilliant move because we had to get up early for our flight the next morning, and I am NOT a morning person.
Check out this before and after:
After that amazing workout (for real – if I did that every day my arms would be beast), I jumped in the shower to quickly get ready for dinner.
The Northstar crew hooked us up with dinner at a place called Tavern 6330′.  We'd had apres ski drinks there once before, but this was our first real meal.  Let me begin by saying that I'm typically not impressed with food in destination spots… Northstar is the exception.  Every meal we've had – from the mid-mountain lunch spots to the "nicer" restaurants in the Village – has been excellent.
We split all of the below so we could try more.  They had one of my go-to wines, Orin Swift's Abstract.  It's a blend of some of my favorite grapes: Grenache, Petite Sirah, and Syrah.  If you see it, try it!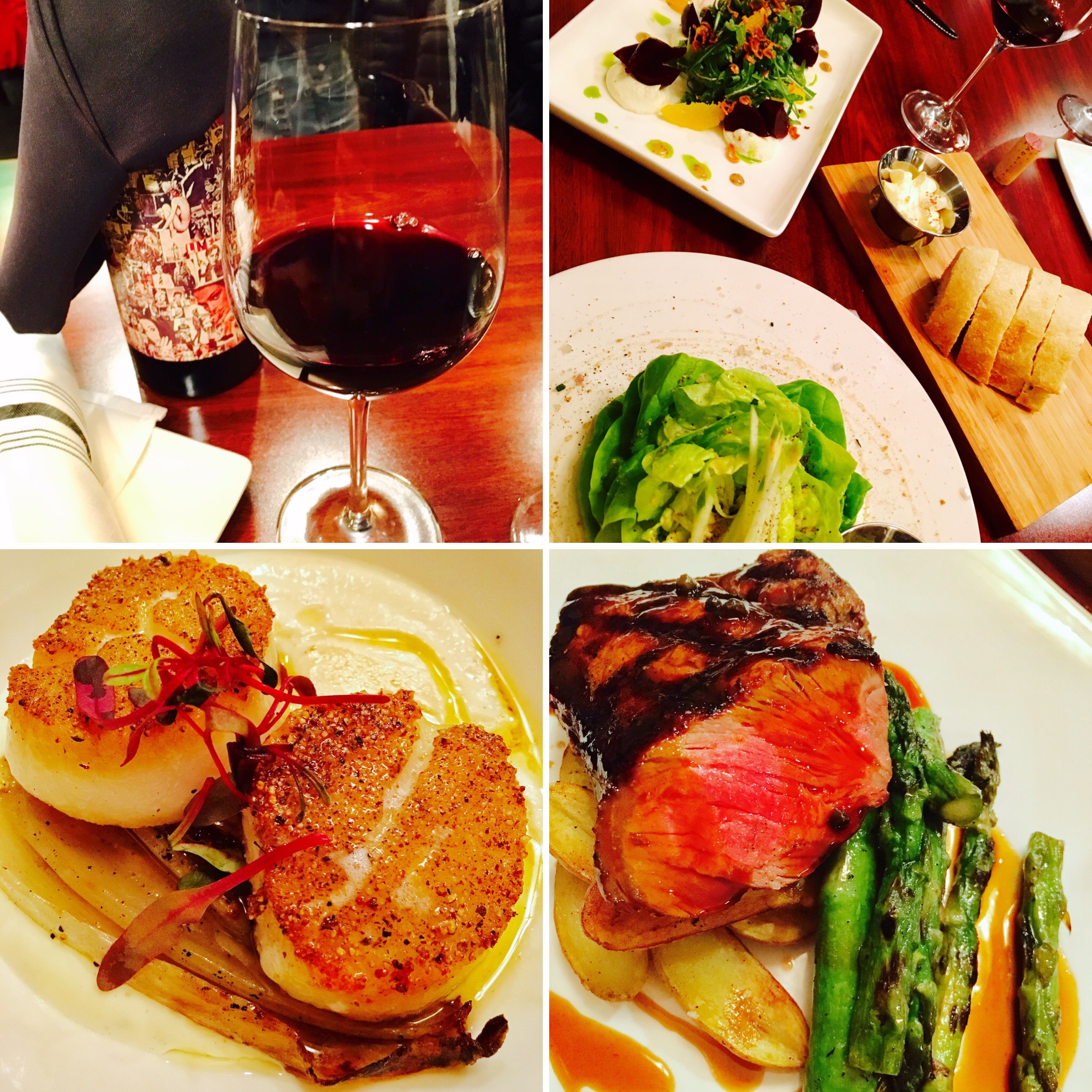 We started with a butter lettuce salad with green goddess dressing and a beet salad with arugula and goat cheese.  Both fantastic.  I really love butter lettuce, so I have to order it whenever I see it on a menu.  That was followed by the most amazing scallops.  They were perfectly cooked with a soft, buttery texture.  This was made even better by the braised endive, truffle oil, and cauliflower puree they were served over.
The main show was a 10 oz Wagyu steak with a peppercorn demi glaze.  I don't think I need to tell you how amazing Wagyu beef is.  That marbling is the stuff of dreams.  Everything we had was just so clearly made with the highest quality ingredients and prepared with great care.  I wish I could eat here every night!
Oh!  There was also an unpictured slice of chocolate cake.  I forgot… a couple of the Northstar communications  women came over to say hi and we were having too much fun talking.  It was the perfect end to the evening!
But wait…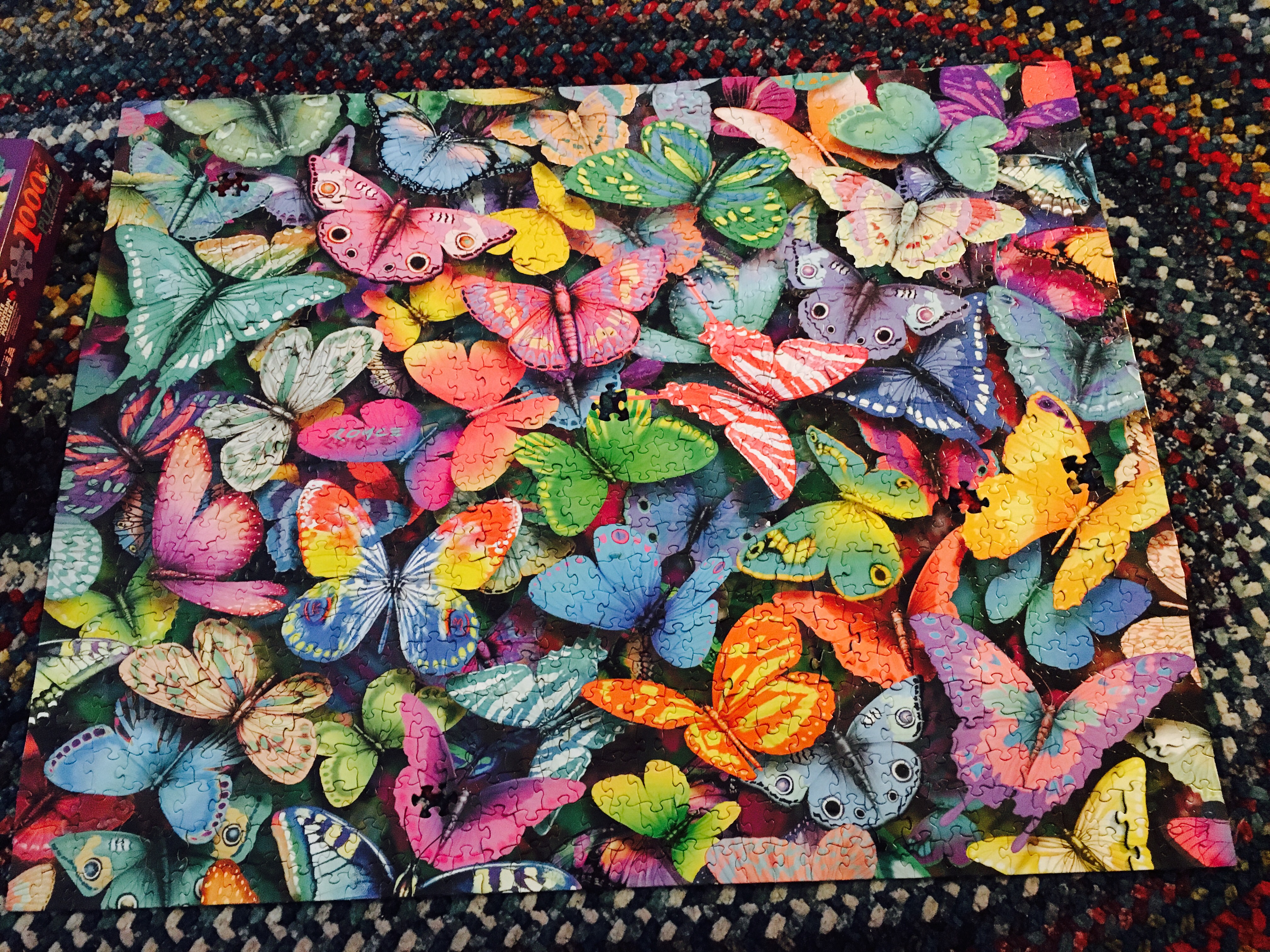 We got back to the condo and HAD to finish the puzzle I'd started.  The next thing I knew it was 3am*.  But we did it!
*So glad I went ahead and shoveled the car.  We had 4 hours of sleep! 
If you're at all interested in snow.  please check out my Northstar guide here (not sponsored!).
Anyone remember the mid-trail champagne bar, Töst, that I wrote about in that guide?  There was too much now for Töst to open.  Apparently they have to toboggan the bubbly over?!  This isn't typical.  If you go to Northstar, locate it and take a break for bubbles.
For the mamma's… check out this champagne ski lesson while the kiddos are in ski school!
---
Make sure to check out everyone else's eats and link up to Jenn's WIAW baby below!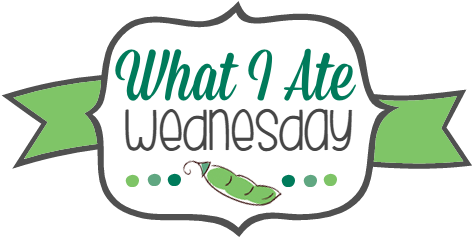 ***
We thought this would be the last trip of the season… but we might have to squeeze one more in.  They've extended the season through April 23rd!
What would you do if you lost your phone… AND your ID + cards?
Is your significant other your hero?  I've never felt so much comfort just seeing someone.  So lucky.