I can be so predictable.
If only my life could be predictable…
Allie was in town this weekend for a training session with my trainer… excuse me… OUR trainer. 🙂
She came in Friday night and since we are on the same nutrition plan (minus the sodium restriction for her) so I volunteered to make dinner.  Obviously, I made cauliflower crust pizza.
We had a little pizza-topping party.  Allie's (in the back) had a veggie burger and asparagus.  Mine (in the front) had tomato sauce, sauteed kale and red pepper, butternut squash, and chicken.
And then we went to Whole paycheck Foods where we bought pumpkin hummus.  I also got a kombucha on tap.  Typical bloggers.
When we got back home I made PB & Ceggs (Peanut Butter & Carrot Eggs – the vegan tofu version).  I won't bore you with yet another pic of those.
The next day we woke up and I had what will probably be my last runny egg before my competition before we headed to the gym for a leg session and posing practice.  Obviously, we were armed with a cooler of smoothies, proteins, and veggies.
This was the most predictable 24 hours 2 bloggers could have.  And it was a BLAST.
 _______________________________________________________________________________________
The unpredictable was just as fun.  We trekked up the highway to my hair stylist, Karen at Lava Hair Studio (I drive an hour to see her – that's dedication).  Allie got a trim too – how cute are those blunt edges?!  Karen decided brown with red undertones were the way to go for the show – I have NO vision; I always ask her to do whatever she think would be cool.  I think she made the perfect color choice!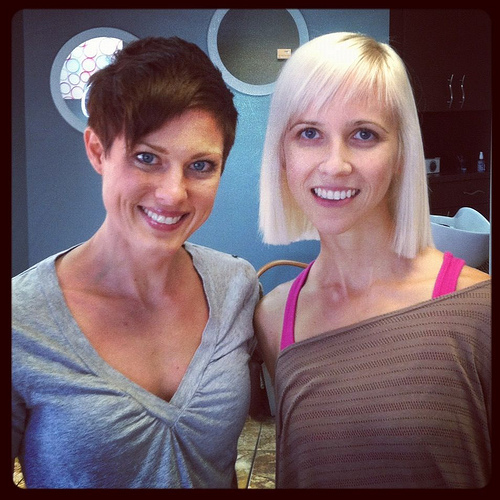 Annnnnd… then we had my last supper.  Last cheat supper, that is.  Allie and I met new guest blogger Kat at STG Trattoria,
We started with a bruschetta of butternut squash, ricotta, and arugula.  It was supposed to have cashews but they didn't make it on our plate.  It was good… but the added crunch and richness of cashews would have made it better.
For our main, Allie and I split a pizza.  Yes, more pizza.  This was an Italian-style crust and was topped with ricotta salatta, sweet onion, mint, and lamb sausage (Allie ordered her half sans lamb).  The lamb sausage was was flavorful without being over-powering or greasy.  I loved the char on the crust; however, the middle was a big soggy.  It was a solid effort.  You better believe there wasn't a crumb left!
Of course, I couldn't pass up one last dessert.  Our chocolate mousse was topped with whipped ricotta, macerated strawberries, sea salt, and olive oil.  This may have been my favorite part of the meal – the mousse was dark, letting the strawberries provide much of the sweetness.  The olive oil and sea salt on top was absolutely perfection.  I love a dessert that is rich without being painfully sweet.
_____________________________________________________________________________________
Workout Recap
I'm starting to freak out a little.  Watching other people prep, I never understood why they were so obsessive and worrying over every little detail… and then I woke up Sunday morning feeling guilty about the last cheat meal and began reading every body building forum I could find.  My abs are not wonderful.  They have always been my most-hated body part.  I blame genetics and a really short torso.
After talking myself off the ledge, I went to the gym and had a great workout.  Apparently 100 daily (assisted) pull-ups develop the muscle under your arms as well as your back.  Excuse the bewildered look.  It was a tough arm day.
Workout Recap (10/15 – 10/19):
Monday – Shoulders/Glutes, 1 mile incline walk 100 pull ups
Tuesday – Chest/Bis, 100 pull ups, Calf raises, 1.25 mile incline walk
Wednesday – Shoulders/Glutes, 1 mile walk 100 pull ups
Thursday – REST, 100 push ups
Friday – Back/Tris, (180 pull-ups were part of the workout), Calf raises
Saturday – Legs (with trainer)
Sunday – Chest/Bis, 100 pull ups, Calf raises
***
OMGOMGOMG… less than 2 weeks!!! I bought my bling this weekend too. 🙂
Are you loyal to a hair stylist?
What would your last cheat meal be?