Life is a jungle gym.
And I like monkeying around.
One of the biggest lessons I've learned lately is life isn't linear.  This sounds obvious even as I write it, but over and over I've been surprised when my carefully laid plains deviate from the path I've plotted.  Things change – you grow up.  You learn new skills.  You have setbacks.  Life happens.
Plan changes have happened in all aspects of my life – career, relationships, fitness, etc. – and I'm sure you've experienced the same.  I gt a lot of questions about how I began competing, so today's Work It Out is my fitness journey.  My jungle gym.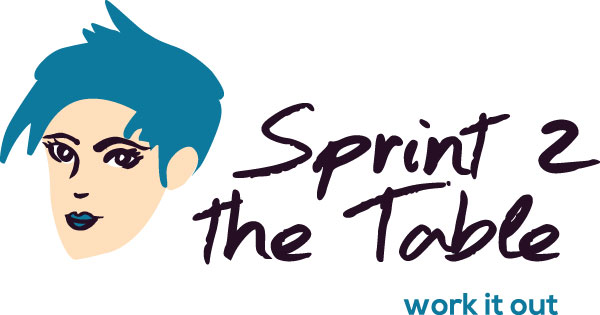 Before I get into it, I want to be very clear that this is my path.  I've done things that were right and that were wrong.  Some are tender subjects; they were part of my journey.  I know you all have your own stories.  I simply submit that I hope no matter where you are in your journey, that you stay true to yourself and have FUN.  No regrets. 
---
I love a competition.  Sports, spelling bees,  pie eating… you name it, I'm up for the challenge.  It's how I'm wired.  This has taken me on many a fun ride in my life.
Related to fitness, I have tried just about any sport you can think of.  I was lucky to have parents who encouraged me to sign up for all sorts of things – from ice skating to horseback riding to softball.  Softball stuck – I still play every season!
In my college years, I wasn't very active unless you count partying and working.  I was a bartender.  I smoked, drank too much, and ate crap.  Not surprisingly, I gained the "freshman 15" (and the sophomore 15) and was always tired.  When my dad was diagnosed with terminal cancer something clicked in my head.  His disease wasn't related to unhealthy living; he had actually lost a ton of weight through diet and exercise a few years prior and never smoked a day in his life.
The message that life is short came loud and clear to me.  While my dad was getting treatments he continued light exercise to keep strength that allowed him to turn 6 months into 4.5 years with the disease.  Through his example, I was inspired to clean up my act a bit and started workout out casually.  It wasn't a total turnaround… but it was a start.
Fast forward a few years and I discovered a new passion – roller derby.  I only wish my dad had been around to see that!  I had a blast, met some really cool people, and skated about 12 hours a week.  It was thrilling.  I'd found a sport I loved again!
It also proved to myself that it is impossible to out exercise a bad diet.  I was doing intense workouts nearly daily but gaining weight.  I am not saying I was "fat," but I wasn't healthy and, more importantly, I didn't feel good.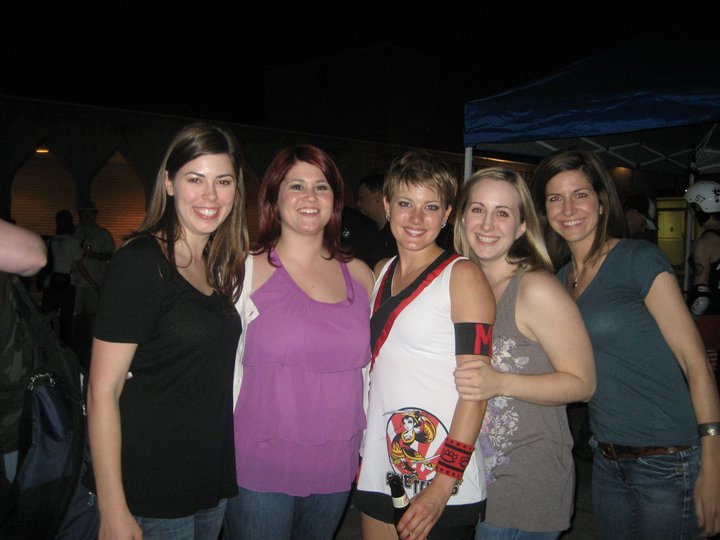 Looking at my unhealthy habits, I decided it was time for a cleanse.  It was the derby off-season and I took the opportunity to give my body a break from getting beat up (literally and figuratively).  21 days of clean eating was amazing for me.  I reset some habits, had boundless energy again, and I learned to love running.
That Thanksgiving I ran a 10K with my baby sister and my mom!
Then came a new season of derby.  I was still doing really well with healthy living and had come back for the next season with more energy and passion and ever.  Whatever was in stow, I was ready to jump on it.  Life had other plans.  
I broke my jaw during an expo bout (bout = a roller derby game).  It was miserable.  I looked like Jay Leno and it cost me a pretty important trip in my new job.
6 weeks later my jaw was as good as new but I decided it was time to find something a little safer.  Plus, I'd lost a TON of weight from not being able to eat solids, which was not good for playing a contact sport.  I looked unhealthy, and I'd basically forgotten how to eat.  All I'd been able to have was soup, pureed oatmeal, and smoothies!
I struggled with the aftermath of that injury for a while.  Rather than derby, I ran all the time.  I was faster and going longer than ever, but – even though I was eating – my new teeny body couldn't keep up.  When you are at a deficit and continue to workout at the level you were before… well, you are just going to get skinnier (read: my mom was worried sick).
Unrelated to that, my knee decided to give out.  I got half a mile into a run and was in so much pain I had to stop.  The doctor told me my PCL was hanging on by a thread and if I wanted to run distance again I'd need to have surgery.  That may have been the best thing that could have happened to me.
Time for a new hobby!  Instead of going under the knife, I decided to go the route of building.  Body building.  If I could build up my quads, my knee wouldn't bother me in daily activity and running short distances.  I'd always loved lifting weights and had done a round or two of P90X, so it seemed to be the perfect next bar to grab.
Two and a half years ago I met with my trainer the first time and started down the path of something that would forever change my life.  Lifting feels like it did when I fell in love with softball – I look forward to going to the gym, I want to talk strategy with anyone who will listen… it's my passion!
Since then, I've gained 10 solid pounds of muscle,
2 pounds of  boob,
and competed in
2 figure competitions
.  Much to my surprise I placed in both!  Rounds 3 and 4 are in 3 and 4 weeks… they are on very competitive stages, but I'm excited just to have the experience.  I've been watching the success of others around me and am stoked
(do people still say that?)
for the off season and a sold year of building.
I feel great: inspired, focused, and having fun.
The Bottom Line
Fitness looks like a million different things.  What you do isn't important, as long as it's something you love and something that contributes to your health.  Don't be afraid to change your course as you evolve.  Yoga, walking, lifting, cross-fitting… whatever.  Find something you are passionate about and embrace it.
Having been both active and inactive to my detriment, I can promise you that finding balance and the thing that turns you on will make all the difference.  That high, that endorphin rush, is sheer joy.  It's worth it to make time for it.
YOU are worth it.
***
Need some inspiration?  Check out this post full of inspiring athletes from all walks of life.
Have you always been "healthy," or was there a turning point for you?
What brings you joy?