Knowing when to hold off is important.
But I really hate it. 
Yesterday I did a leg session with my trainer (I am walking like a granny today).  I was going to do my next figure competition in March, just 4 weeks from now.  We talked about my progress and decided to delay .
This is why:
My upper body has filled out a lot.  Shoulders are wider, back more developed… he actually said my upper body is competition-ready now.  BUT do you see my butt?  It's not catching up.  Why, oh why doesn't chocolate cake go straight to my butt and legs?
So we made the call to hold off until May to give me more time to grow so that I can present better in a couple more months.  We'll be going super heavy, making some TBD diet changes, and focusing more on my rear.  The diets changes I had made (mostly more fat) have been good, but the gains haven't been quite to the point we need.
I'm disappointed.  My bum bums me out… but I know my trainer is right.  🙁
________________________________________________________________________________________
In happier news, I finally have a WIAW post where I got to eat at home!  I don't really mind being on the road, but not eating out of a baggie is a welcome change.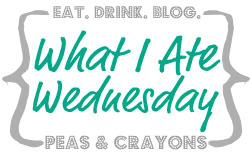 Check out my 7 home-cooked meals below, and then click here to head over to Jenn @ Peas and Crayons to get to see how others dined this week!
________________________________________________________________________________________
Meal 1:
I'm still loving my morning cocktail (apple cider vinegar, water, Glutamine, and Fitmixer Aminos).
30 mins later I made my new favorite breakfast: toasted Ezekial English muffin with some warmed no-salt deli turkey, nutritional yeast sauce, and a runny egg.  I ate it with a side of sweet lime.  Sweet lime = Strange But Good.
Savory Nooch Sauce
1 T nutritional yeast
Apple cider vinegar
Cumin
Cayenne
Liquid smoke
Pinch of

xanthan gum

(to thicken)
Meal 2:
I really love having salmon with fruit for meal 2.  Today I ate it with my sweet lime, raw pepitas (pumpkin seeds), basil, and a little cayenne.  Sweet lime really is amazing – like a mild orange.
Meal 3:
Lunch was post-workout, so it was a Carrot Cake Whey creation.  This is one of my go-tos. I love carrots.
Carrot Cake Whey
1 scoop vanilla whey protein

1 carrot, grated
1 tsp cinnamon
1/2 tsp ginger
1/4 C greek yogurt
1/4 C raw oatmeal
Enough water to mix
Then I decided I deserved a little treat – kombucha!  I drank it in the car with the moon roof open.  I'm loving being home where it's 60 degrees and sunny by lunch!  I re-set my HRM post-workout to catch the leg day after-burn.  125 cals in the hour following my workout!
Meal 4:
After talking to my trainer, we are going to be looking at keeping the fats high.  This way I can shovel in more calories without being too stuffed to want to eat (which is what happened when we tried to drastically increase carbs).  This is the fun part!  I made bison burgers… cooked with bacon.
The bottle in the background is Robbie's sugar-free, low-sodium BBQ sauce I found at Whole Foods.  I'd made my own before my first competition, but when I saw this I had to try it.  I like mine better, but this wasn't bad!
Eaten with cucumber slices and some unpictured hummus
Meal 5-7:
That's not a typo – this was like 3 meals in one.  I had dinner at Lure with local bloggers and friends, Beth and Amy.  I love these girls – we laughed through the entire meal.
When we sat down we were gifted with a giant punch bowl from the owner.  It was some sort of apple cider and rum concoction, and it was absolutely fabulous.  We must be getting old, because we actually couldn't finish it all.
For my app I ordered brussels.  It's actually a side item, but it sounded so good.  Roasted brussels with grapes, pumpkin seeds, and lemon aioli.  I loved the flavor together, but the aioli was so rich that I only finished half (it was a HUGE serving!).  There was some (unpictured) sesame bread involved too.
Dinner was a delicious grilled Arctic Char fillet coated in berbere spice served with young carrots and farro verde.  I almost licked my plate… but saved a little room for dessert.  A chocolate and peanut butter mousse cake.  It was so good I forgot to take a pic until we'd eaten all but 2 bites of the slice.  Bad blogger.
***
The protein count for the day: 150.1g.  I think… you never know with restaurant meals.  Either way, I sufficiently refueled after a brutal leg day.
Have you ever had to take a step back to perform even better in the long run?
Do you enjoy traditionally savory foods with a pop of sweet from fruit?  It's a favorite Strange But Good in my kitchen!