Food.
Anyone surprised?
You know how they say men think about sex every 5 seconds?  That's me with food.   It's my 50 Shades of Grey.  
When I saw this quiz on Matt's blog I was filling it out in my head as I read through his answers.
Breakfast
1. Favorite cereal as a child?
Lucky Charms.  I used to get in trouble for only eating the marshmallows.
2. Coffee or Tea? With milk or without?
Coffee.  Black like my soul.
Since I started having my morning cocktail, I no longer need to drink coffee before noon.  When I'm in the office, I am wondering down to reception to get a mid-afternoon pick-me-up cup!
Sometimes I eat it in Tiramisu Parfaits or drink it in a Pumpkin Frappuccino.
3. The one food you eat most often at breakfast?
That's tough!  I don't like to repeat meals a lot… but lately I've been all about my PB & Aggs.
Lunch
1. Sandwiches are generally considered a "lunch food." If you had to choose between a grilled cheese and a peanut butter and jelly, which would you pick?
Grilled Peanut Butter and Jelly.  the "real" thing was my favorite growing up, but now days I eat this tofu-laced, low-fat, protein-filled version: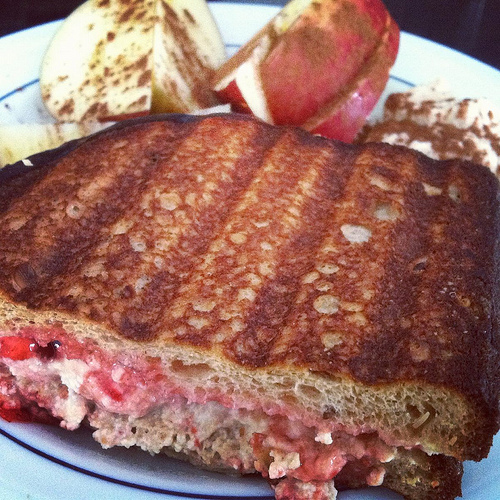 2. You can only put four ingredients in your salad (not including greens); what do you throw in the mix? Additionally, which greens and dressing do you pick?
It really depends on the mood!  Right now I'm thinking cucumber, red onion, celery, and walnuts on a bed of spinach and dressed with a mix of hummus, apple cider vinegar, and sriracha.
3. One food you can't live without at lunch?
Again, I'm not a creature of habit!  I like to shake it up, but no matter what I need a little something sweet at the end… like a bite of dark chocolate.  Or these days on my training plan… I have a calcium chew. *sigh*
Dinner
1. It's the end of the day. You're tired, hungry, and your fridge is empty.  If fast food (from a chain) is your only option, where do you go and what do you order?
I'm copying Matt and saying Whole Foods.  Whatever is looking good on the hot bar (usually a bite of everything). It's the closest thing to fast food that I will eat!
2. TV/computer on or off while you're eating?
Computer.  In fact, I'm filling this out as I eat.
3. The one food you eat most often at dinner?
Lately it's been my Cauliflower Pizza.  It's a delicious addiction.
Dessert
1. Choose between these two American desserts: cheesecake or apple pie?
Cheesecake.  I don't like cooked apples… but really I'd rather have chocolate cake than anything.
2. Choose between these two foreign desserts: tiramisu (Italy) or flan (Spain)?
I like them both, but I have to go with tiramisu.  Like the parfait above. 😉
3. Ice cream: cone or cup?
Cup.  More toppings.  Duh. 
***
Sometimes I wonder if everyone else thinks about food as much as I do… or if I have OCD.
I want your answers!  Is there anything you HAVE to have in your salads, or for lunch every day?
How much time to you each day spend thinking about food?