Today I am 28.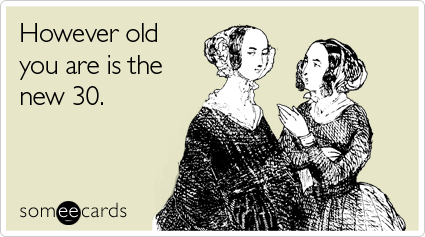 Just 2 years away from the dreaded age of 30.  Surprisingly, I don't really care about turning 30.  In fact, I am looking forward to it.
It seems like a solid age.  One where you're more established in your career and people take you seriously.   This should be fun to look back at in 2 years… 🙂
But I digress (progress?).  Today I am only 28.
I was going to pontificate on 28 things I've learned or do some equally inspiring; however, I was up most the night working.  
(Lesson learned #1: the "real" world doesn't care that it's your birthday – you still have to get yer shizz done.)
Instead, I'll share with you a special delivery I got last night right when I was about to have a nervous breakdown around 11pm:
This is my favorite cake.  Sweet, salty, fudgy deliciousness.  Midnight snack worthy, fo' sho'.
Part 2 of the delivery is the book you see in the background – Vino Italiano.  I cannot WAIT to devour this one.
Did I mention I'm going to a wine/food trip to Italy this fall?!  More on that later. 🙂
So what if I spent the beginning of my 28th year up all night working?  
This year the July 15th is under a Capricorn full moon (insert Twilight Zone music here) and that apparently means abundance, career, and money.  I can get on board with that.
Tomorrow my awesome mom throwing me a birthday party at her house.  Think: pool, corn hole, grilling Big Green Egg-style, and mas cerveza y vino and 30+ friends.  There may not be any photo evidence.
_________________________________________________________________________________
On top of all that, I invented my new favorite granola bar (which I'm munching on as I write – 'scuse the crumbs).
It's bananas.  Nutty.  No sugar added.  Crunchy and almost raw.  (Almost = "dehydrated" in the oven at 170 degrees.)
Try it out with your favorite nuts and seeds.  I used Brazil nuts, sunflower seeds, and cashews.
For a little bit of added sweetness, I used NuNatural Pure Liquid Vanilla Stevia (yes, they sent me samples… no, I wouldn't lie to you).
I love how the vanilla scent it added went with the banana flavor!  (B-A-N-A-N-A-S!  I was trying realllly hard not to do that – blame Gwen Stephani.)
Vegan and gluten-free, ya'll.
______________________________________________________________________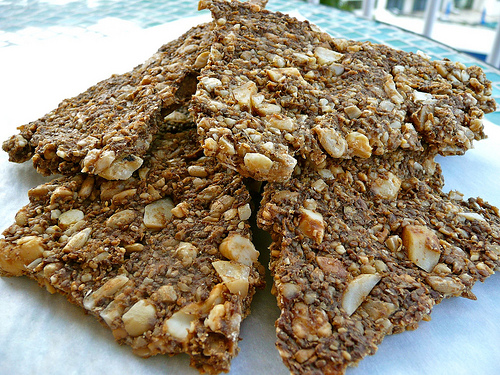 Banana Nut Bars
1 ripe banana
25 drops NuNaturals Pure Liquid Vanilla Stevia
1 T nut butter (I used PB)
1/2 tsp cinnamon
2T chia seeds
1/4 C sunflower seeds
1/4 C cashews
10 Brazil nuts 
Preheat oven to 170 degrees.  
Place first 4 ingredients in blender and blend until smooth.  Add seeds and nuts, pulsing until seeds are beginning to break up and incorporate into the banana paste.  
Spread batter onto parchment-lined baking sheet to desired thickness (mine was about 1/4 inch thick).  
Place in oven for 6-8 hours, flipping 2-3 times after first 3-4 hours.  Turn oven off and allow to continue drying out overnight (~7 hours).  
Break into pieces/bars and enjoy!
***
EXCEPT I will post the winner of the awesome earbud giveaway!  If you're a runner/walker, you should especially check these out – they won't wiggle out and the music quality rocks.  
You have until midnight tonight to enter – good luck!!!
What's your favorite way to celebrate your birthday?
Are you a big party-type of person or an intimate dinner?  Somewhere in between?